Team #371: Mimi Leggett and Rapped N' Painted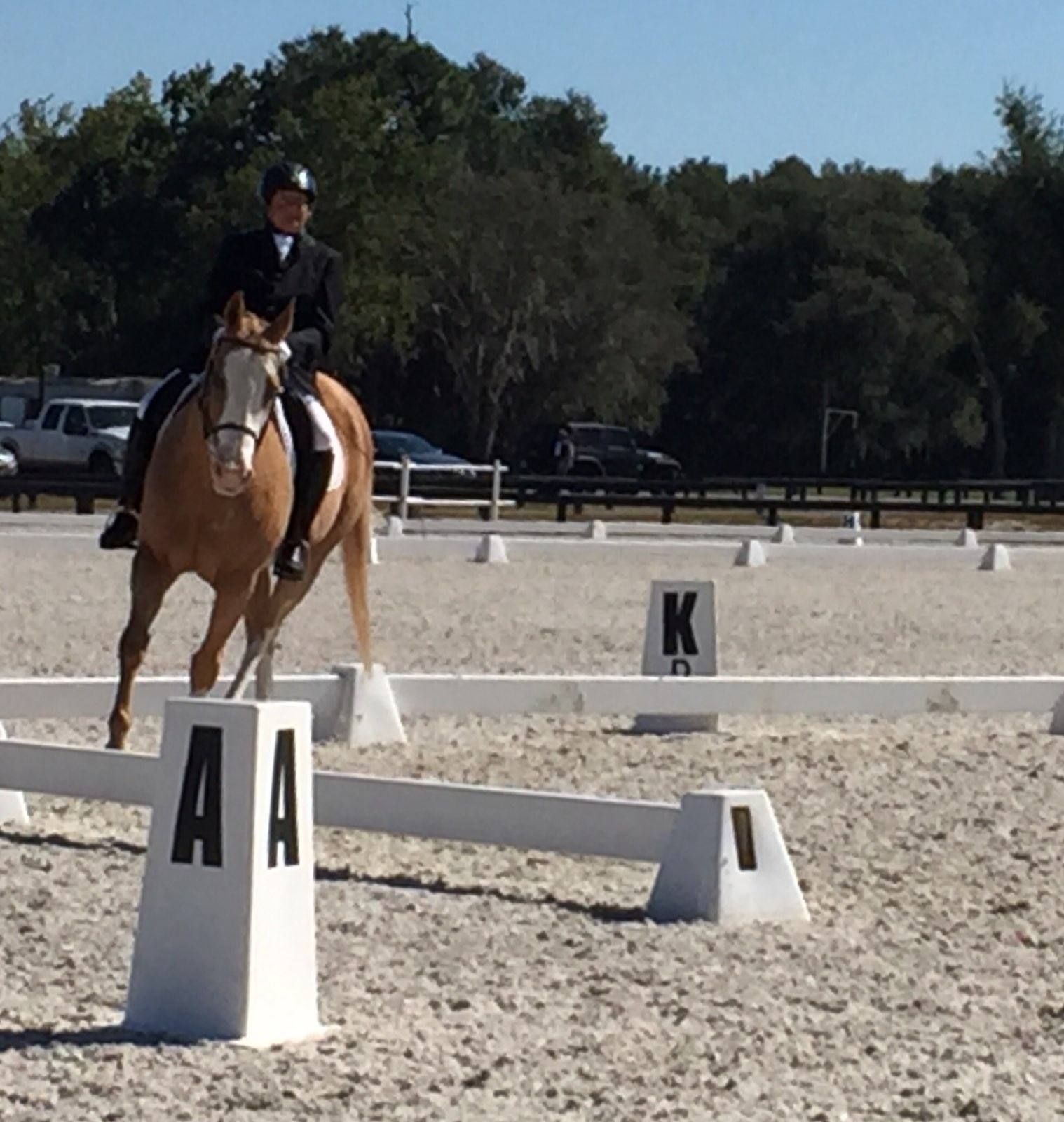 Rapped N' Painted, known as "RAM," is my second Century Club horse and the nephew of my first Century Club horse, Reynolds Aluminum. We rode together in October of 2014 to gain membership as Team #182. RAM is a golden Palomino Quarter Horse/Paint with one blue eye and one brown eye. He came to us in 2009 as a gift from my husband, Richard, on Valentine's Day! He was sired by Commander Rap, AQHA and Palomino Supreme Champion out of the Palomino High Point Halter mare in the nation, his dam. RAM has his Certificate of Ability from the National Cutting Horse Association and is a winner in Extreme Cowboy Races and Obstacle Challenges. When he first came to us, he suffered from severe allergies. With holistic veterinary care and many months of consistent treatment, he fully recovered. What a relief!
Although RAM is a "western" trained horse, I recognized his aptitude for other disciplines. I had been riding Reynolds Aluminum, his uncle, in classical dressage and was fortunate enough to find Mr. Dennis Stickley, who introduced RAM to classical dressage. In the 90s on holiday in Portugal, I had the honor of taking lessons with Sr. Mestre Luis Valenca and experienced High School movements and the thrill of a levade and a mini capriole on their highly-trained Lusitanos. Luckily, it was a "mini" capriole, or I would have been one of the "airs above the ground!"
In an effort to deepen my knowledge of dressage, I found the Quinta do Brejo, the famous stables of Sr. Mestre Nuno Oliveira tucked away in the hills and had lessons with their instructors, including Joao Oliveira, Nuno's son. More recently, my husband and I visited Portugal and I took lessons from Nuno Oliveira's last student, Dom Tomaz de Alarcao on two beautiful and talented Lusitanos!
I have taken advantage of many wonderful learning opportunities, such as clinics with Dominique Barbier, T-Touch with Linda Tellington-Jones, the USDF Instructor/Trainer Program with Lilo Fore and Lendon Gray's Lunging Session.
When RAM joined our family of horses, I rotated between Reynolds the Quarter Horse, William my Thoroughbred, and RAM the Paint. We competed in obstacle challenges and trail rode on the lovely Florida Greenway with friends. RAM and I continued our lessons in classical dressage, and when STRIDE offered Western Dressage classes, it was a perfect fit. We both enjoy it! At STRIDE shows, RAM and I competed and won the WDAA Basic Level Championship in 2015, the Western Intro Versatility Championship in 2016, the WDAA Level 1 Championship and the Western Level 1 Versatility Championship in 2017. He is a true showman and always does his best. He has won many blue ribbons during our nine years together, helping me win the Emily Butler Rider Award in 2016 and 2017 in classical dressage, despite being a Quarter Horse/Paint. He is really versatile and easily transitions between disciplines. We have ridden in many obstacle competitions and just competed and won the Novice Level of the Equine Trail Sports Obstacle Challenge in November 2018 in Florida.
In 2013, on the spur of the moment, we got the opportunity to enter the WDAA World Championships in Tulsa, OK. What a journey! We entered the big, beautiful arena with trepidation, but RAM acquitted himself well in the Basic Level tests and we exited amid applause from the stands, which is always gratifying! We placed seventh in the Nation and received a big, beautiful purple ribbon. What a memorable day!
While traveling overseas with my husband, I had the opportunity to ride many wonderful horses in the UK, Spain, Portugal, Switzerland, Honduras and India, and back home here, learning from each horse along the way.
I rode USEF First Level Test 3 for my Century Club Ride on Rapped N' Painted "RAM" on October 28th, 2018 at the STRIDE Schooling Show held at the Florida Horse Park in Ocala. I thank STRIDE for providing the venue for the Century Club Ride and the President, Lisa Walsh, for presentation of the beautiful gold and black ribbon with flowers on behalf of TDF. I also thank The Dressage Foundation for inviting me to become a member of their great organization and join their Century Club for a second time. Thank you for giving us seniors and our veteran horses your recognition and appreciation!
I wish to acknowledge my wonderful team of trainers and instructors for their expertise and encouragement over the years, including Irene Gentile (deceased), Lynne Sheppard, Judy Oliver, Sharon Hohenberg, Sheri Nall for her hard work getting me ready for my Century Ride, and Carolyn Hall for her "eyes on the ground" advice and assistance. My thanks also to our blacksmith, Kip Arrau, and our vets Dr. Wessner and Dr. Rullan for their excellent care.
Thank you to my wonderful husband for supporting and encouraging my passion for riding, despite setbacks along the way. He has done the chores, paid the bills and is always there when we need him. I wish for all seniors out there to keep riding their veteran horses and having fun along the way. It is the journey that counts. I also hope to inspire young riders to take up the discipline of dressage (or any other discipline) and enjoy a rewarding and lasting friendship with their horses. If I can do it, so can you! Follow your dreams and they will come true. Good luck, good health and keep moving forward.
Photos by Sheri Nall