Team #394 -- Mitzi Goodwin and Skippy 20 (TN)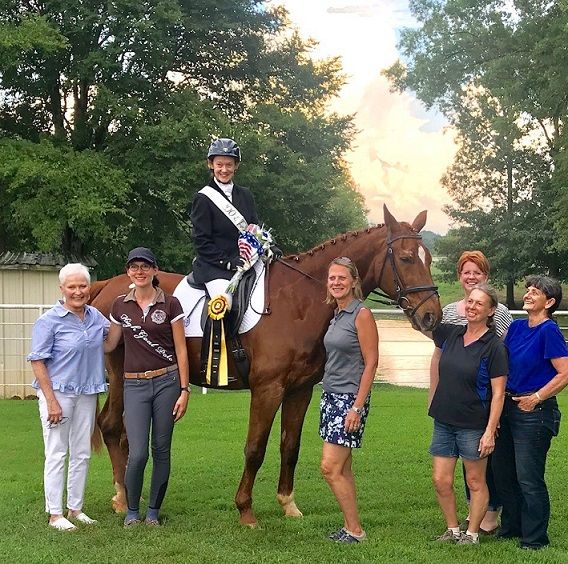 I've always loved horses; my mother said my first word was "horse" and it probably was!  My first riding experience began around the age of two at the Memphis Zoo where I would ride a pony led around by my mother.  This continued until I was old enough to purchase a string of tickets and could ride unassisted for numerous laps.  Then I moved on to riding horses at rental stables; this was again made possible by my mother, who would pick me up after school and take me to a stable where I would practice my riding skills. I had not had any lessons at this point; I just read every book about riding that I could get my hands on.  Then came high school, college, marriage, graduate school, two children, and nearly 35 years of teaching in the Memphis City School system.

Horses had taken a back seat in my life until my early 40s when I had a mid-life crisis and purchased my first horse, a Quarter Horse gelding complete with a western saddle and a hackamore.  His name was Mr. Paint and I fell in love with him.  I boarded him near my home where the barn owner introduced me to dressage and gave me my first lessons.  I soon traded the western saddle for an English saddle.  About five years later I sadly sold Mr. Paint (to a very nice family) and bought an off-the-track Thoroughbred hunter, Lyric's Choice.  I fell in love with him also, and with the help of a trainer, we introduced him to dressage.

Several years later I retired from teaching and, thanks to my long-time trainer, Kim Gentry, I was very fortunate to find a job working in the American office of a German riding academy with which she was affiliated.  She even arranged for me to go to Germany with her to take lessons at the academy!  It was there that I met Skippy, a Belgian Warmblood school horse who had been a show jumper in Europe.  It was love at first sight!  At the end of two weeks I sadly returned home thinking I would never see him again.  However, that was not the end of the story, and Skippy was on his way to Memphis within two months, and he has been mine for the last 12 years!!

Kim encouraged me to perform my Century Ride as soon as Skippy and I were "old enough."  In front of our friends and Kim, our judge, we performed a Training Level test and Skippy was a star!  He was 18 again instead of 30; I was thrilled!  It was a fantastic experience and I thank The Dressage Foundation for this wonderful opportunity.  It was one of the happiest days of my life!