Team #488 Monica Brett and Alouette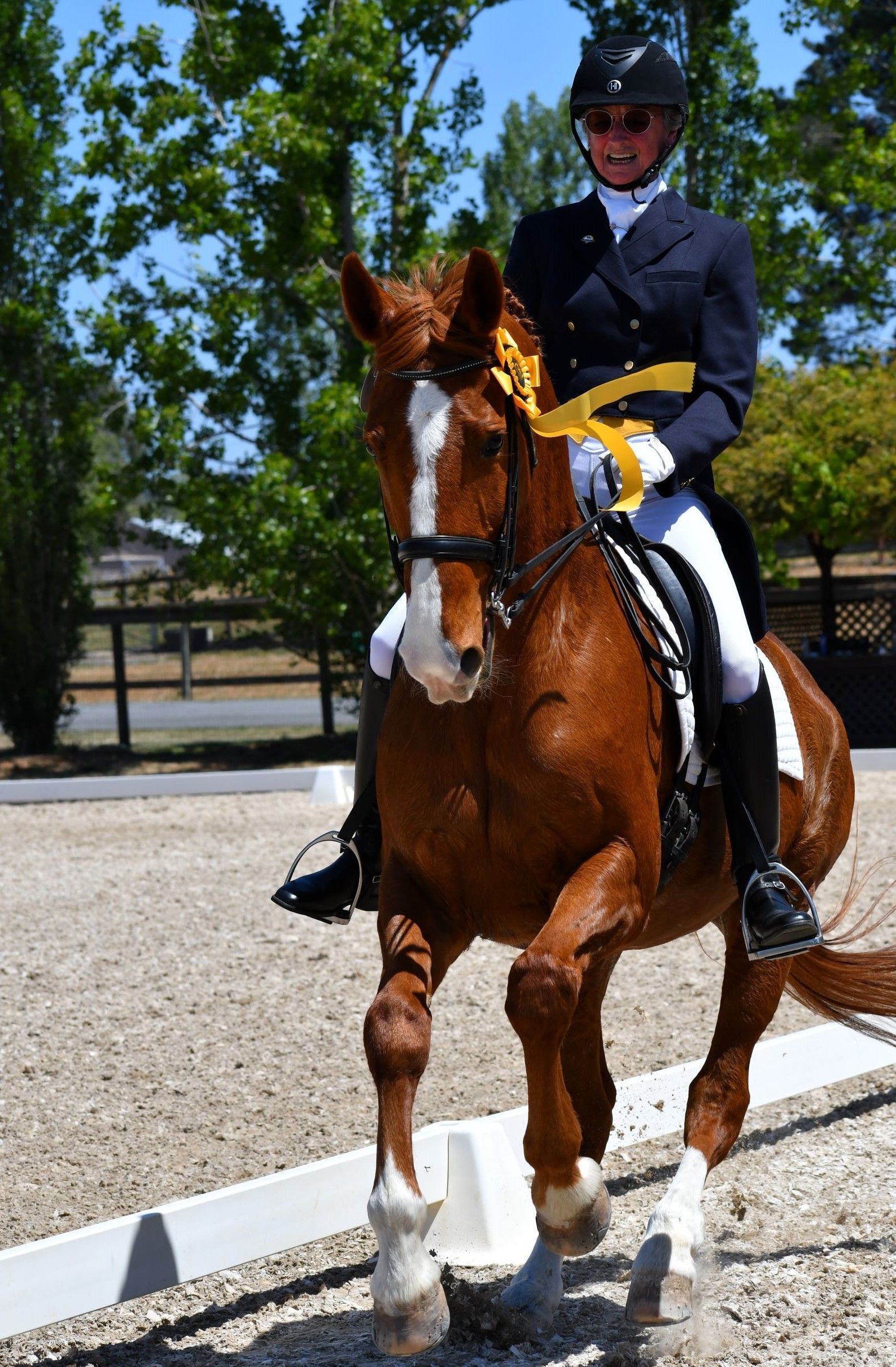 Team #488: Monica Brett and Alouette
Ages: 79 & 21
Combined Age: 100
I was born in England and always felt a compulsion to ride.  I was mad about horses and suffered through riding lessons on unexciting "school horses" for several years before I managed to persuade my parents to buy me a Connemara pony.  I've ridden just about all my life.  I love trail riding and I used to love to jump and foxhunt.  I moved to California and started showing Arabian horses, (saddle seat) for several years.
I really wanted to learn to be a good rider and thought dressage was just the thing to teach me. I started dressage lessons on my Oldenburg/Thoroughbred in the mid-'90s and I was hooked.  My friend, Marsha Haden, with her knowledge of dressage, supported and taught me so much. Without her help, I would have never gotten past Training Level, Test 1.
I bought Alouette in Germany in the fall of 2009. She was nine.  Since then, she has been living with my two other warmbloods at home with me in Marin, CA. The horses spend all day outside and enjoy frequent trail rides.
Over the years, I have taken numerous clinics with Nick Wagman, Christian Garweg, Jeremy Steinberg, Brian Hafner, and Jane Weatherwax. I showed Alouette through Intermediate 1 and decided to retire her in 2018. 
I started riding her with Tanya Vik last winter and Alouette was going well. She was going so well that I thought of showing her again.  Then I heard about the Century Club ride, and I decided that I really must do this last thing to celebrate my years of showing.
My Century Club ride meant so much to me!  Quite honestly, it was one of the best days of my life.  Although my Prix St. Georges ride was less than I had hoped, it was so much fun that I will never forget how it all made me feel.  To be surrounded by fellow dressage riders and so many friends, it was an emotional day for all of us!
Monica and Alouette rode Prix St. Georges on May 23, 2021, to complete their Century Club ride.
Photos by Samantha Barbitta