Team #347: Nancy Berrington and Top-Flight Gunsmoke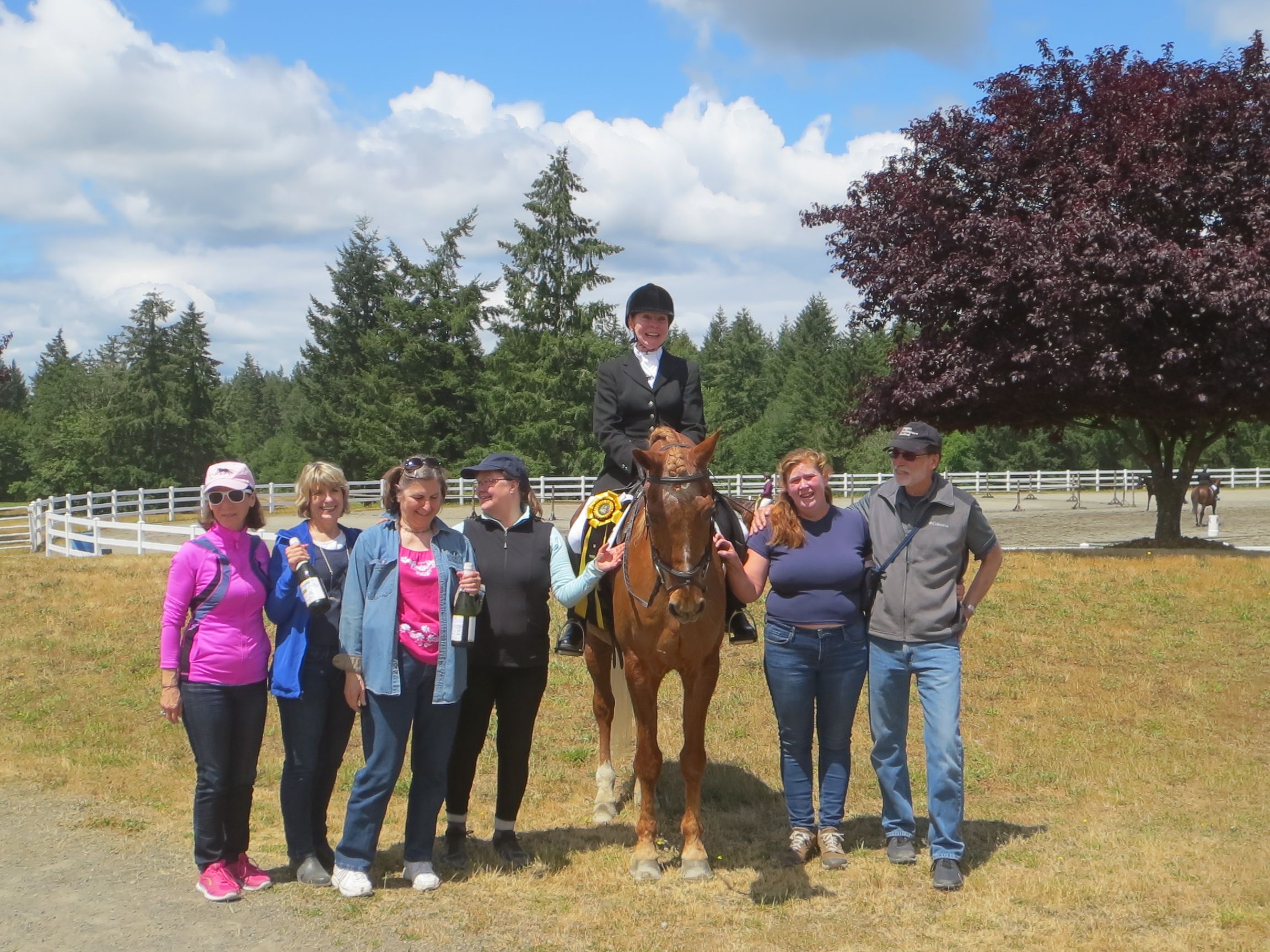 I finally realized my dream of purchasing rural property and having horses when I was in my early 40s. Top-Flight Gunsmoke (Buddy) was three and his sire, Rosemont Encore, was ten when they came to live on my farm. Buddy is a beautiful chestnut Morgan with a flaxen mane and tail. We spent our first nine years together trail riding, going to the beach and wilderness camping with dressage training part of our routine. Buddy was twelve when we started competing at local dressage schooling shows, Washington State Horseman sponsored competitions and USDF/USEF rated shows.
Dressage interested me, as I wanted to dance with my horse. At the start, I did not realize what it took to qualify for and ride musical freestyles. Once I started dressage training, I was hooked. Buddy did well at dressage during his fourteen year career. We won many local, regional and national awards from: USDF All Breeds, AMHA Open Competition, Oregon Dressage Society, Equestrian Institute, Washington State Horseman and several local Morgan Horse clubs. We competed through Third Level, receiving our USDF bronze medal, and sadly, ended up one score short of achieving our musical freestyle bronze bar. However, it has been the most amazing journal together!
Buddy retired in 2013 when he was diagnosed with Cushings and EMS. His laminitis caused a 7% and 8% rotation of his coffin bones. With the help of my amazing farrier and veterinarian, we put him in special shoes and balanced his diet and medications. He was on a very limited exercise program to help him recover. It took two years for him to be sound and healthy again. We are now out on the trails several times a week with a little arena work in the mix.
I love the Morgan horse! Buddy's sire, Encore, is now 37 years old and still trotting and cantering around our pastures. I have a younger Morgan, EMR Counselor, now eight years old who is my new dressage partner. With the guidance of my trainer, Missy Myrick, we will be moving up the levels to finish what Buddy and I started.
The Century Ride was a very special accomplishment after all Buddy has been through. Buddy has always had an amazing work ethic and been so energetic. He is engaged and loves being busy. Buddy enjoyed his dressage career, going to the shows and visiting with his friends. He was in his element at the Forest Park Show for our Century Ride, and truly enjoyed himself! It was a perfect day and a grand way for Buddy to officially retire.