#352 - Nancy Wentz and Grenadine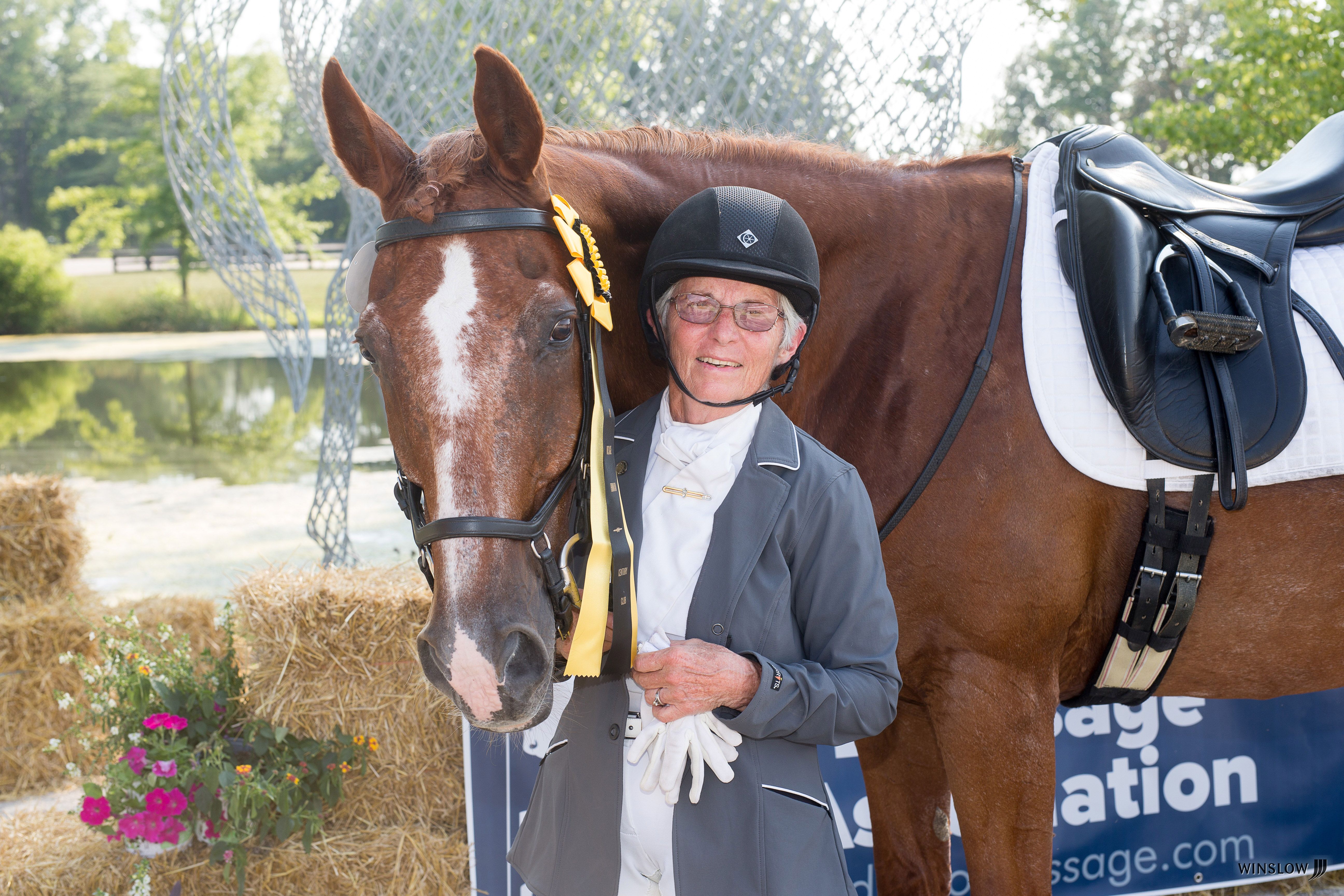 (photo by J. Winslow Photography)
My riding career began when I was a little girl.  I have always loved horses.  It began when I taped the pictures of Thoroughbred stallions on my closet door.  We had a neighbor who had two Saddlebred horses; their names were Girl and Boy.  At an early age I was allowed to give them apples and carrots and just watch – then one day they allowed me to ride on the lunge line and I was hooked.

Our home was close to several other farms where riders came down our street.  I would follow them for blocks and dream of someday being able to join them.  My breakthrough came when a neighbor of my grandparents trusted me to ride one of their two ponies by myself.  The passion for riding began to emerge.

I quickly developed my riding skills and convinced my parents to purchase a paint horse name Prince, and "Princess Nancy" began to ride on my grandparent's farm. I rode Western in the beginning. Prince and I were the "stars" of the 4th of July parade in Granville.  I dressed as and Indian Chief, complete with a full bonnet, and rode bareback with a rope bridle.  The applause from the crowd cemented my passion for my riding career.

Fast forward to my adult ages – I married my husband of now 54 years, Tom Wentz, and we moved to La Crosse, Wisconsin.  What an amazing place to ride – 600-foot high bluffs overlooking the Mississippi River!  The scenery elevated the excitement of riding. 

At Ridgeview Stables I took jumping and dressage lessons on school horses from Lois Heyerdahl.  I groomed horses to pay for the lessons and was allowed to go on the scenic Saturday trail rides. I soon purchased a part Saddlebred named Kirsh.  After our first child arrived, I found that I did not have time to ride, so my riding time decreased significantly.

Tom was transferred back to Ohio where I began to take lessons from Hans Von Bredow, the very famous instructor from Germany.  That new level of riding awareness caused me to begin riding with a passion again. Hans had other students and we all developed the need to establish a riding club where we could experience the thrill of competition.  The Mid-Ohio Dressage Association (MODA) was formed and the passion for riding in our clinics and shows added a new level of riding experience to my life.

I purchased Mr. Tiddle, a very experienced hunter, and had to teach him dressage.  Another step in my riding career emerged – how to train a horse with no prior dressage experience elevated my awareness of the complexity of training and coaching.

As MODA began to grow in membership, we held many dressage clinics and shows that allowed us to experience instructors from all over the USA.  Vicki Milliron taught us the wisdom of successful show management and the professionalism of dressage as a sport, beyond just a hobby, appeared.

A dear friend, Dinah Kruse, gave me a Thoroughbred mare name French Piuq and combined with the sire, Grand Slam, "Frenchie" gave birth to my magnificent friend Grenadine.  Breeding added a totally new dimension to my "horsing" career.

With Barney Mullady in the saddle, Grenadine became a Regional Event Champion.  After six years of eventing, the pounding began to take a toll, so we began to compete solely in dressage.  Our Second Level scores earned my USDF Bronze Medal.

As Joe and Sherry Hull announced my Century Ride, Grenadine was my mount and deserves a standing ovation for his beautiful movements and keeping me safe for over 25 years. I am sincerely thankful to my husband, Tom, who does much of the heavy lifting today that allows me to continue my passion for riding.  My son, Bill, and daughter, Pam, contribute enormous emotional support.  Pam has the BEMER technology that soothes my aging body after a tough day at the barn and in the saddle.  Bill is a Professional Golf Instructor and constantly reminds me of the similarity of muscle memory development in both sports.

I offer my sincere thank you to my friend, Cathy Jacob, who allows me to be her groom as she works toward her Gold Medal.  Her attention to detail of riding at that level is a constant reminder of the professionalism in our sport.

My next level is just beginning with my new pony, Kells Extra Kash, who is teaching me, once again, what it is like to start all over with a horse that "knows not" dressage.  As we all know, a "passion" can turn to "insanity" and the next chapter is yet ahead.

Thank you to all my friends and The Dressage Foundation for creating the Century Club.