Team #444 Page Lyon and Albert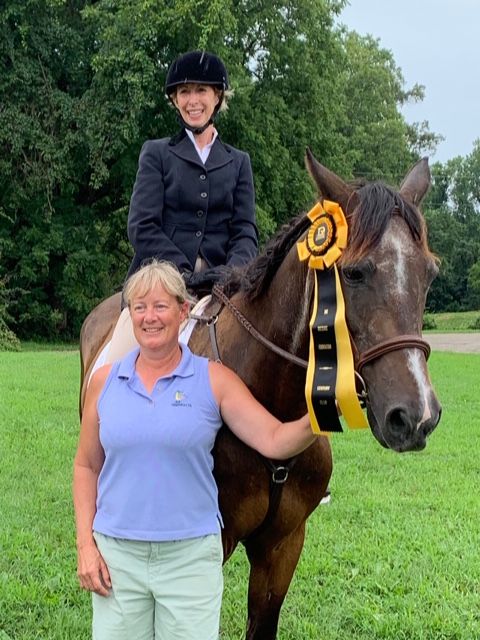 Team #444 – Page Lyon and Albert
Ages: 73 and 28
Combined age: 101
My path to the Century Club began as with so many others.  My father, who loved fox hunting, started me riding at the age of six.  I started on ponies, but fortunately graduated to a horse, otherwise, I would have flunked out!
Through my teens, I continued to ride, but with college, jobs, and marriage, I stopped.  There was the occasional riding with friends, but nothing serious until 2006. At that time, I was working at St. Timothy's School in Stevenson, Maryland, the boarding school I had attended in the 60s, as Director of Development.  At lunch one day, the head of the riding program, Libby South ill, encouraged me to " make the time" for riding.  It was then that I learned how much riding instruction had changed and I loved it. Taking her advice, I continued to ride there until my retirement.  My current teacher, Lisa Swan, continued my "education" and introduced me to dressage and the occasional fox hunt.  Through my dressage lessons with Lisa and Marija Treischman I learned to appreciate the skill and discipline dressage requires; the subtle ways of communicating with your horse through pressure, balance, and weight. 
At my current stable, Oak Crest Farm in Harwood, Maryland, I was leasing Albert, a Morgan, who I knew was in his late 20s and I was in my 70s.  When I turned 73 in October 2019, Lisa mentioned the Century Club and what fun it would be to participate.  I talked with Albert's owner, Tina Emmerich, who confirmed that Albert was 27 so, that was that.  Albert is infamous for escaping from his stall at Morven Park in Leesburg, Virginia, during an NCEL Equitation Finale in 2010.  He spent two weeks roaming the countryside of Loudoun County only to turn up 30 miles away at a Veterinarian Clinic emaciated and covered in ticks!  Needless to say, Albert has not traveled off Oak Crest Farm!  Fortunately for Albert, the Century Club ride took place at an in-house dressage show.  
So, to Lisa, Marija, Oak Crest Farm, and my riding friends, as well as my husband, Rob, for their words of encouragement AND patience, I say "thank you." But, without the support of The Dressage Foundation, none of this would be possible.  This organization offers so much to all age groups, but what fun to give "seniors" a way to continue their love of riding.
Page and Albert rode Intro Level Test C to complete their Century Club ride on August 15, 2020.