Team #365: Patricia Barlow and Wind Gap Rosebay Willow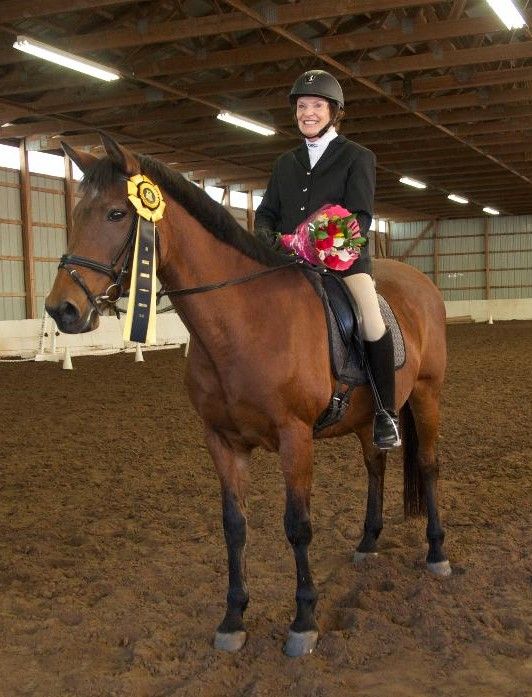 I was just ten years old when my cousin rode into my yard on her horse. I was simply awestruck at that beautiful scene and after all these years, that picture still stays in my mind. My mother wanted a little princess, but instead she got a tomboy who was in love with horses. However, in lieu of the real thing, I ended up with a great collection of Breyer model horses, horse jewelry and books. I still have all of these, including the entire Black Stallion Book series.
As an adult and married with three young children, I finally began riding as a serious pursuit, taking lessons at Ellen Stanton's Tanglewood Farm in LaFayette, New York. Ellen and another local dressage instructor, Joyce Fisher, had by then formalized dressage in the area by establishing the Cherry Valley Dressage Association. This organization was later to become the Central New York Dressage & Combined Training Association of which I have been a member for several decades.
A quarter of a century after I saw my cousin and her horse, I finally got the real thing – a wonderful young Thoroughbred. Joyce would come to my modest backyard riding area to give me dressage lessons. Phineas and I worked together on dressage and rode the area trails for 15 years. After Phineas passed along, I welcomed a Morgan mare, Whitfield's PATC (out of Schoolmaster and grandfather Upway Ben Don) who needed a home to my then empty barn.
PATC was the smartest, kindest horse I have ever known. But after a great many years, a leg injury forced her into retirement. She was so wonderful I decided to get another Morgan mare. That brought Wind Gap Rosebay Willow (out of Otter Brook Jubilee) into my life. An alpha mare, "Willow" graciously put up with my sometimes not-so-great riding, but we finally got it together for the Century Club Ride. I was so tense during the test, I felt SHE did our amazing ride by herself and simply carried me along. She must have sensed this was important. She has been therapy for me for many of life's losses. What a great horse!
Because of my husband's job, my summer riding has been in East Falmouth, Massachusetts. Therefore, special recognition must go to Holly Dickson Cressy, a very accomplished dressage rider and instructor, who for years, has had the patience for my incredible lessons and contributions to my knowledge of horses.
Also, I am so very grateful for Arynn Agan, current President of the Central New York Dressage & Combined Training Association for all the planning and time she invested in organizing the qualifying show for me to achieve this award – an almost impossible dream. The show day was beautiful and my barn friends at Kirkville Stable clapped and cheered after my ride; followed by flowers, cake, champagne and a bracelet made from Willow's tail with 2 charms – C.C. and Pat & Willow.
After such a late start in serious riding, to have the opportunity to qualify for the Century Club is truly awesome. I offer my heartfelt thanks to The Dressage Foundation.