Team #475 Patricia Cassidy and Wintergreen Sienna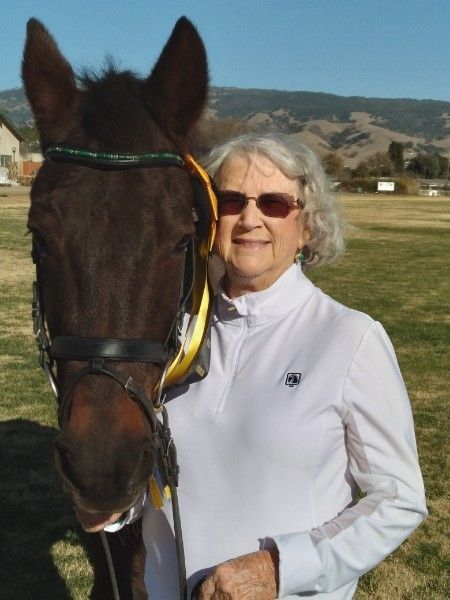 Team #475 – Patricia Cassidy and Wintergreen Sienna
Ages: 81 and 19
Combined ages: 100
My journey with horses started when I was young and rode the donkeys in Golden Gate Park in San Francisco. After many years, the den mother and I took our Cub Scout den horseback riding at Buck Norred Stables in San Jose.  They were starting a group of women riders and my passion was off and running.
I started riding western, then started riding in a hunt saddle.  When I started jumping the fences instead of the horse, I found dressage.  I bought my first horse at age 40 (life begins at 40) but she also gave me many flying lessons.  I moved on to my next horse, Mick, when I moved to Sacramento and I learned a lot while riding him. I next bought a thoroughbred, but we never connected.
When I decided I would like a Morgan horse I found Wintergreen Sienna at the Woodland Stallion Station in Woodland, California 13 years ago. Lessons began with Susan Garmier. We then moved to the Pacific Equestrian Center in Wilton. With Mari Naten, Sienna and I worked hard at learning a lot about dressage.
I then moved back to San Jose and tried boarding at several different barns and working with several different trainers. About two years ago I moved to South Bay Horse Ranch and started working with Juliet Clarke of Sugarloaf Farm and Sienna and I started our journey to our Century Club ride, she at 19 and me at 81.  Our first ride was scheduled for August 22, 2020, at Osierlea in San Juan Bautista, but our plans were changed. The show was canceled because of the wildfires in California.  The next show was on Halloween so that is when we did our Century Club ride.
My wonderful horse took care of me that day.  We both stayed calm and did our job. She whinnied every time she got near the judge because she heard a horse whinnying and had to answer. But, true to her wonderful nature, she kept doing her job and we completed our test with a score of 69, taking first place.  I was absolutely thrilled and found out I had many friends cheering for me. On to bigger and better things!
Patricia and Wintergreen Sienna rode Introductory Level – Test B on October 31, 2020, to complete her Century Club ride.