Team #417 Patricia Close and Denebola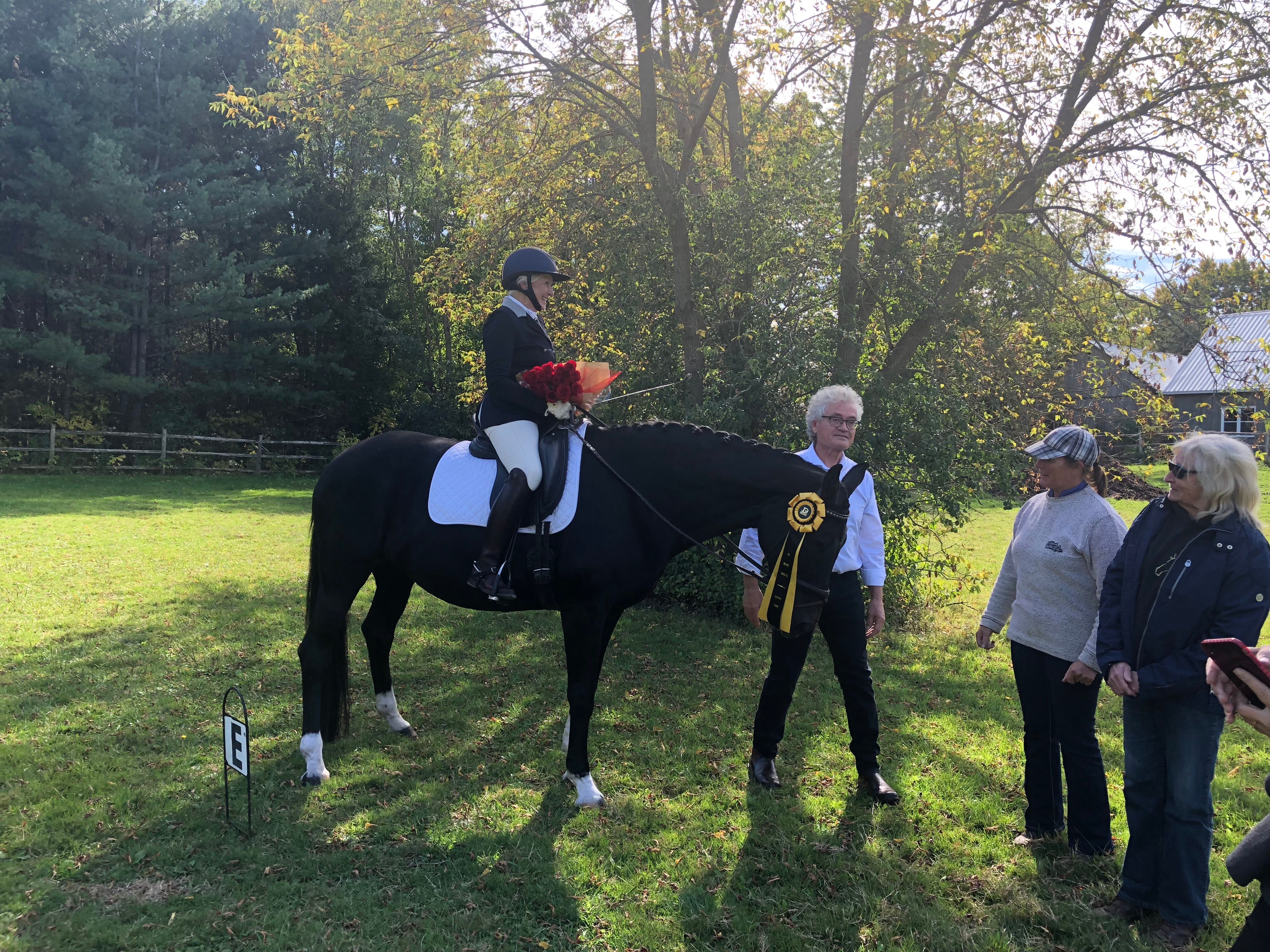 I started riding dressage in my 40s and showed my first dressage horse up to Prix St. Georges. I wanted a really good younger horse, but the cost was prohibitive, so I decided to breed my own.  Having bought the best dressage broodmare I could find in Canada, a States Premium and Canadian Hanoverian Champion, I bred her to Donnerhall. Denebola was the result.
The now Elite Mare Denebola has been raised and trained at Craig House Farm (a small breeding farm south of Ottawa, Canada) that I own along with my husband Donald Greenfield. She has met and exceeded all my expectations.
She won her foal inspection, then her 3-year-old Hanoverian inspection. As a 5-year-old she won the Eastern Canadian Hanoverian Championship. I trained and showed her up Prix St Georges when I retired her just to have fun riding at home.  She still does all the small tour movements.
She has had three foals. A filly sired by Sandro Hit, still in training, is on her way to Florida to show this winter.  Her final foal, sired by Totilas, the young stallion Totem, won all his young horse FEI tests in Wellington, Florida, and at age seven has shown Prix St. Georges and I1. Although now gelded his first progeny was born in Ohio, a filly who won her foal inspection. 
So Denebola, as well as Patricia, are grandmothers.  I couldn't have bred or ridden a more wonderful horse.
It was a pleasure to do a dressage test on Denebola for the Century Ride. I would like to thank her very first coach, DeeDee Grace, and her last virtual coach, Sian Fernandes Thomas, for presenting the ribbons, Kris Sherry for judging, Jean Caskey for the photos, and Amanda Dubé for grooming and scribing.  Also thanks to my wonderful friends and family who came to watch, especially Marcia George, who talked me into doing the ride, and my very supportive husband, Don.