Team #445 Patricia Welborn and Tolkien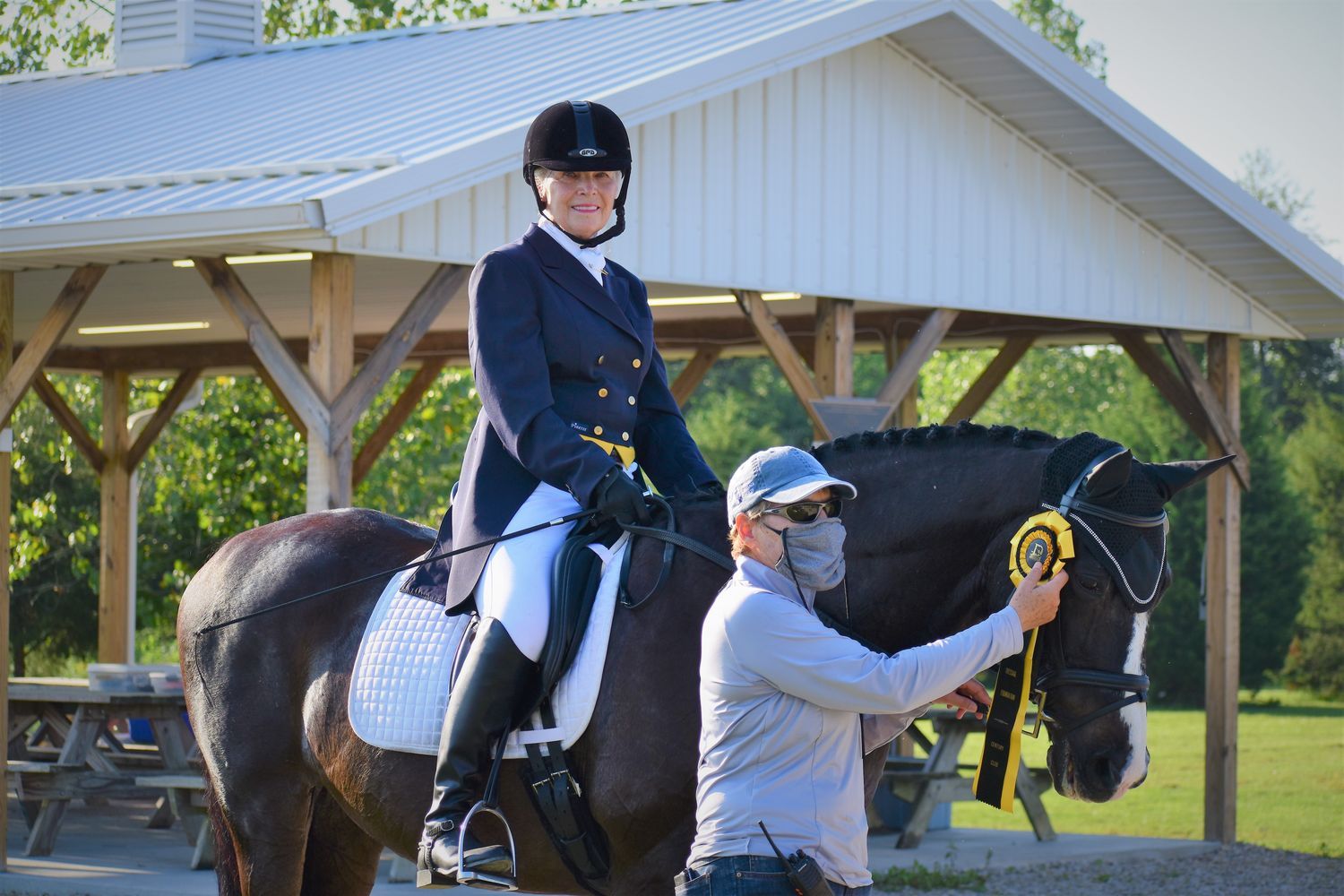 Team #445 – Patricia Welborn and Tolkien
Ages: 77 and 25
Combined Age: 102
When Tolkien came into Pat's life in 2007, he was going Third Level, had a clean change, and a great temperament.  These attributes gave Pat confidence that she could reach her goal of riding Prix St. Georges and achieving a Silver Medal.
Tolkien's history is a little blurred, but he was bred in The Netherlands and imported to the U.S. at age five.  He was owned by an amateur rider, who did a little dressage and competitive trail riding.  He ended up in Massachusetts where Pat first tried him.
The Silver Medal was a tall goal, since Pat had no experience above Third Level, and there was limited dressage instruction in her area.  She had her Bronze Medal, but her horse was not able to continue due to severe respiratory problems.
Tolkien proved to be the perfect horse for her, since his easy-going temperament enabled her to ride safely alone.  Pat and her husband Mell live on a small horse farm in southern Indiana.  Over the years things have been added to accommodate Pat's changing focus.  Early on there was an outside riding arena with jumps to prepare for hunter and eventing competitions.  As time went on, riding and the horses had to take second place, since the family's focus was on their son's preparation to become a physician.  He's now a vascular surgeon in Huntsville, Alabama.
Medicine is in the Welborn family with Mell a retired general surgeon and Pat a retired Registered Nurse.  Pat graduated from Vanderbilt University School of Nursing and worked first in pediatrics.  Later she was Executive Director of Ohio Valley Hospice and then worked 14 years at Bristol-Myers Squibb.
Her love of horses and riding came naturally from a love of animals.  She didn't have any experience of riding until she was in college and then the "horse-gene" was expressed.  Each place they lived during Mell's training, Pat sought out a local barn to take lessons.  When they finally settled in Evansville, Indiana, she was able to find a barn to ride and an instructor who introduced her to eventing.  She evented through Training Level and rode in many local hunter and dressage shows.
When she decided to give up eventing, she continued to ride both hunter style and dressage.  Seeking out instruction and clinics, she was able to advance from Training Level to Third Level.  She never thought this was possible, but hard work and patience opened up the possibilities.  She set her sights on Prix St. Georges, but there was one major obstacle:  Tolkien wouldn't take the double bridle!  Even with professional help to acclimate him to the new bridle, he resisted.  Then the USEF changed the rules so that a snaffle could be used at any level.  Finally in 2013, Pat was able to achieve her Silver Medal. 
A Century Club ride was not even considered until Pat realized that Tolkien was 25 years old and still game.  The idea took hold, and this generous horse carried Pat to their Century Club ride at the 2020 Indiana Dressage Society Festival I, riding Prix St. Georges – during a pandemic!
Patricia and Tolkien rode Introductory Level Test C to complete their Century Club ride on August 15, 2020.