Team #463 Patty Dewey and Afire Lily+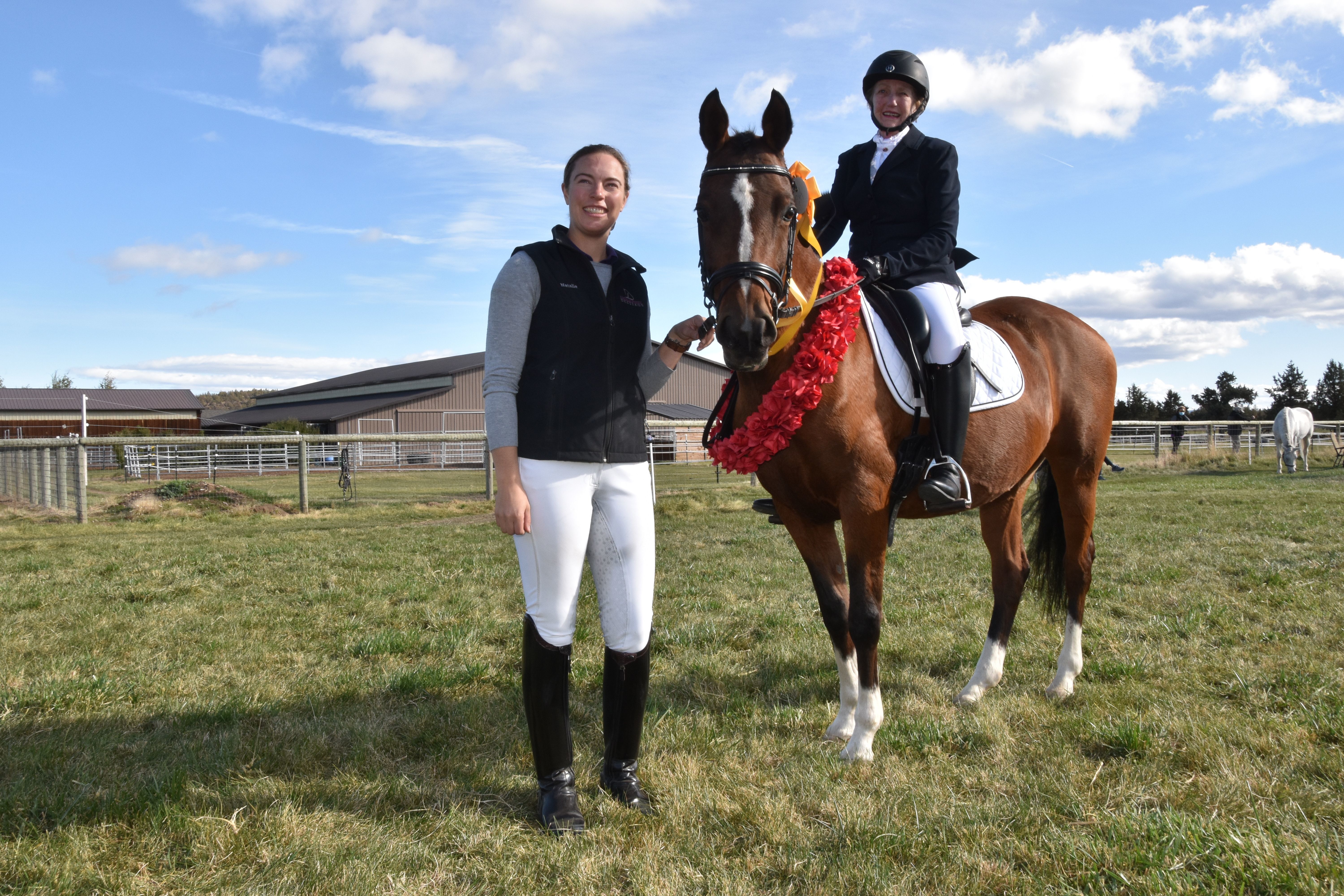 Team #463 Patty Dewey and Afire Lily+
Ages: 82 and 18
Combined ages: 100
Perseverance Pays Off: Patty Dewey & Afire Lily's Century Ride
By Lauren Baker
While all competitive rides require planning and persistence, a successful Century Ride takes additional effort — and a bit of luck.
"It's been a wild ride for three years," Patty Dewey said, describing the preparation it took to pull off her successful Training Level, Test 1 ridden with Afire Lily+ on October 18th at the Central Oregon Chapter's Fall Fling held in Sisters, OR.
"I started preparing in 2017 with Dandee — who would have been perfect," Patty said. The Arabian mare was instrumental in Patty's life, giving her the confidence to return to riding after a six-year break. "She was a joy. She taught me that I could ride if I had complete trust in the horse."
While Patty has ridden since childhood, her risk tolerance changed after she found herself alone and with a second knee replacement, plus having five acres and three dogs to care for on her own. She had too many responsibilities to risk getting hurt.
When Dandee suffered an injury and had to be put down, Patty was heartbroken but persisted. At age 79 she started looking for her Century Horse. After trying three horses, in 2018 she saw an ad for Afire Lily+ and liked the look of the bay Arabian mare. Patty's trainer, Natalie Perry, agreed to go with her to try the horse, who'd been used most recently as a broodmare. Lily was sweet and gentle on the ground but very forward to ride. Patty told Natalie, "I think she is too much horse for me."
Natalie disagreed. The mare had nice movement and a kind nature. With training, she felt Lily could become a willing dressage mount for Patty. After buying the mare, Patty was thrilled to find that her pedigree was impeccable.
"Then I noticed a 'plus sign' behind Lily's name. I called the registry to find out more about it."
To her surprise, Lily was a champion, having earned 102 points through competition in Country English Pleasure AOTR.
Patty and Natalie have been riding Lily four days a week over the last two years. Patty gives full credit to Natalie Perry for retraining Lily. "Natalie could do it because of her soft hands, patience, positivity, and quietness," she said.
There were setbacks along the way. Just two weeks before the Century Ride, which was scheduled for mid-September, the show was canceled due to hazardous air quality caused by wildfires. For over a week, outdoor activity was not recommended due to the smoke. When the air quality did improve, local veterinarians recommended giving horses an additional two weeks off to let their lungs clear, then bring them back to work slowly.
The show was rescheduled to mid-October, which allowed for very little riding time before the competition. After not riding for a month, Patty began riding again one week before the show.
On the morning of the show, Natalie rode Lily in two classes, to help the mare settle in.
"Natalie set her ego aside and rode Lily in the most boring way possible," Patty said, "to make her relaxed and happy for me."
Patty's ride was much anticipated by the local community. And while COVID precautions limited the number of spectators allowed at the venue, her son Jim and daughter-in-law Gillian were able to attend to help and take photos. Those who watched were all smiles, inspired by this equestrian pair.
"We were in harmony," Patty said. "Lily was an angel."
Judge Sabine Ense awarded the pair a score of 65.577%, commenting "My wish is that I ride as well you did today for the next 30 some years."
Patty and Afire Lily+ rode Training Level Test 1 to complete their Century Club ride on October 18, 2020.