Team #432: Paula Berkebile and Thor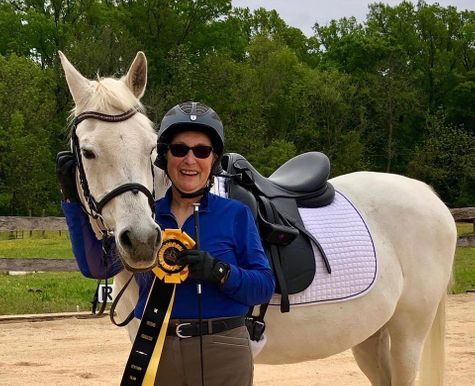 Team # 432: Paula Berkebile and Thor
Ages: 75 and 26
Combined age: 101
I grew up in a large city with a very non-horsey family. Not sure how it happened, but I think I was born loving horses. My mom kept hoping I would outgrow it.
I got my first horse as an adult and pretty much did "seat of my pants" riding. We moved to the east coast where I started taking lessons when I was in my 50s. I had an Arabian and did hunter pleasure at Arabian shows.
About 20 years ago, I discovered dressage. I'm not very athletic, but I loved learning with my non-traditional horses.  When I first found out about the Century Club, I knew it was something I wanted to work toward. I did the math and my Arabian and I would qualify in 2023 if he could overcome his Cushings and lameness issues.  Then my good friend and riding instructor said, "Why don't you take Thor? He's 21 and in five years you can do your ride. He needs a job and you know he won't blow up at a show and frighten you."
So five years ago, at the age of 21, Thor the ¾ Arabian/pony came to live at my house as a permanent lease. I'd known him since he was a youngster. He was a kid's 4-H hunter pony and then was used as a lesson pony. He babysat for an orphan foal, did a 25-mile endurance ride and eventually was turned out to pasture. On our first ride, he put his nose in the air and only stopped when I headed toward a fence.
Thanks to several wonderful instructors, he learned to carry himself and do transitions mostly when asked! We were ready to do our ride in April of 2020 and then everything shut down. It was time for Plan B. I did the ride at home and sent a video to be judged. My wonderful boarders came to watch and celebrated with a champagne toast (observing social distancing) when we finished.
I love this little gray pony. He worked so hard to help me achieve this goal. I think the two of us will spend the summer hitting the trails near my home and then it may be time for a new goal. 
Paula and Thor rode Training Level Test 2 to complete their Century Club ride in May of 2020.