Team #348: Paula Ingham and Windfield Cresent Moon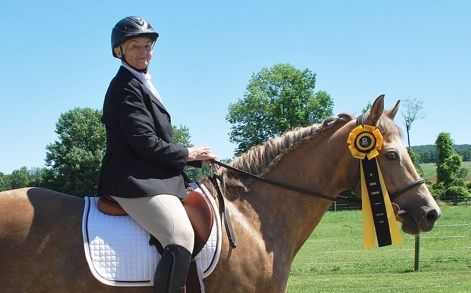 I have been a horse enthusiast all my life; I started with cavalry training in a troop, then summers in Wisconsin with two saddleless ponies, summer camps in Michigan, then a college riding team at MacMurray College in Illinois. Finally, I ended up in Connecticut teaching Danbury High School Biology with student riding groups on the side. When I retired, I bought and borrowed horses to do as much riding as I could, including a little bit of showing and jumping.
It was then I had the pleasure of finding my Lil Girl (Windfield Cresent Moon), a beautifully dappled, dark palomino Morgan mare, who was eight years old at the time. I wasn't ready for an "old lady's" horse and we had lots of fun together until I banged myself up in an automobile accident, followed by a stroke. Lil Girl took such good care of me and so many others, as well, that we thought we would make the Century Club Ride a goal. We had never done a show before, much less a dressage show, but she had done some show jumping before she came to me.
So now, Lil Girl is 13 years young and I am 88 years old! My wonderful team includes my long-time horse friends, Elizabeth Meeker and Barbara Ann Jacobs, who couldn't be there to share the fun. Special honors to Margaret Boyce, my dressage coach, trainer, saddle fitter, judge, the encourager par excellence,  who put this whole thing together for an experience never to be forgotten. Huge thank you for all the years of encouragement and support to Sue Peterson and Steve Milne; and to Lee Lyons at Windfield Morgan Farm for my wonderful partner. Finally, I'd like to thank Kait Bal and Lynda Balioni and the friends from Legacy Stables who provided such a gala event.