Team # 419 P.J. Hardin and Max-A-Million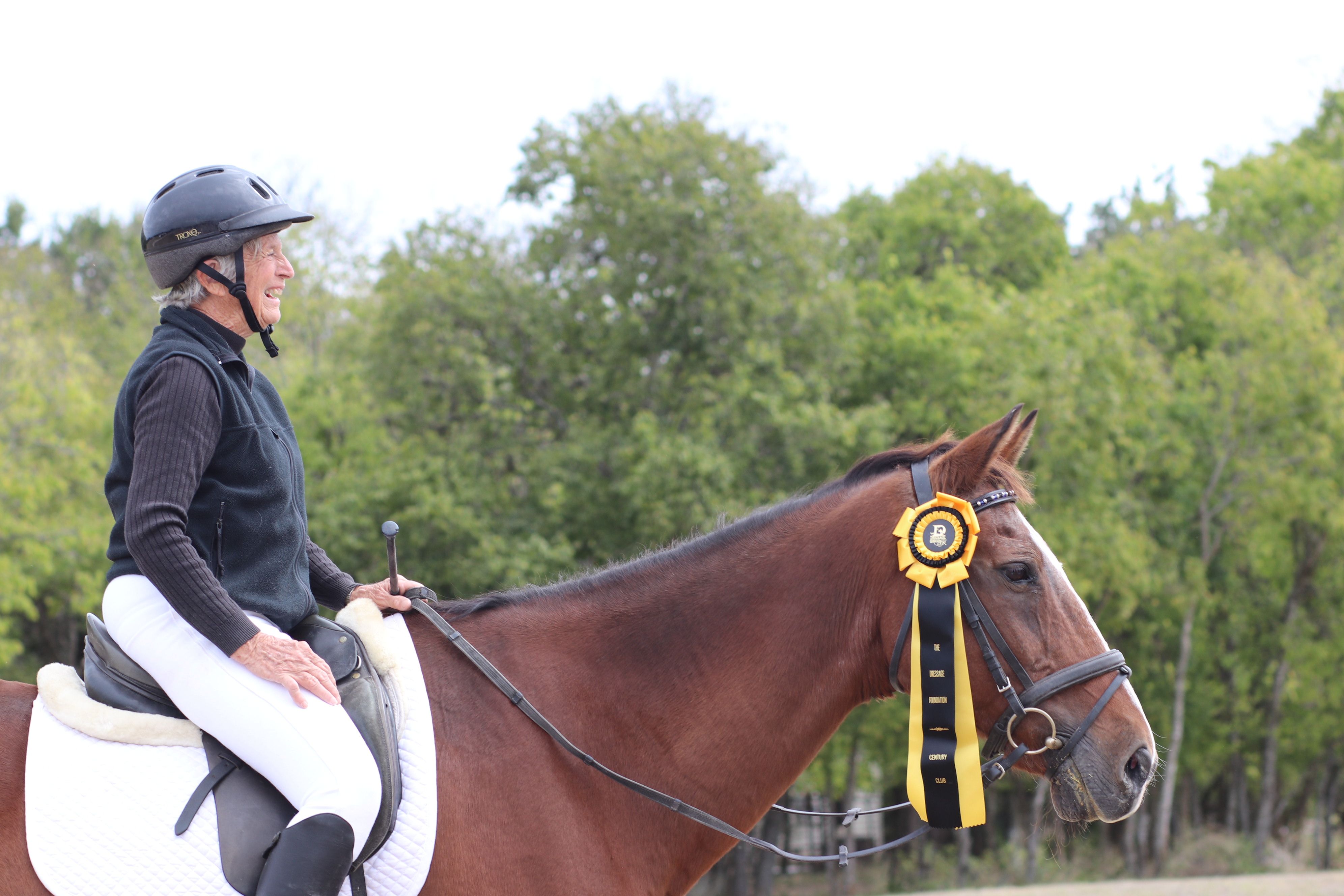 P.J. Hardin 78     Max-a-Million 25
Wow! When I rode off the last halt of my Century Club Ride on October 12th, I was surprised to see people waving fans stamped with a photo of Max and me. Then, when I had the task of writing a short biography, I realized how much support I've had in the journey to our First Level Test 2, 68.571% score.
During this last phase of my riding life, Susan Hancock of Hancock Dressage in LaVernia, TX, has been ridiculously supportive. She ignores all my negative comments and teaches and reteaches the principle of good dressage…"pay attention to your position, no gripping at knees, keep contact on reins," seemingly inexhaustibly.
I began horse life way back in the 1950s when Ms. Margaret Grainger, who ran a hack stable in Charlottesville, VA, allowed me to hop on her rental horses, often bareback, to ride to water after the renters finished their hours' time. She opened the door further by letting me ride her horses for free on trails and later to "follow" the fox hunters at a country club in the area. (I later heard she got a lot of heat for this.) I rolled obliviously along, learning by what was called "the seat of your pants."
Fast forward to the 1970s when I purchased a foal for $75 from a university equine teaching program. My education expanded. In time, I signed Evanthea up for eventing clinics given by people with such names at Plumb, Coffin, Emerson and Hill. Further experience included fox hunting, schooling shows and the (I still can't believe I did it) racetrack exercise rider. I entered small hunter shows and eventing trials. Osmosis was occurring.
Max's birth was in 1994 in TN after Carol Schmickrath had coaxed me through the process of breeding Evanthea via artificial insemination to Telstar, an "A" approved Dutch Warmblood stallion. Then, moving to and working at the Schmickrath's Brookstone Farm in TX exposed me to upper level dressage with people like Rokowansky, Poulin and Hester. Again, enormous plus for this kind of exposure.
After moving to Sequin, TX, an eventing crash suggested I should stay earthbound astride Max. So, Max and I entered into new understandings, agreements and skills. Our partnership continues to grow. I am so grateful for Max coming to me and becoming my partner.
Photos by: Carole Fuller