Team #482 Randal Sparks and Master of Ceremony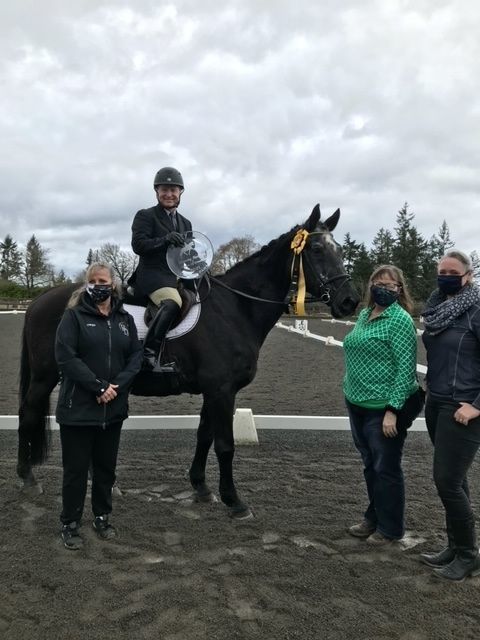 Team #482: Randal Sparks and Master of Ceremony
Ages: 71 and 29
Combined Age: 100
We started buying horses for our daughter Allison in the late 90s and Master of Ceremony (Mac) was our second purchase.  I started riding with Allison when we bought Mac as a young 5-year-old.
Allison and Mac competed in three-day eventing. Twenty years ago (2001) they competed at the North American Young Rider Championship in Chicago, placing ninth in the individual competition. They were also part of the bronze medal team.  
They competed at the Intermediate level of eventing for eight years. After he retired from the Intermediate level of eventing, Mac was leased by several riders, taking several of these riders to their first Preliminary level events. 
I took lessons on our first horse and eventually began eventing as well. I had several horses over the next two decades but didn't ride Mac until he retired from eventing. He then became my ride.
Over the last several years, Mac has been ridden at least five days a week; however, I was not riding at all. I began riding Mac once or twice a week, with the idea of eventually aiming for the Century Club ride. During this time, we also competed at an unrecognized three-day event at the Beginner Novice level and Mac showed that he still had a lot of spunk left in him. 
This new partnership was quite a change for both of us, one which we both enjoyed. We began increasing the number of rides and tried to improve our fitness and accuracy. As the Century Club ride grew closer, Mac and I worked on the patterns and paces.   
The day of the event was a big deal for us. The day was made even more special by the support of the Century Club and Donida Farms in Auburn, Washington.  With the support of Allison and my wife, Kris, we rode the best test ever.  I won't say we were very calm, but we executed the test and received nice applause upon finishing. It was truly a high point in both of our riding careers that I'll never forget. Thanks all, once again!
Randy and Mac completed Introductory Level Test C on March 20, 2021, to join the Century Club.