Team #425 -- Richard Freeman and Grenadier (LA)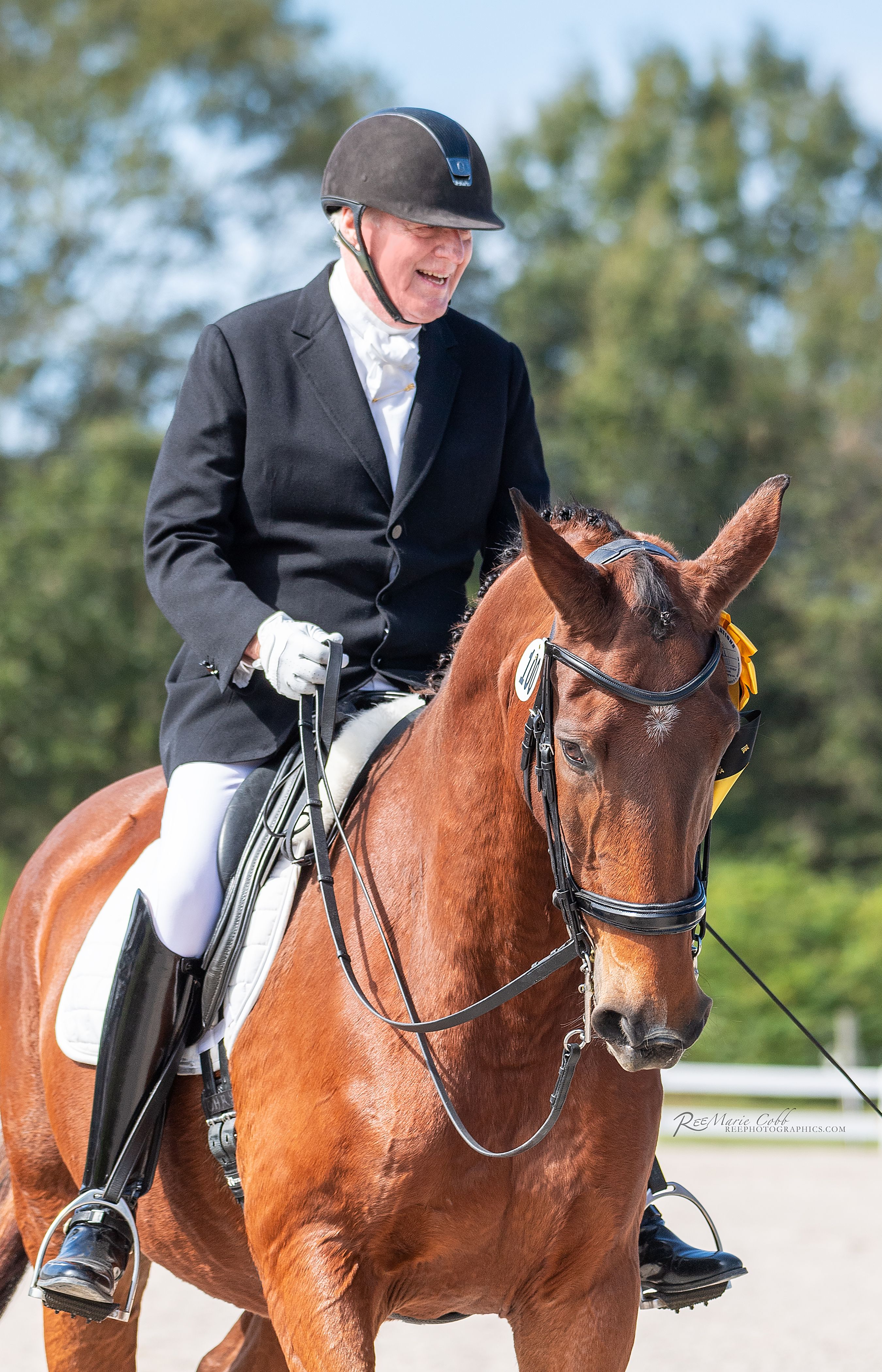 Richard Freeman 81     Grenadier 20
Richard Freeman's first experience with riding was as a twelve-year-old at a Saddlebred barn at Audubon Park in New Orleans.  He gave up that effort after too many falls, but never relinquished his love of horses and riding.  He rode at dude ranches and Mardi Gras parades, eventually buying a horse in the eighties when he purchased a country property with a stable.  Riding lessons followed and Richard soon found himself in the ranks of riders spending a lifetime learning the art of dressage.
The horse bug soon had Richard breeding Polish Arabians, but he wanted something bigger.  Through a business associate and circumstances, he met Leif Sorensen and switched to the Danish Warmbloods he is known for today.  Richard's Oak Hill Ranch has been rewarded by earning USDF Breeder of the Year and runner up on many occasions.   

Richard's first Century Club ride was in 2016 at a schooling show on board niece Laura's KWPN gelding, Laoma, riding Third Level.  Having recently announced his retirement from the breeding world, Richard thought a Century Club ride on an Oak Hill bred horse would be a fitting note on which to leave.
Enter Grenadier, bred at Oak Hill Ranch in 1999.  The first interesting fact about Grenadier is that Richard used both his sire and dam as riding horses.  Rambo was a foundation sire of Oak Hill's breeding program.  Once Rambo's competitive career had ended, Richard was the one who continued to exercise him.  Gunilla, the dam, was imported by Oak Hill after her owner decided that world travel and horse ownership didn't mix well.  On arriving at Oak Hill, she became Richard's riding horse.  Thus Richard has ridden sire, dam and offspring.

The second interesting fact is that Grenadier was bred using embryo transfer.  The conception produced identical twins which were raised by recipient mares.  Grenadier's twin lives in Texas and competes at FEI.

The third interesting fact about Grenadier is that Richard regrets ever selling him as a youngster.  Nevertheless, he is now back at Oak Hill to stay and they are doing a Century Ride together.  What a fitting way to close out a great legacy of Danish breeding.

Photos by Marie Cobb