Team #472 Richard Freeman and Virtuoso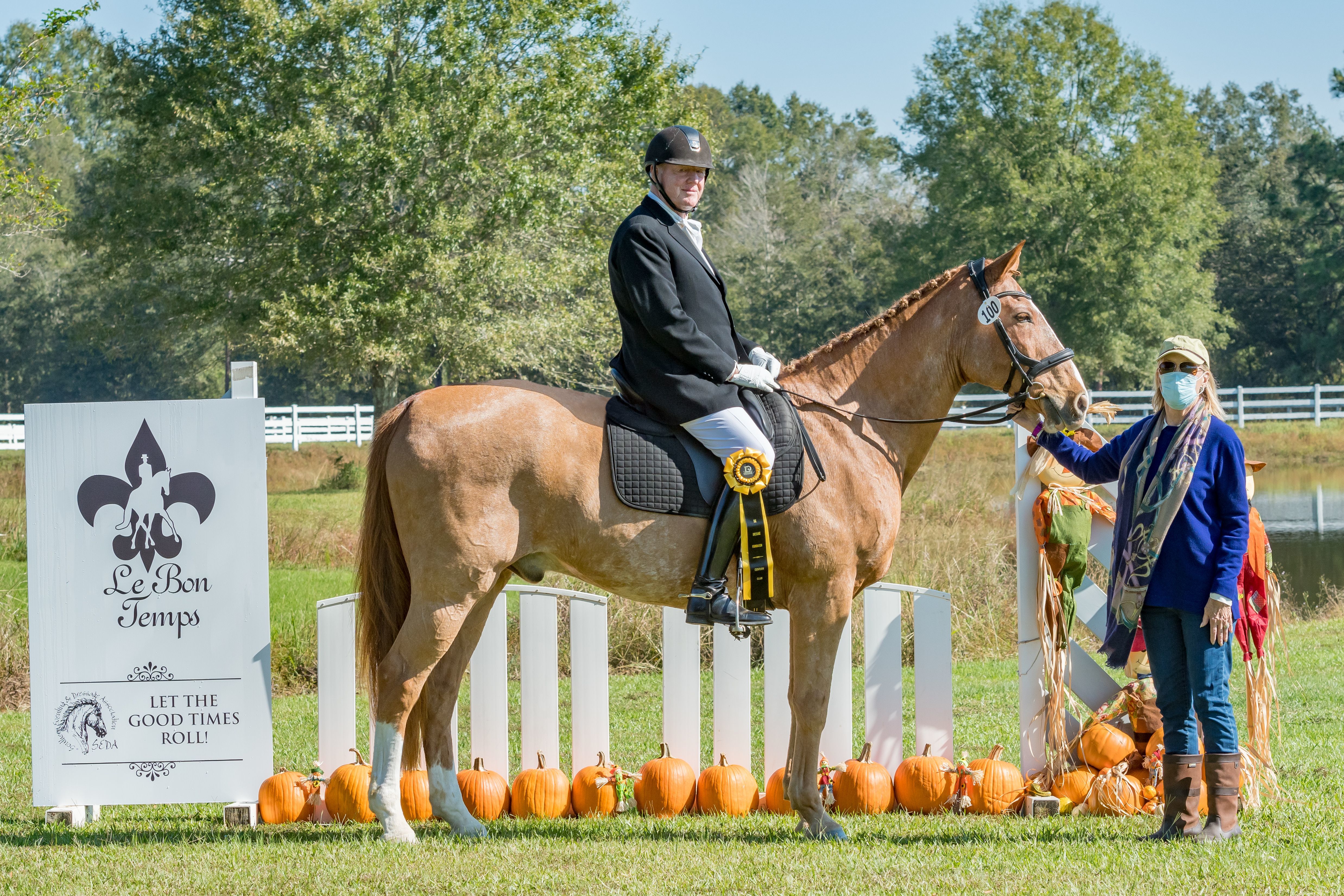 Team #472 – Richard Freeman and Virtuoso
Ages 82 and 18
Combine age: 100
Story by Regina Milliken

To complete the Century Club ride twice is rare. Three times is a testament of determination, optimism, and endurance.  But Century Club rides are not all there is to Mr. Richard Freeman, owner of Oak Hill Ranch in Folsom, Louisiana. It's been a long and winding road for Mr. Freeman, who is a breeder of fine sport horses as well as competing up to Prix St. Georges himself. 
This year, at the age of 82, Mr. Freeman is celebrating his third Century Club ride mounted on Virtuoso, a horse originally purchased for his mild temperament to be a trail horse for family and visitors. When it was suggested to Mr. Freeman that he could, once again, complete a Century Club ride on 18 year old Virtu, Mr. Freeman dedicated his days to getting Virtu fit and ready to go up centerline as a dressage horse.  A daunting task when your horse is a couch potato on legs. Mr. Freeman has been involved in the world of Equine breeding, sales, and training for over 30 years, with a focus on Warmbloods since 1992, and he is aware of what it takes to get a horse fit for competition.
The legacy of Mr. Freeman and Oak Hill Ranch began in 1987, when he started breeding Arabians.  By 1992, Mr. Freeman had transitioned to breeding Warmbloods.  At that point in history, Oak Hill was a trail blazer for other breeding farms in the United States. Oak Hill, in conjunction with Dr. Gary Greene, DVM and board certified Theriogenologist, was freezing embryos, completing successful embryo transfers, and utilizing frozen semen in the early to mid-90s before it was widespread common practice. Oak Hill wanted the champion blood lines from Europe to breed quality like European bred horses, and access to frozen semen was essential. 
When these finely bred foals were hitting the ground, Mr. Freeman went to battle to get American bred horses recognized by the Danish breeding association.  Reluctant to recognize Danish bloodline foals born in the USA, Richard had to invest in the Danish stallion Rambo before the Danish breeding committee realized Oak Hill was a force with to be reckoned. Oak Hill began the practice of bringing the Danish Breed Inspection judges to the US and the first DWB mare grading and foal evaluation took place in May 1993. Mr. Freeman was also key in the establishment of the North American Danish Warmblood Association (NADWA) in 2001.  
With over 30 years of breeding, 200 plus foals on the ground, and a wall full of awards for horses bred by the Oak Hill Ranch, Mr. Richard Freeman is so much more than a rider.  He helped lay the foundation for modern American breeding programs. 
Oak Hill bred horses you may know:
Paragon (Owned and ridden by Heather Blitz)
Galveston (Owned and ridden by Laura Noyes)
Montana (Owned and Ridden by JJ Tate)
Arabella (Owned by Denise Arroyo Ridden by Heather Blitz)
Regiment (Owned and Ridden by Alyssa Pitts)
Duke of Tryon (Owned by Arthur Greenwood ridden by Jessica Davis)
Mr. Freeman and Virtuoso rode First Level, Test 1 to complete their Century Club ride on October 31, 2020.