Team #395 -- Rose Fountain and Total Eclipse (NY)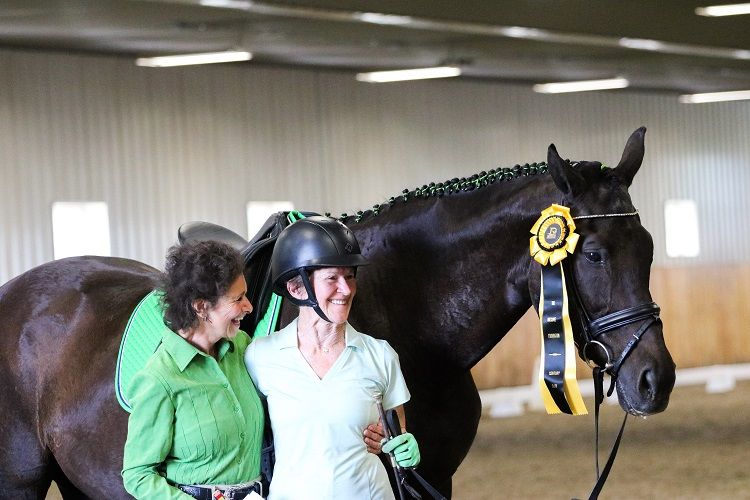 All photos are by "Equine Photography by Corryn."
Total Eclipse (Jessie) was foaled at Olds College in 1992 for the Alberta Horse Improvement Program. Her sire was an imported Trakehner stallion and her dam was an off-the-track Thoroughbred.  
Jessie competed in western Canada and was very successful as an eventer, placing consistently from Pre-Training up to Intermediate Horse Trials in the North American Young Rider Program. She also won the majority of her classes in show jumping at the 3' 9" level. 
I purchased Jessie as a 10-year-old in Moose Jaw, Saskatchewan, and shipped her to southern Ontario. We schooled at Training Level eventing and hacked all over southern Ontario, but I did not compete her in Canada. 
My husband, David Midland, imported both of us to the USA in the spring of 2011 and Jessie was stabled at Equestrian Village in Honeoye Falls, New York.  We started dressage training with Sandy Hider, who improved our basic dressage skills so that we competed competently at 1st Level.  
We started with Training Level tests at Twilight in Geneseo, New York, in 2013/14 and moved up to 1st Level in 2016. We have competed at several local events, and two Western New York Dressage Association shows with marks in the sixties. We were selected to do a demo ride for the USDF "L" program in 2017. We have also participated in three clinics with Michael Barisone. 
We now stable at Cobblestone Equestrian Center in the beautiful Equestrian Hamlet of Mendon, New York, where I am a partner in the LLC that operates our 20-horse boarding facility. Total Eclipse is enjoying semi-retirement; she is back in work having recovered from several setbacks including the loss of her left eye. Having flat feet and somewhat prolapsed very thin soles, she is now decked out in lime green Cavallo Trek boots (so that I can find them in mud and snow) with Soft Ride gel orthotic inserts. As the saying goes – no hoof, no horse! 
Total Eclipse has a delightful personality and impeccable ground manners. She is a sound, strong, fit and a beautiful mover. Our six grandchildren, the oldest now 17 years, have all been treated to "pony rides" on Ms. Jessie since they were toddlers. Her "seeing-eye dog" Ms. Fanny Brice, a black standard poodle, was her constant companion and hacking buddy. 
I started riding at 37 years old and I bought my first horse, an Anglo/Trakehner mare, at age 45 in northern Ontario. We won our first horse trials at Novice Level.  I built my own riding facility and qualified as a Level 1 coach with the Canadian Equestrian Federation 25 years ago. While teaching high school math and science and raising two wonderful children, I competed in Novice Level Events all over southern Ontario, making it to the championships with my gelding "Gentle Persuasion."  
My goal was to join the Century Club riding my treasured mare, Total Eclipse. On June 30, 2019, we achieved that milestone surrounded by friends, my devoted husband David and fellow riders. I am very thankful for everything that The Dressage Foundation does to support and improve our sport and I will cherish my Century Club ribbon.   
Jessie and I are happily hacking our way into the future!