Team #476 Roxana Rozek and The Full Monty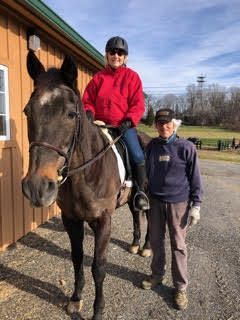 Team #476 – Roxana Rozek and The Full Monty
Ages: 70 and 30
Combined age: 100

Roxana grew up on a farm with horses in Northwest Iowa but did not launch her riding career until later when her two daughters began riding seriously and the family acquired their own horses.  She enjoyed trail rides through the Virginia countryside and eventually started taking dressage lessons on the family's recently adopted off the track Thoroughbred, Mr. Persistency.  
In 2019, Roxana's husband, Richard, joined the Century Club with The Full Monty (Monty to his friends), a 30-year-old off the track Thoroughbred who the family has owned since 1999.  When she noticed how much Richard enjoyed the experience, she decided when she was eligible, she would join with Monty as well!  
Due to COVID-19 and restrictions on horse shows in 2020, they did their ride at the farm where Monty currently resides in Anne Arundel County, Maryland.  Richard was in attendance to act as her groom and give expert advice on joining the Century Club. 
Roxana and Monty rode Introductory Level, Test A on December 23, 2020, to complete their Century Club ride.