Team #332: Ruth Goldthorp and Hollywood Star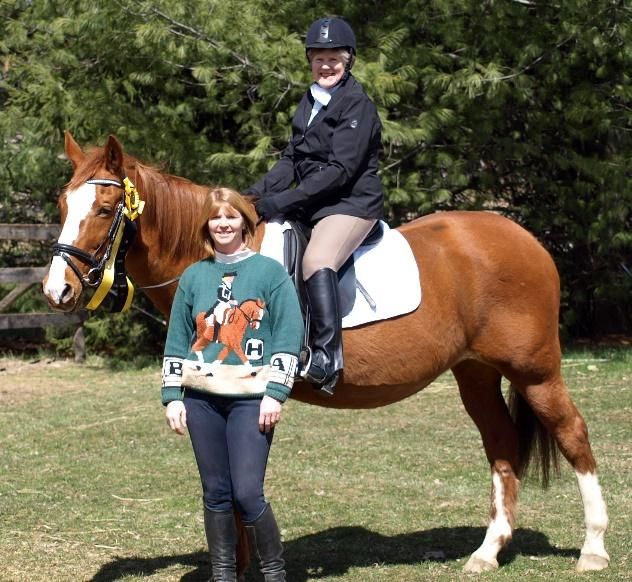 I have always been a horse lover, but my parents could not afford to buy a horse for me. After I was married, and my second child, Susan, was 5 years old, we started taking riding lessons together. Shortly thereafter, we bought our first horses, Maggie and Pixie. Susan joined the Caledon Hunt Pony Club, and since we did not have a trailer, we would ride 8 miles to participate in the activities and lessons, and then ride back home together. It was a full day of riding every second weekend.
I started breeding horses after my mare, Maggie Muggins, was approved as a Canadian Hunter in 1978. In 1980, my family moved from the Caledon area to Dunrobin in Ontario and bought our first horse facility named Elmcrest Farm. I continued breeding and showing Canadian Sport Horses in-hand for 25 years. Hollywood Star (Holly) is the grand-daughter of Maggie, and was born on the farm in May 1993. She is a registered Canadian Sport Horse, and was shown successfully on the line in Ontario, including The Breeders Cup and the Royal Winter Fair, from birth to 3 years old. The highlight of her in-hand career was when she won the 3-year-old Canadian Sport Horse Futurity Cup in 1996. Holly was backed and started her training under saddle at 3 ½ years old. At age 5, I sold her to my daughter Susan in Michigan where she started training her for dressage.
My regular riding horse is Holly's full sister, Constellation, who is 28 years old and still going strong. I do not show under saddle, but have spent many hours riding for sheer pleasure. I belong to the Madawaska Trail Riders in the Ottawa Valley and go on many riding holidays. I hope to be able to ride for many years to come.
This Century Ride was my first time showing in the dressage arena, so getting a 65% in Intro B felt wonderful! I was thrilled to have so many friends and family there to cheer me on, especially my "girls."
Thank you to The Dressage Foundation, Willowbrooke Farm in Michigan, my daughter Susan, and my supportive husband Dave who all made this Century Ride possible.