Team #360: Sally Francy and Wes Dora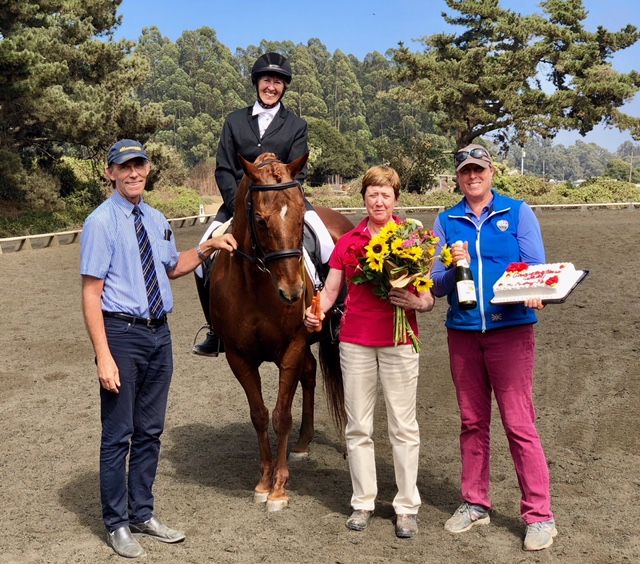 I often refer to myself as "an old bag on an old nag," but it's tongue-in-cheek. For the most part, I don't feel like an old bag, and when Cherry is running and bucking in her corral, it is pretty obvious that she doesn't feel like an old nag either. We're both a bit slower than we used to be, but we're still hot to trot.  Life is good!
My love of horses began very early, exact "trigger" origin unknown (no reference to Roy Rogers' horse, Trigger). I lived in Milwaukee, Wisconsin as a small child with only mechanical, coin-operated horses in front of department stores at my disposal. My first real horse was a Quarter/Morgan mare given to me by my aunt's in-laws when I was 19 years old. By then I lived in Southern California and learned riding and horse care "on the hoof," so to speak. I started out riding western or bareback over the years, on a succession of horses, 9 of my own and 25 interim horses, loaned to me while I was looking for my next horse to buy. 
By 1972, I was married and had moved to the Santa Cruz Mountains of California, where I was able to keep my horse on our property and where we still live today. We joined the local horse club, Summit Riders' Horsemen's Association, and I've been a club member for 45 years. When we moved to the Santa Cruz mountains in the early 70s, renowned, international dressage judge, Peter Lert, lived only four miles away and Tracey Lert, their then talented high school daughter, rode my horse to demonstrate how to put a leg on a horse when I went for my first-ever riding lesson. At the time, I had no aspirations of riding dressage and several of us local ladies took a few lessons from Peter's wife, Bonnie.  In hindsight, talk about an opportunity lost, but the student was not yet ready, when the teacher(s) appeared!
Fast-forward four-plus decades and I had a Quarter Horse mare named Wes Dora, whom I call Cherry, and the first teacher who appeared was Joan Williams. My mare came to me as a 7-year-old horse with only a left-lead canter. Joan asked me what kind of riding I did, which was primarily pleasure riding and competitive trail at that time, and half a dozen 50-mile endurance rides with horses before Cherry. When I told her, "My horse would not take her right lead canter, so I could never do dressage," she smiled and suggested I bring my horse over for a lesson because she thought, "Maybe we could change that." I was skeptical, but after Joan rode her, she said she thought it would likely take about a year to get a reliable right-lead canter, since my horse would not even take the right lead when at liberty.  I was then in my 60s and my horse was 18, and let's just say she was very confirmed in her left-handedness. I owe Joan a big thank-you for somewhat forcefully nudging me to ride in my first dressage show, because if there was a less likely possibility than the prospect of me, with my terror of riding in a dressage show in front of "real" dressage riders, I can't think of what it might be. I'm still nervous when I show, but I am incredibly pleased with myself for doing something I never thought I could do, and, "Look, Ma! My horse has a right-lead canter, now!" -- 99% of the time, anyway. And Joan's timeline was right on the money!
Life has a way of coming full-circle. My current instructor is now Tracey Lert, who is nearly the age that I was when I began my late journey into the challenging world of dressage lessons, and I feel that in my twilight years on my geriatric horse, I am finally beginning to learn how to ride.  It turns out you can teach an old horse and rider new tricks, but who knew that something that looks so easy, can be so challenging and difficult, yet so incredibly gratifying?  Better late, than never!  Thanks to Tracey for bringing me along to my current status!  She's terrific; her help has been invaluable!
We did our Century Ride on August 19, 2018, at American Sporthorse in Watsonville, California, doing Training Level Test 2, achieving a score of 71.538% from Judge Ulf Wadeborn.  I was ecstatic!
Thank you for creating this club for those of us who are getting a bit "long in the tooth" to continue to participate in an activity that is so joy-inspiring and fulfilling, at a time in our lives when we may not be able to do all the activities we love to do; what a nice way to celebrate our cherished equine partners as we trot off into the sunset. Thank you for providing us this opportunity and recognition. Thanks too, to all the people and horses who helped me along in my journey, and a special thanks to Carol Latta, for her help and encouragement, and for being so generous in allowing us to ride at her wonderful Carousel Farm.  It's been a fun ride, in every sense of the word!