Team #458 Sally Nunneley and Elphin Odin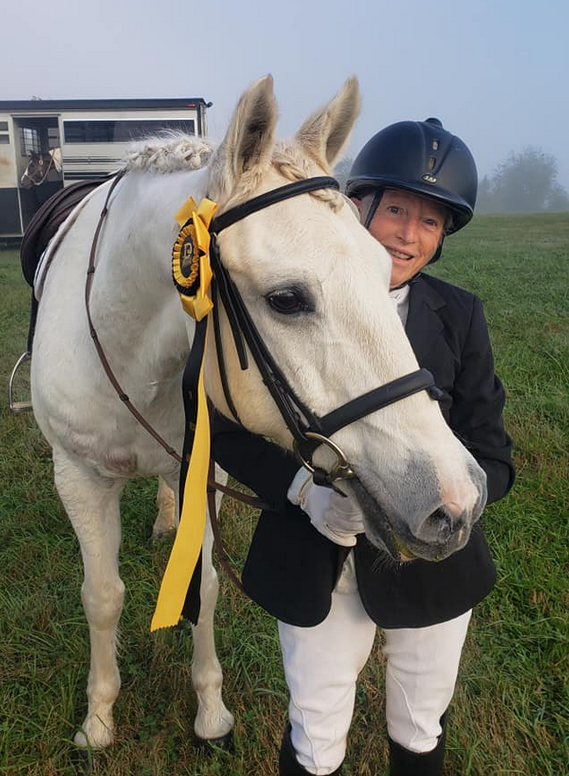 Team #458-Sally Nunneley and Elphin Odin
Ages 79 and 24
Combined age: 103
Sally Nunneley was a horse-crazy child who learned to ride in Virginia at the famed Junior Equitation School with Jane Marshall Dillon. She was also sent away every summer for eight weeks of horse camp. However, she never had her own horse until age 35, when she moved to San Antonio and settled into her professional career.  When she called her parents to say she had bought a horse, there was a long silence, and then her mother said, "Sending you to medical school was a helluva way to finance a horse."
That first horse was Little Joe, a Quarter Horse who was an experienced Pony Club mount and carried Sally to horse trials all over Texas. A few years later, Sally bought a farm she named Mortgage Hill and hosted clinics and recognized events for 12 years while continuing to compete, first on Spindrift and then Ivanhoe, again wonderful Quarter Horses. Sally moved to Lexington, Virginia, in 2003 and boarded Ivanhoe with Gammon Castellvi Cross; the two became close friends, and Gammon helped Sally resume eventing, finding her a younger horse, Pellinore, when the time came.
Pelli is now retired, and Sally owns an adorable Haflinger, Gingerman, but he is too young for a Century Ride, so Sally's eye fell on a venerable Connemara-cross that Gammon was using for lessons; Elphin Odin (Koda) is a former eventer well-schooled in dressage. It was love at first ride, so they began working toward a Century Ride — just as the coronavirus struck. Sally selected Second Level Test 2, a stretch for her, and the project helped everyone through the long summer of shutdown.
As show day drew close, Sally was worried about remembering this fairly complex test, but when Gammon offered to call it, Sally said "No thanks, I don't want to be that senior rider who can no longer memorize a test." A beloved cousin voiced another view, "That must be a really old horse, since Sally is only 39."
Cleaning up Koda for the ride was challenging, as anyone who owns a white horse can attest, in addition to which Sally had not braided a mane in several years but with Gammon's help it all came together. Sally and Koda performed their test at the Virginia Horse Center on a beautiful fall morning at a schooling horse trials, earning 61%.
Sally says that of all the wonderful, generous horses she has ridden, Koda is the sweetest, and hopes they can continue working together, perhaps aspiring to Third Level before retiring from competition.
Sally and Koda completed Second Level, Test 2 to complete their Century Club ride on October 4, 2020.