Team #351: Sally Temple and Czarina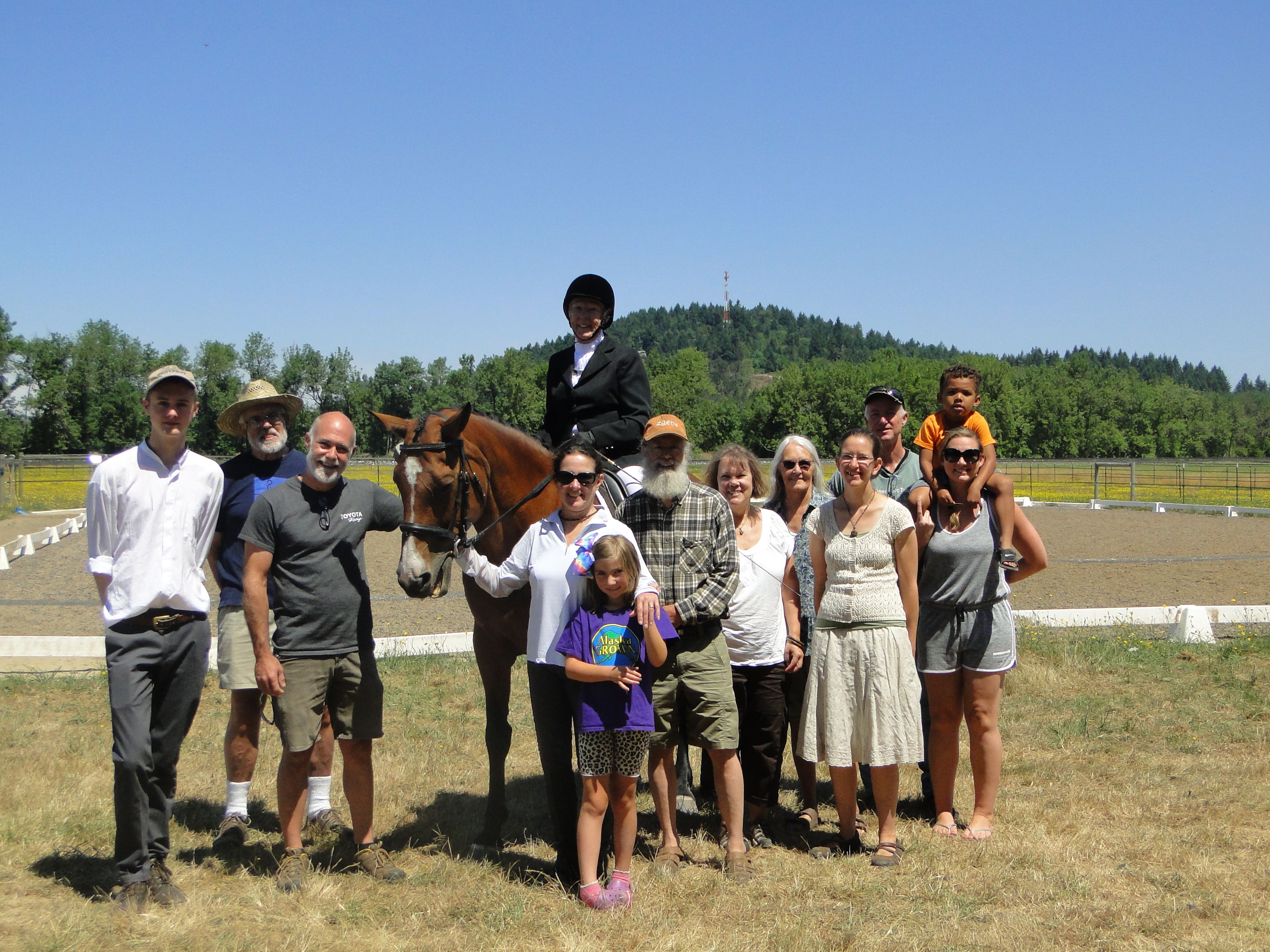 What a birthday celebration we had on July 8th! It was my 79th birthday and I rode my 21-year-old mare, Czarina, for my Century Ride at the beautiful Silvertail facility in Creswell, Oregon. My entire family cheered me on, celebrating with champagne and cake afterwards. Czarina and I rode a Training Level test and received a 65%. As she hadn't been shown in over two years, I was thrilled with our score. 
My husband, Jim, has been a supportive partner through all of my years involved with horses and has encouraged me on to do a Century Ride.  
My three children have been a positive influence in my life. My daughter, Liz Behrenfeld, D.V.M., has been a huge help on this journey of mine. She has spent countless hours with me, helping me become a more competent rider. My son, Donald, is also a veterinarian in Norway, Maine, and treats animals of all sizes and types. My daughter, Sally, lives in Seattle and is employed as an assistant superintendent by the Federal Way School District. Although not an equestrian, she has attended many horse shows as a groom and horse handler for both me and Liz. 
The Oregon Dressage Society and our local Twin Rivers Chapter have been a part of my life for over twenty years. I have held many offices, been named Region 6 Volunteer of the Year, and continue to be an active member. 
I've had quite a journey with my wonderful Oldenburg mare, Czarina. I began taking lessons from Czarina's owner, Sarah Kress, a trainer in Eugene, Oregon. I was in between horses and needed some horse time. After a time, I leased Czarina and then became her happy owner for the last 10 years. I have ridden her through Training Level, First Level, and some Second Level tests. We also had a wonderful opportunity to ride a First Level musical freestyle.  
Two years ago, Liz qualified Czarina for the Oregon Dressage Society's Championship Show and Region 6 Championships. After Czarina qualified, she was unable to compete due to many bouts of lameness with abscesses, arthritis of the pastern joint and several undiagnosed lameness issues. After a long rehabilitation, I happily began to ride Czarina again. It was a slow process for the two of us to regain some of what we had lost during our time off, but gradually we improved enough to do the Century Ride. 
My first Century Ride was in 2014 on a borrowed wonderful Morgan gelding, Baloo. I always thought that someday I'd love to ride Czarina in a Century Ride but wasn't certain if either of us would make the 100-year requirement. I'm so happy that we completed the century mark! 
Since I have "retired" from showing, I plan to spend time enjoying clinics with Czarina and lessons from Tina Steward, D.V.D., and Kim Barker.