Team #452 Sandra Hyde and Aspen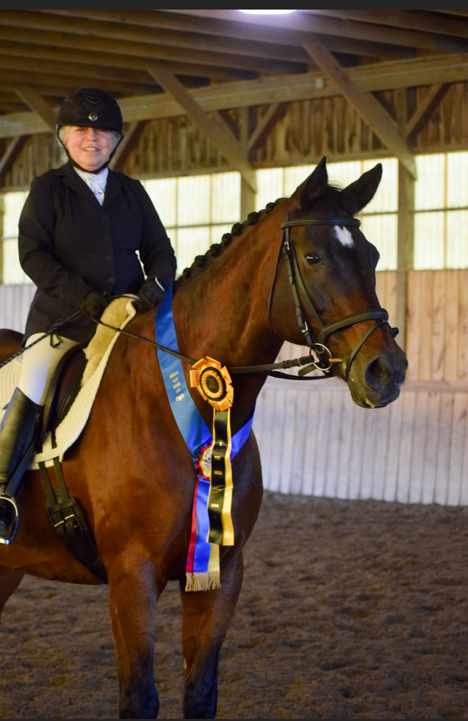 Team #451 Sandra Hyde and Aspen
Ages 72 and 28.
Combined age: 100
I have been infatuated with horses since I was a little girl. We lived in the city with no horses insight, but I was always drawing them and daydreaming about them. My mother always said that "horse" was my first word! I used to insist my parents take me to a local amusement park so I could go on the pony rides and ride the carousel horses. After we moved to the suburbs and I became old enough, I began babysitting to save money for riding lessons at a local horse farm once a week. I began with hunt seat and a little jumping and knew I was in my element! Nothing is more intoxicating to me as the fragrance of hay, shavings, leather, and horses.
After I was married and a stretch without riding, I began taking regular lessons again at a small local farm doing a little hunt seat and then Western Pleasure. At this point, a friend and I together purchased an Appaloosa mare which we both showed locally. She was quite difficult (i.e., "mare-ish"), and wanting a fancier horse, another friend suggested I look at a horse that she had previously owned that was for sale again. Although he was lovely, I only had eyes for the little bay ¾ Arabian gelding running around in an adjoining paddock. Although that little gelding was not for sale, after some negotiating, he came home with me several weeks later, which resulted in a 23-year partnership. He was trained solely for Saddle Seat, so I had to learn that discipline. It was quite rewarding, and we competed regularly with some success. His idea of entering the show ring was to burst through the in-gate with nostrils flared and tail held high! He had that "Look at me!" attitude. In addition, we did quite a few organized trail rides sponsored by local clubs which were such fun! Also during that time, a couple of friends I boarded with offered me their dressage horses to ride a couple of times a week when they were unable to make it to the farm. This was my introduction to dressage. I realized quickly what a wonderful riding foundation dressage was and wished I had learned it before any other discipline.
After my little Arabian passed at the age of 34, I decided to pursue dressage, and there came a succession of leased dressage horses at different farms with various instructors. It was difficult for me because I formed a relationship with each horse which I had to divorce myself from. One horse in particular that I leased for several years was especially difficult to let go, but his owner, who had been residing out of the country, had returned and wanted him back.
Shortly thereafter, a friend and I were each half-leasing a lovely mare for a year. When the lease ended, we were desperate to find another horse. Fortunately, she had been in contact with Lynda Angstadt at Bradford Equestrian Center, who quite often had a boarder looking for a lessee. Timing is everything! Lynda had a horse in mind for us that was owned by a woman with too many horses and not enough time. When I first laid eyes on Aspen I thought, "No way!" This bay Hanoverian/Thoroughbred gelding was quite intimidating at 17.1 hands, but with Lynda's encouragement and creative lessons, Aspen and I have created an incredible partnership since 2013! Aspen's owner then made the decision to sell him and offered him to me. I knew what I was getting into purchasing an older horse, but how could I say no? When my friend decided to give up her half of the lease, I immediately contacted another old friend who had lost her horse a year before, and once she saw him she jumped at the chance of a partial lease from me!
It is incredibly beneficial to have a seasoned schoolmaster to help me learn the movements. Aspen has the sweetest personality, is kind and forgiving, has a huge heart, and has so become a part of our lives. We have participated in many of the shows and clinics hosted by the farm (owned by Keith and Lynda Angstadt), and couldn't have achieved our successes without Lynda's invaluable instruction. Her encouragement has given me so much confidence, and I thank her for suggesting I join The Dressage Foundation's Century Club! Many thanks to her, the support of my husband, and the Foundation for this opportunity.
Sandra and Aspen rode Intro Level Test B to complete their Century Club Ride on September 13, 2020.