Team #423 Sandra P. Aldrich and Siguird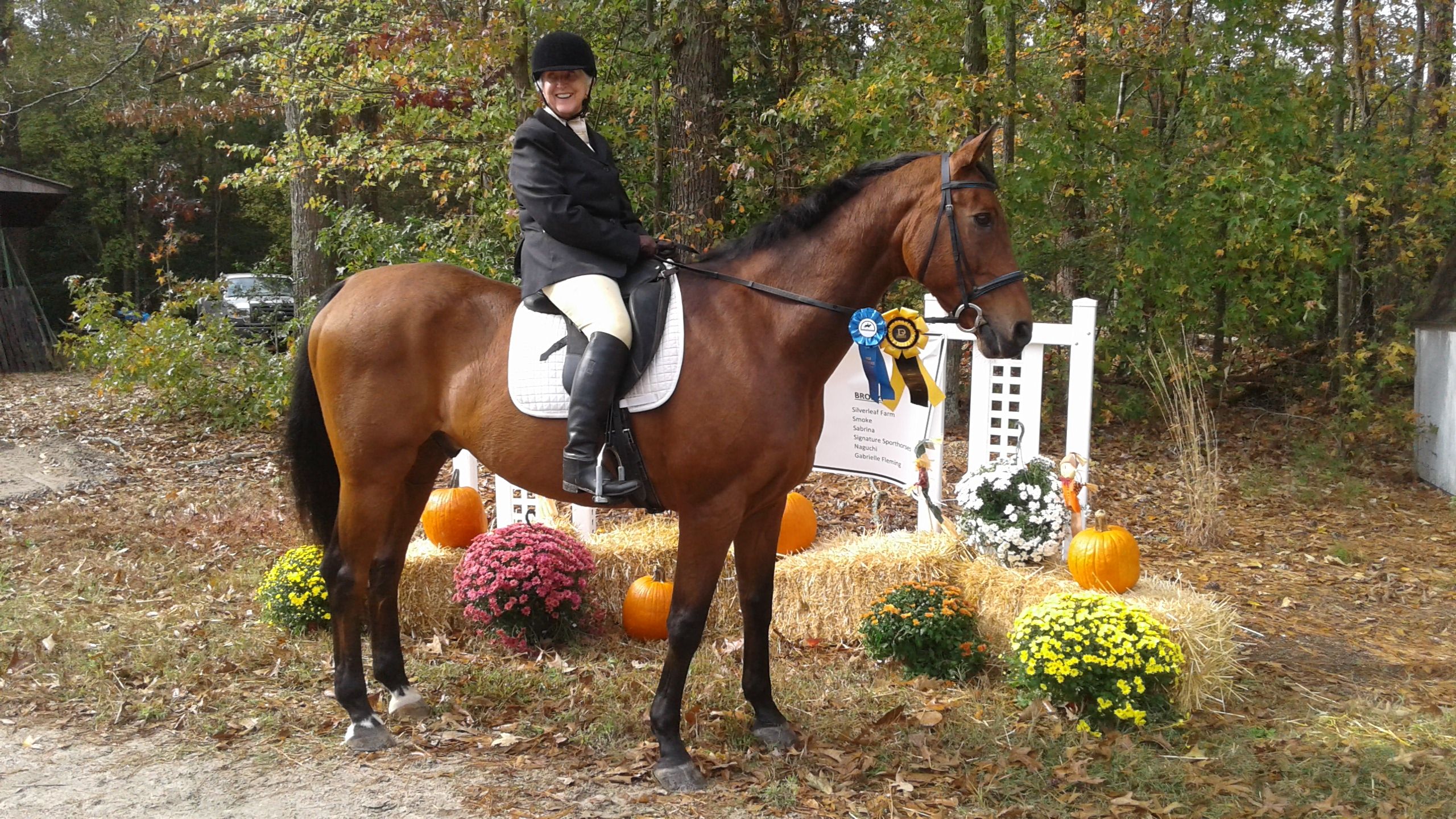 Sandra Petitt Aldrich 76     Siguird 26
I was introduced to English riding in my first year of teaching deaf and hard of hearing children. My supervisor, Mary Campbell, had been the national jumping champion in 1957 and we took some of the children riding at Howard Stable is Temperance, Michigan. I found out that I am not good at jumping, as quite often the horse and I separated! Many years later in Arizona, I began Western riding and owned a couple of horses riding in the mountains, on cattle round-ups and in parades.
Moving to Virginia in the 1990s I knew horses would be a part of my life. I answered an advertisement and began learning dressage under the direction of Helen George and Maggie Georgitis. Three horses later, at the age of 63, I bought a 3-year-old Thoroughbred, Cheeseburger in Paradise (aka Parry). We have had quite the adventure with his injuries and my knee and hips being replaced!
I heard about the Century Ride three years ago and put it on my " Bucket List." My horse is 16 years old and I am 76, so I knew I had another four years to wait. I was auditing a dressage clinic last spring and happened to enter a conversation with another auditor. She and I were discussing the Century Ride since she had competed in such a ride. When I told her that I had 4 years to wait, her comment was: "Dear you might not make it, get an older horse!" We laughed, but on the way home it occurred to me that this was good advice. A fellow boarder at Willow Springs Equestrian Center in Manakin, Virginia, had this "older horse," Siguird, or better known in the barn as Ziggy. Ziggy is owned by dressage trainer Lauren Anderson. At 26 years of age, he was a perfect horse for me to ride in the Century Ride. So the plans began to take shape. We would ride in a schooling show with Lauren riding my horse, Parry, and I would be riding her horse, Ziggy.
Siguird, a Hanoverian, was a school horse at Houghton College where Lauren was enrolled in the equine program. He was for sale the year she graduated and became her graduation gift as she purchased him at 18 years of age. He is an interesting horse to ride. If you do not sit correctly or are out of balance he slows down and sometimes stops! After riding my Thoroughbred who likes to move, this was a new challenge for me. Lauren gave me instructions and Ziggy and I practiced. He is a delight to ride.
Parry and Ziggy traveled the 80 miles to the schooling show on October 27, 2019, to the Airfield Conference Center equestrian facility in Wakefield, VA. The Southeast Virginia Dressage Association sponsored the schooling show. The members welcomed us and were thrilled that Ziggy and I were going to do the Century Ride even though rain was predicted for all day. Siguird was very aware of what he needed to do and I was rather nervous. We competed in Introductory C and Training Level I.
Our scores were 67 and 63 winning both classes. What a thrill!
A huge thank you to The Dressage Foundation for giving senior riders an opportunity to demonstrate their abilities. This event is etched in my memory forever.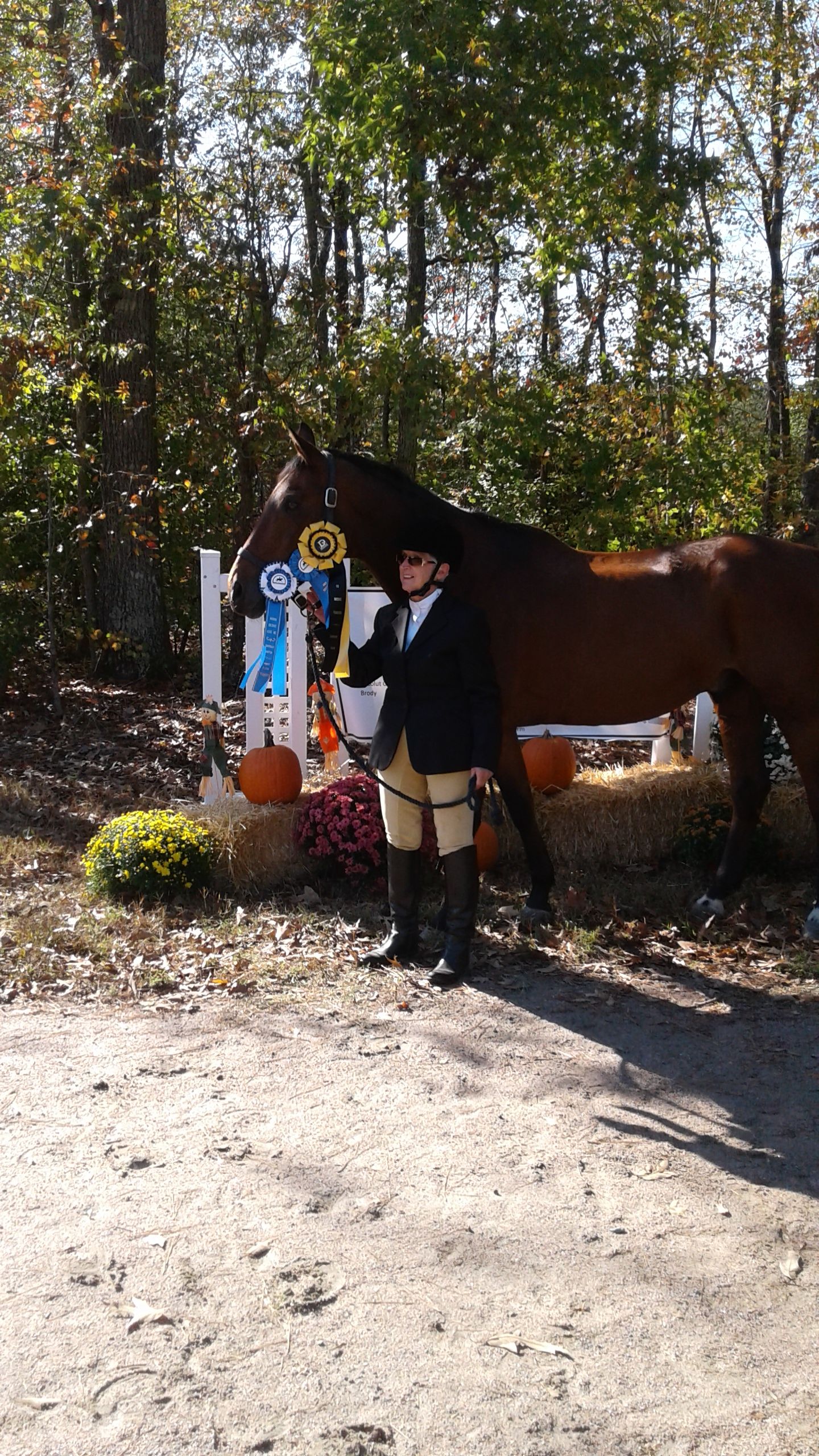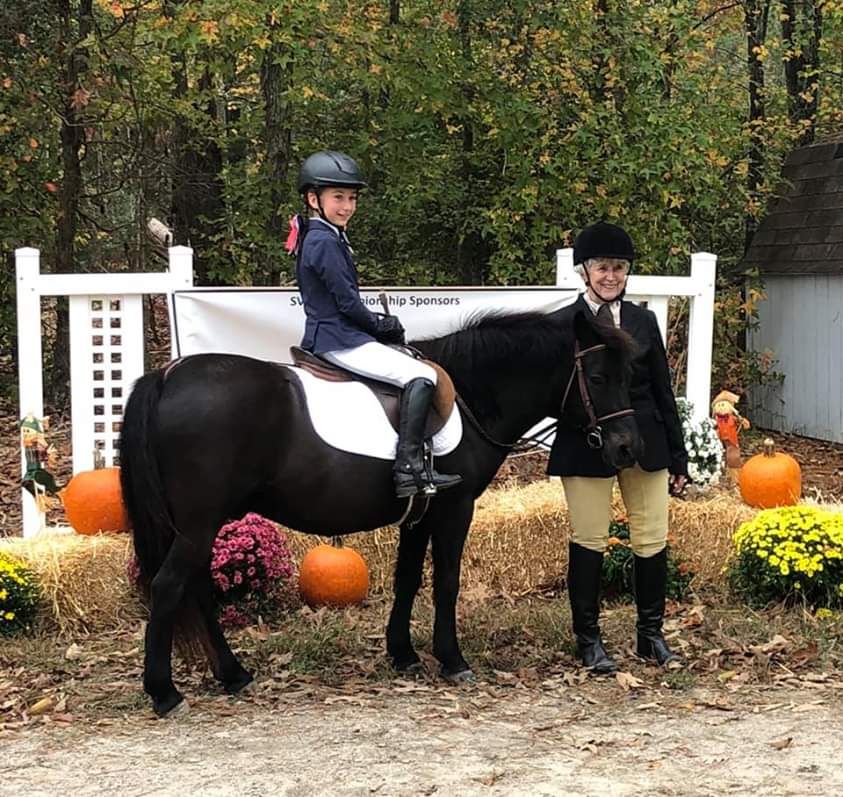 Youngest and Oldest rider at the show