Team #507 Sharon Curran and Bear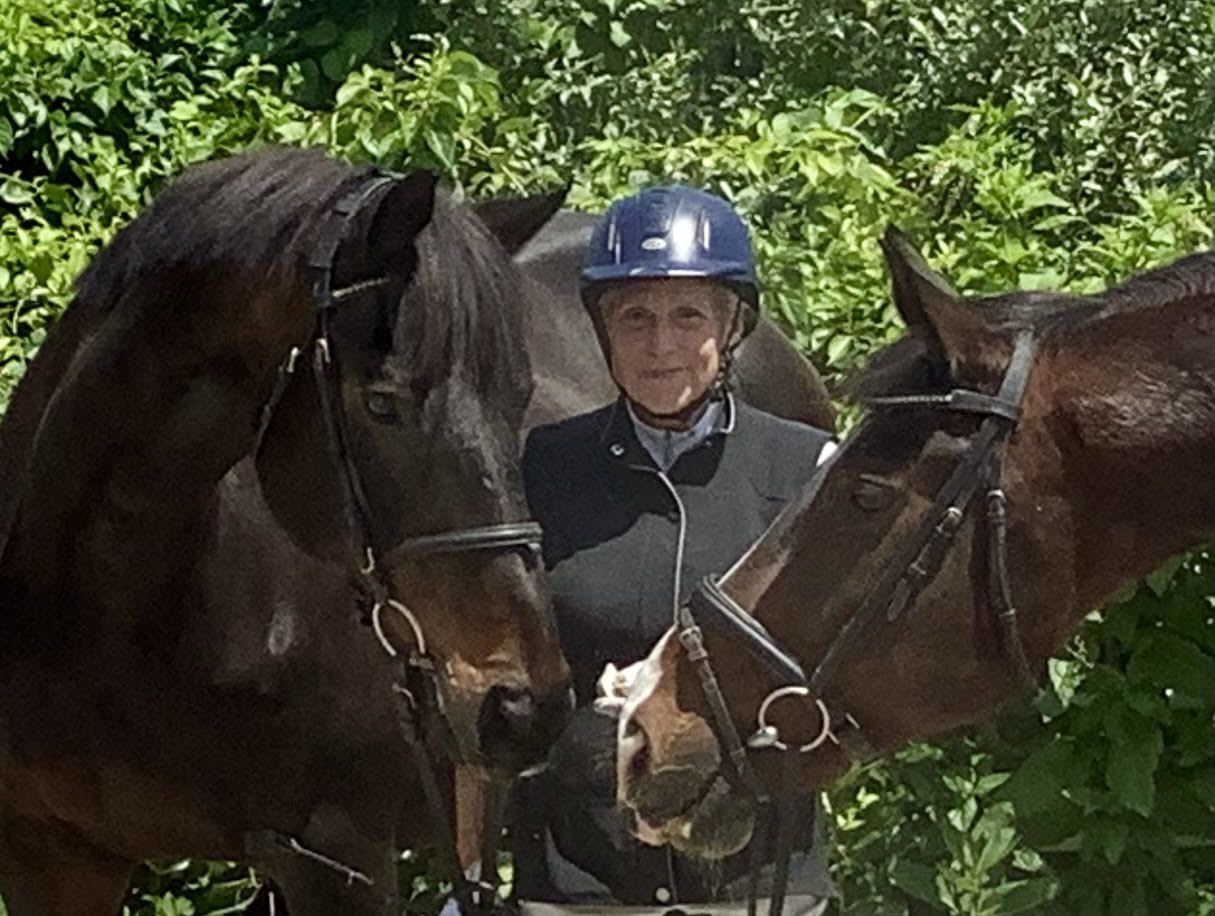 Team #507: Sharon Curran and Bear
Ages: 76 & 26
Combined Age: 102
I was smitten the first time I sat on a pony at a very young age. Since then, horses have played a major role in my life. The last forty plus years, I've lived in a converted dairy barn that also is home to ten horses, three cats, and two dogs. Additionally, there is an art studio and small attached indoor arena. Very convenient during our cold New England winters and was especially useful when my two children were young.
I never planned to do multiple Century Club rides; it just sort of happened. In 2013, I rode my wonderful Thoroughbred, Slick, to become Team #156 of the Century Club. When I bought Slick, he was an off-the-track three-year-old. He learned to do everything from fox hunting to dressage. I mourned his passing at the ripe old age of thirty-six. Then four years later, two of my students' horses became of age to qualify me again for Century Club rides. I rode JJ, an American Show Horse (half Arabian and half Saddlebred) and Hammer a Quarter Horse. JJ (Team #315) has since passed, but Hammer (Team #316) is still with us at age thirty-six!
Now, another four years later, two more horses in the barn were old enough to make me eligible once again. Bear and Noah are both Warmbloods. Peter Rosow, my student, and friend, did a
Century Club ride in 2013 on a borrowed horse but passed away before he could do one on his own horse, Noah. After three years of retirement, Noah stepped up to the plate (or should I say, centerline) to be a ride for me. Peter's presence was with us on our ride.
These two rides (#507, #508) were quite different than our previous rides because they were virtual. With Covid still being an issue, I haven't wanted to travel to location shows yet. I'm very thankful there are some virtual shows where we can get a qualified judge's feedback on our riding and training progress.
My other virtual show activity this year, was entering my 18 hand RFrodo in the Western Dressage Association of America International Championship show. We won a top ten, Level Four vest and could have gotten even a better score if I had known the difference between a pivot and turn on the haunches! Hopefully, next year we can get to some real shows and try for some scores towards our Fourth Level Masters and silver medal.                                                  
I'm very fortunate my passion has enabled me to have a career that is my livelihood. Also, very grateful for all the wonderful people I have met along the way who are more friend than client. When I took my first job at a stable, the owner said …… "Well, you won't make a lot of money, but you'll have a lot of fun."  He was right! So, let's keep kicking up the dust, seniors!
Sharon and Bear completed Introductory Walk-Trot, Test B, with a score of 67 percent, on August 8, 2021, to join the Century Club.