Team #465 Sharon Lerner and Raphael Leonardo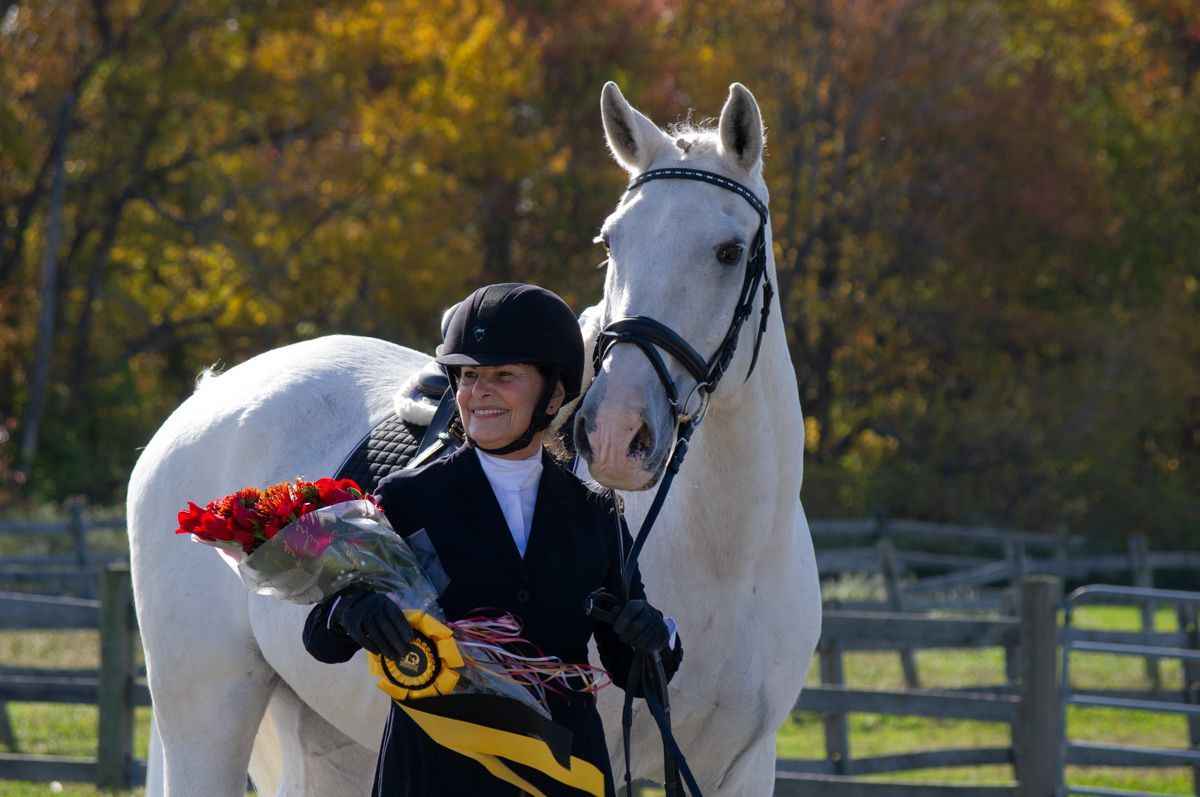 Team # 465-Sharon Lerner and Coda (Raphael Leonardo)
Age: 75 and 25
Combined age: 100
I have loved horses for as long as I can remember. Of course, my greatest wish was to have one of my very own, but my parents didn't agree so I had to make do with reading horse books, playing with horse toys, and pretending that my bicycle was a black stallion named Lad. 
I finally got to ride a real horse at summer camp but wasn't able to ride on a regular basis until I became an adult and met Gabriel Copen. She owned several horses and invited me to drive every weekend from my home in New York City to her farm in Yorktown Heights. It was there that I fell in love with Shanti, a Dun Quarter Horse who taught me to ride and to jump. He was the sweetest, gentlest horse and he took very good care of me until he retired. 
The next horse I bonded with was Zeb, a Grey Appendix, who belonged to Laura Wells at Wells Valley Farm in Connecticut. Zeb helped me develop courage as we entered local jumping shows, rode hunter paces, and went on long trail rides together with my 82-year-old friend, Barbara Walberg. 
After Zeb retired, I was at a loss for an appropriate horse for quite some time. I rode some school horses but wasn't falling in love. Finally, when I turned 65, my friend and trainer Diane Kennedy encouraged me to try a horse that was staying at our barn on his way to being sold. Coda was a big Grey Half Arabian, Clydesdale cross and the most comfortable horse I ever rode. I knew if I didn't buy him, my dream of owning my own horse would never come true. Coda must have had some problems before he came to me because he seemed to be afraid of everything and shied at the slightest thing. I was off him more than I was on him that first year, but I had made a promise to him that he was my forever horse. After a particularly bad fall I announced that my jumping days were over, and we would switch to dressage. It was the best decision I ever made because it has allowed Coda to calm down and become the happy horse he is today. 
We have since moved to Fox Crossing Equestrian Stable in Morris, Connecticut, owned by the wonderful Cindy Italiaander. Coda's best friend Cider and his owner Pam Lund moved with us, so it was an easy transition. I now train with Jordan Iovino Howell and Meaghan Hennessy and take clinics with Ann Guptill. Coda is very popular at Fox Crossing because he is so sweet and loves to give kisses. 
When I heard about the Century Club, I thought I would try just one more show but right before the test was scheduled I needed hip replacement surgery, so I had to wait until I completed rehab. Then the Covid pandemic hit and we had to reschedule again. But because of Cindy's brilliant Covid precautions at Fox Crossing, I was finally able to ride the test with a small support group of socially distanced friends. Everyone was wearing masks including my wonderful judge, Virginia Leary. 
Coda and I have stopped showing and now we just try to enjoy each other, stay healthy and learn new things.
But who knows, maybe when we turn 110 we will do it again.