Team #457 Sharon Meazell and Heza Scorpio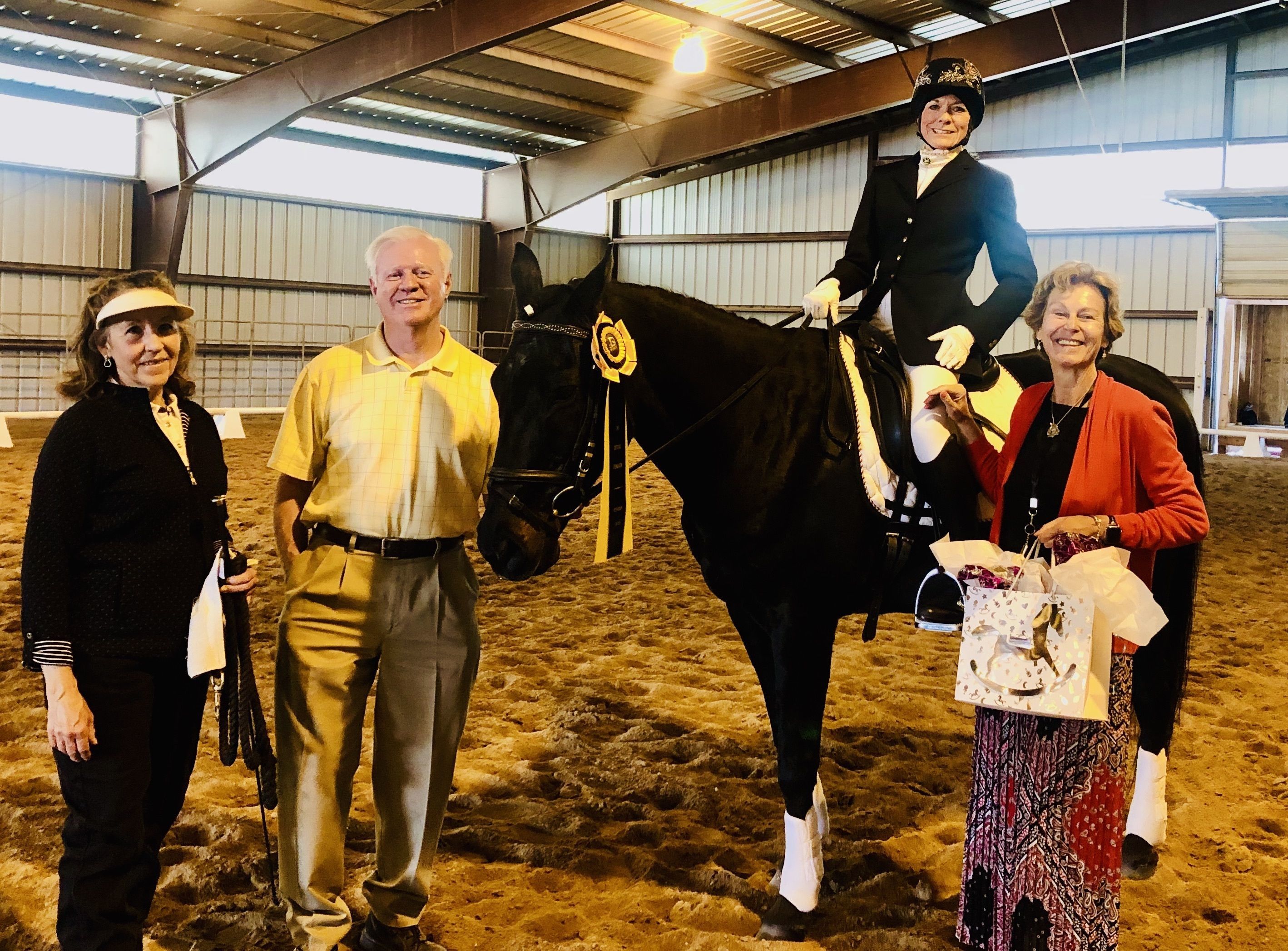 Team #457 Sharon Meazell and Heza Scorpio
Ages: 74 and 26
Combined age: 100
Several trainers told me Scorpio is a horse I never should have bought. He is my first horse and I bought him when he was eight years old and I was 56. The first thing we had to learn was how to lunge. We spent a lot of time with ground training. The more time I spent with him, the more I realized he is a wonderful horse.
I am Scorpio's third owner. He was born in Kansas and was on the racetrack when he was two and three years old. My trainer thought Scorpio would be a great horse for me and would teach me a lot. She was right!
I started riding in my 50s. I was born in New York City and I never thought I would own a horse. I am extremely proud of Scorpio. He is not only beautiful but he takes good care of me when we work. Being a former ballet dancer, trained at Carnegie Hall, my husband never thought he would see me muck a horse stall. The reason I love riding dressage so much is it reminds me of ballet. I particularly love to ride to music. I picked accompanying music from Lloyd Webber's Phantom of the Opera for my Century Club ride. When I visited the Spanish Riding School in Vienna, I learned they train with music. Scorpio loves music, it helps me relax, and music makes me feel like I am dancing with my horse.
The Century Club ride was a goal of mine since I learned about it years ago. I told my friends I was going to do the ride is when Scorpio and I met the age requirements. The day we finished our ride I really felt like I had kept my word and my dream had come true!
Scorpio is an Appendix Quarter Horse and he especially likes to buck. I am very lucky that Scorpio never bucked me off. He is a very strong horse, standing 16-1. I am able to ride Scorpio two to three times a week to keep him in shape and healthy.
There was a time when another trainer wanted me to sell Scorpio because she thought he was too much of a horse for me. She gave me an ultimatum to sell him or find another boarding/training facility. Scorpio and I moved. Now, having owned him for 18 years, I can honestly say I am very glad I kept Scorpio.
Scorpio has shown many times, has many first-place ribbons, and received Quarter Horse of the Year designation for Colorado Springs Dressage Association. Scorpio had two major injuries that set us back. One was a hoof injury that required him to wear a wooden shoe for four months as his hoof grew back. The other injury was a collateral ligament tendon that happened while he was in the pasture.
I taught Scorpio to bow and shake his head for a peppermint candy greeting. One day when I went to the pasture to get him, I had forgotten peppermints. He bowed three times and it was so cute I went back to the barn to get his peppermint. I have always said when Scorpio passes away I will bury him with peppermint candy.
While Scorpio and I love groundwork, he is as smooth as he can be under saddle. He has a lovely walk, trot and his favorite gait is the canter. He is well behaved and he loves everyone, especially little girls with pigtails.
I want to thank Billy Meazell for doing the accompaniment music, my trainer Timmie Cunningham, and Simone Windeler for judging our ride.
I am grateful to The Dressage Foundation for making this ride possible for senior riders and horses. It is a privilege and a blessing to be a member of the Century Club. It means more to me than any ribbons or medals I have earned.
Sharon and Scorpio rode Introductory Level Test B to complete their Century Club ride on September 9, 2020.