Team #474 Sue Peterson and Mighty Revenue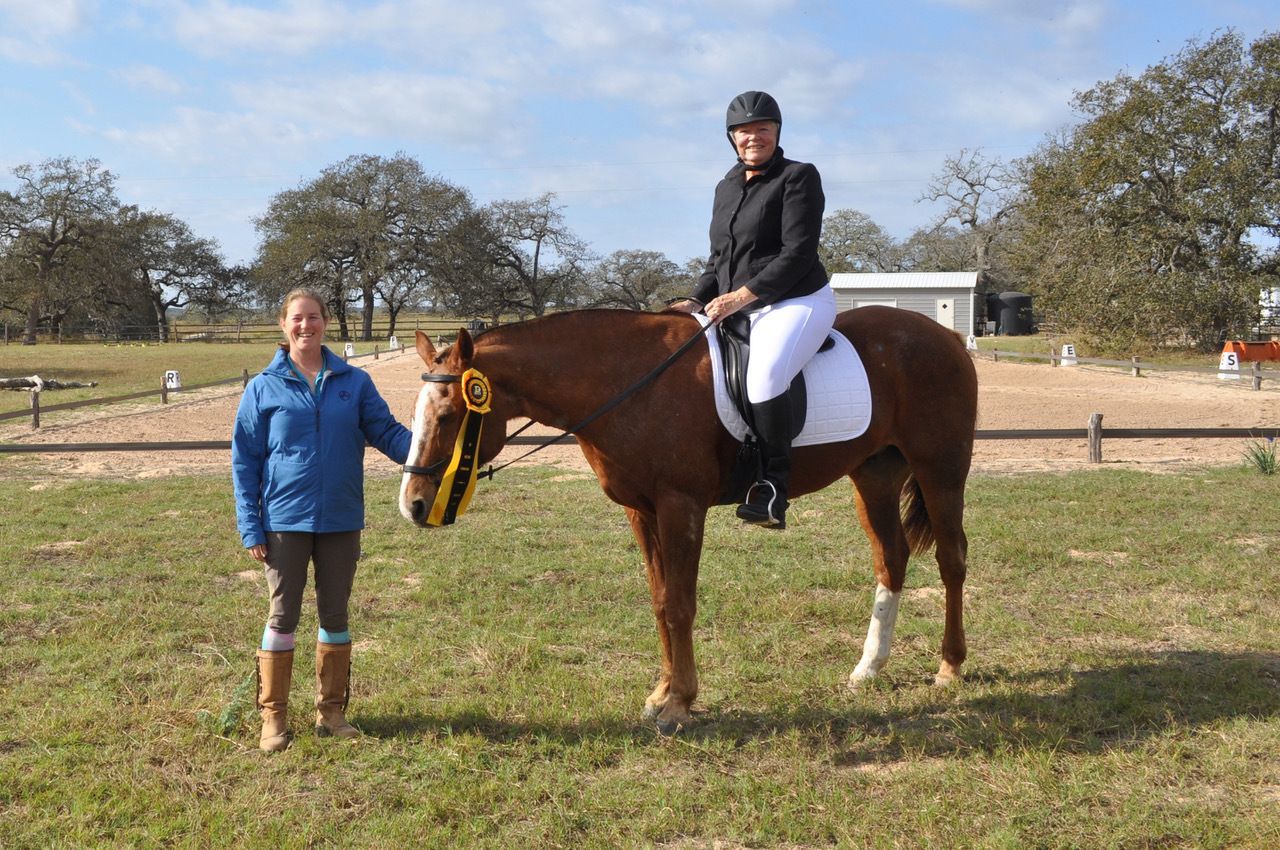 Team #474 – Sue Peterson and Mighty Revenue
Ages: 72 and 29
Combined age: 101
Sue's Century Ride, for Sheila
Written by Bonnie Lemcke, Sheila's Daughter
My mother, Sheila Bludworth, was just like her father, in that she never met a stranger. The older she grew the more this was true. She developed many wonderful friendships over her life, but Sue Peterson was there the longest. They met in elementary school and took riding lessons together briefly in middle school. Both drifted away from horses, but they maintained their connection throughout their adult life.
My mother stayed in touch with horses through me, her horse-crazy daughter. I bought my first horse at age 13. I was just a little short on the sales price, so my parents chipped in the last $250. My mother always claimed ownership of the "front part," of course. The horse was Mighty Revenue, a solid chestnut registered Appaloosa. What he lacked in spots, he gained in a great mindset. He and I grew up together, from that first test ride when he was three years old, through my high school years earning three End of Year Championships with the Houston Dressage Society. He tolerated polo games throughout college, a wildly entertaining first attempt at eventing as an adult amateur, and now as a solid go-to mount for pony rides with my children.
My mother enjoyed my horse passion, but it was not until she was in her 60s that she decided she wanted her first horse. She had a multitude of health problems and believed having a small horse on whom she could feel comfortable riding would improve her physical and mental state.  I found the perfect large pony mount to give her confidence while riding and the friendliest personality for all the love and petting she wanted to share. Mouse joined the family in 2011 and my mother was back in the saddle. She rarely did more than walk, due to severe back pain, but she loved her time with Mouse. She even took a lesson with my dressage trainer, in the first step toward a new goal, a future Century Club ride. She set her mind to completing her Century Ride on Revenue in the Spring of 2020, just after Revenue turned 29 and she turned 72.
However, her goal was left unfulfilled when her body failed her spirit and she died unexpectedly in the fall of 2018. After her death, Sue came to me and said, "I want to do her ride." I was taken aback at first, as her comment was so out of the blue as I did not know my mother had shared her goal with Sue. But Mom was proud and excited to complete her Century Club ride, so of course, she had shared it with her lifelong friend. And now Sue wanted to complete the ride in honor of my Mom. It was a perfect way to remember my mother.
However, getting to the ride was its own challenge. Except for a few trail rides, Sue's riding days were more than half a century in the past. So, she would be starting from the ground up, learning how to ride, with the goal to complete the walk/trot test, Introductory Level, Test A. Revenue was well past his dental longevity, and back in 2018 it was doubtful if he would even make it to the Century Club ride, but a fortuitous feed change has increased and maintained his weight well and he is now looking wonderful for his age.
As their age eligibility approached, we picked a schooling show with my local GMO, Alamo Dressage Association, for the last weekend in May 2020, and we put our plans into action. Sue has the better part of a foot of height advantage on me and my mom, so our boots, breeches, and jackets were of no use. So, Sue and I assembled show and training attire, from the ground up. To further complicate the situation, Sue lives nearly four hours away from me, so practicing on Revenue was not going to be feasible on a regular basis. So, she reached out to a friend with horses, who lent a steady mount and guidance to saddle time in Houston. We were going to "wing it" with this ride, but it was going to happen!
Then COVID-19 hit. It delayed Sue's riding practices and the Schooling Show was canceled. But in the new digital world popping up in all directions around us, Virtual Schooling Shows took the front stage. In a fortuitous bit of luck, the Alamo Dressage Association decided to host their own Virtual Schooling Show, throughout the month of May. So, our plans were back on, at least once travel and social distancing rules were loosened just enough to make an at-home show possible when everyone involved lived in different places in Texas!
But God and 2020 had other plans. Unfortunately, Sue broke her shoulder while mounting for a training ride in Houston, canceling our May show date, and delaying her training rides through the summer. Then she faced a sprained ankle in the Fall, resulting in another delay. But she persevered through her injuries and shaken confidence as Revenue faced age-related fitness and arthritis complications. As the year ended, we were able to set a new show date for Thanksgiving week, during the November Virtual Schooling Show through the Alamo Dressage Association.
And so, on November 25, 2020, at the home arena of Bonnie Lemcke, situated on Sheila's ranch property, Sue and Revenue completed their Century Club ride. The pair overcame nearly a year of complications and preparation to reach their goal. The inception of this Century Club ride was to fulfill a dream of Sue's life-long friend and my mother, but along the way, the ride truly became Sue's own journey to HER Century Club ride. I will forever be grateful to Sue for the memories we created as she reached her goal. Sue's score for her ride was 67.5% and she earned the high score of the show.
After the ride, we taped an award presentation, to share with friends and family. I presented Sue and Revenue with the Century Ride Ribbon and shared the story Sue, Sheila, and a special quilt my family gifted to Sue on the night before her ride. My mother made quilts for decades but was unable to make a planned quilt for Sue before passing away. This quilt was part of my mother's collection and featured a large cloverleaf, making it an ideal way to wish Sue "Good Luck" on the night before her ride and bring Sheila's spirit to the Ride. Sue had no idea what she was signing up for when she first approached me, but this journey has been the fulfillment of so many dreams and goals. Thank you so very much, Sue.
Congratulations, and let's keep riding!
Sue and Revenue rode Introductory Level – Test A on November 25, 2020, to complete her Century Club ride.