Team #487 Susan Anderson and Nova Zembla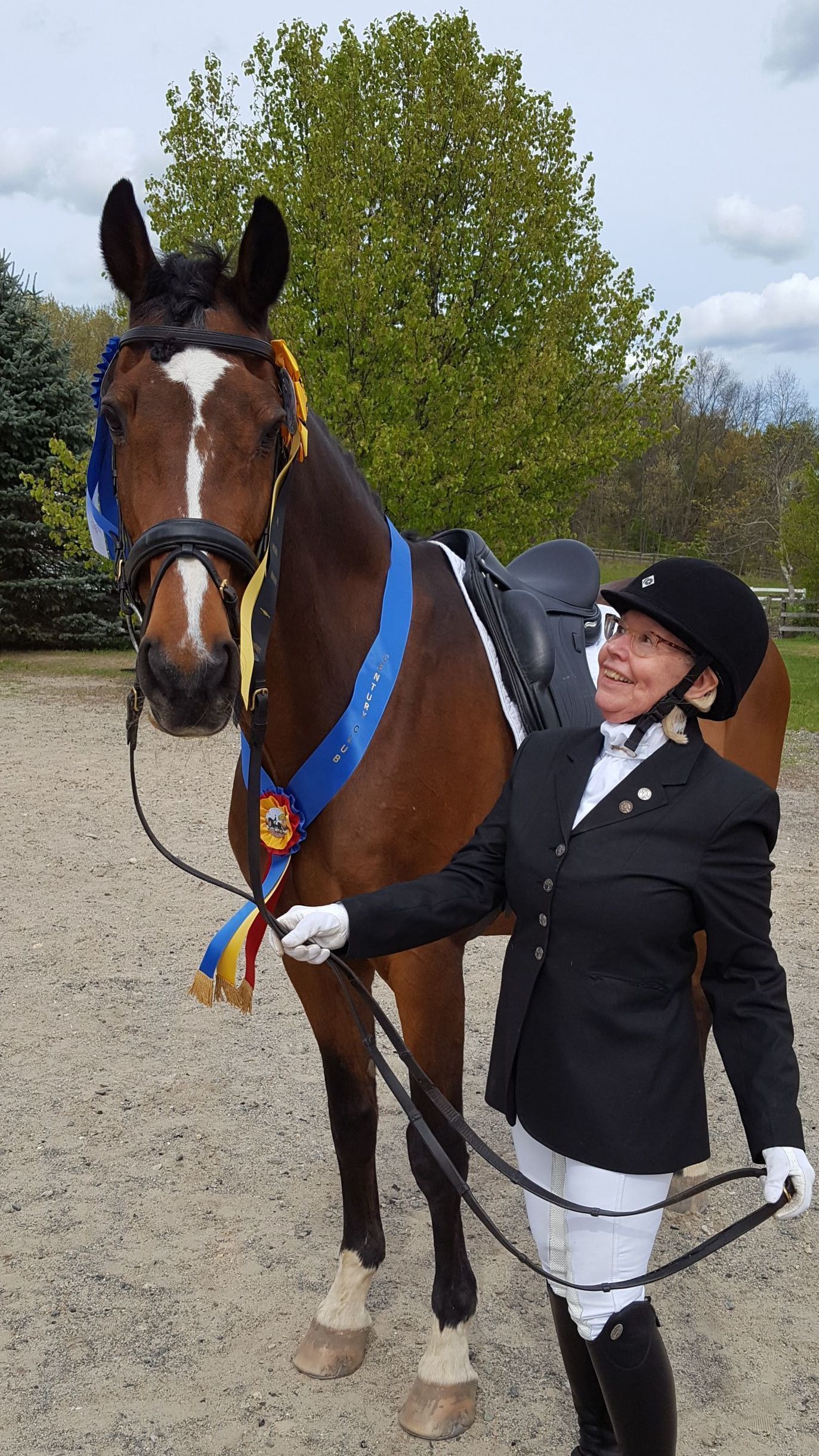 Team #487 Susan Anderson and Nova Zembla
Ages: 74 & 26
Combined Age: 100
Yes, I was one of those horse-crazy kids. Growing up in rural Massachusetts my girlfriend and I would try to ride heifers and a donkey; neither of which were very willing participants. My parents' common sense and financial situation kept actual horses out of my childhood. I satisfied my yearning by collecting every piece of horse paraphernalia I could. Trigger and Buttermilk still sit on my shelves.
It was then off to college for a nursing degree and a very rewarding career. There was graduate school, post-graduate studies, a professorship, a husband, a home, and horses faded into the distant past. Until one day a friend thought she wanted to learn to ride and asked me to go with her for moral support. I did and that rekindled all the latent horse passion. So, in my mid-40s, I took my first riding lesson.  I chose dressage in part because I knew jumping and galloping through the woods was not a wise choice for someone starting at my age, but mainly because the horses looked so elegant and beautiful as if they were dancing.
I leased a school pony for several months and soon learned that this was going to be more challenging than expected. He knew way more than I did and did not hesitate to frequently remind me of that fact. I persevered and was persuaded to purchase a horse. My rational self said this was an unnecessary extravagance, but the horse passion took over and in 1990 I became the owner of an appendix Quarter Horse, Bear Elegance. He was a wonderful teacher and soon I was bitten by the competition bug. We went up through First Level and then I was told if I wanted to go further it was time for a schoolmaster. Along came Sidney, a 17-hand Westphalian who over many years brought me up to Prix St. Georges. During our time together I earned my bronze medal, qualified for a Third Level championship, and accrued scores towards a silver medal. Sidney retired in 2000.
In 2003, I found my current partner Nova Zembla. He was seven and standing on his hind legs when I first met him. My husband looked at me and said, "Is that the horse?"  I sheepishly replied yes and was certainly having second thoughts myself. It was a steep learning curve, but we persevered together, each of us supporting the other depending on the situation. Together we earned Masters Challenge Awards at Fourth Level and FEI, culminating with a silver medal in 2015. Since then, we have been enjoying ourselves, working on freestyles, hacking through the woods, and planning our Century Club ride with the help and support of my trainer Samantha Williams at Labyrinth Dressage in Ipswich, MA.
From my first competition when the judge told me my biological clock was ticking, until now has been an incredible journey. Full of wonderfully supportive people, trainers, coaches, and horses. Thank goodness my biological clock is still ticking, and I can celebrate with a Century Club ride.
Susan and Nova Zembla rode Second Level, Test 3, on May 9, 2021, earning a score of 69.404 percent to complete their Century Club ride.