Team #450 Susan Bellinger and Bona Fide Beau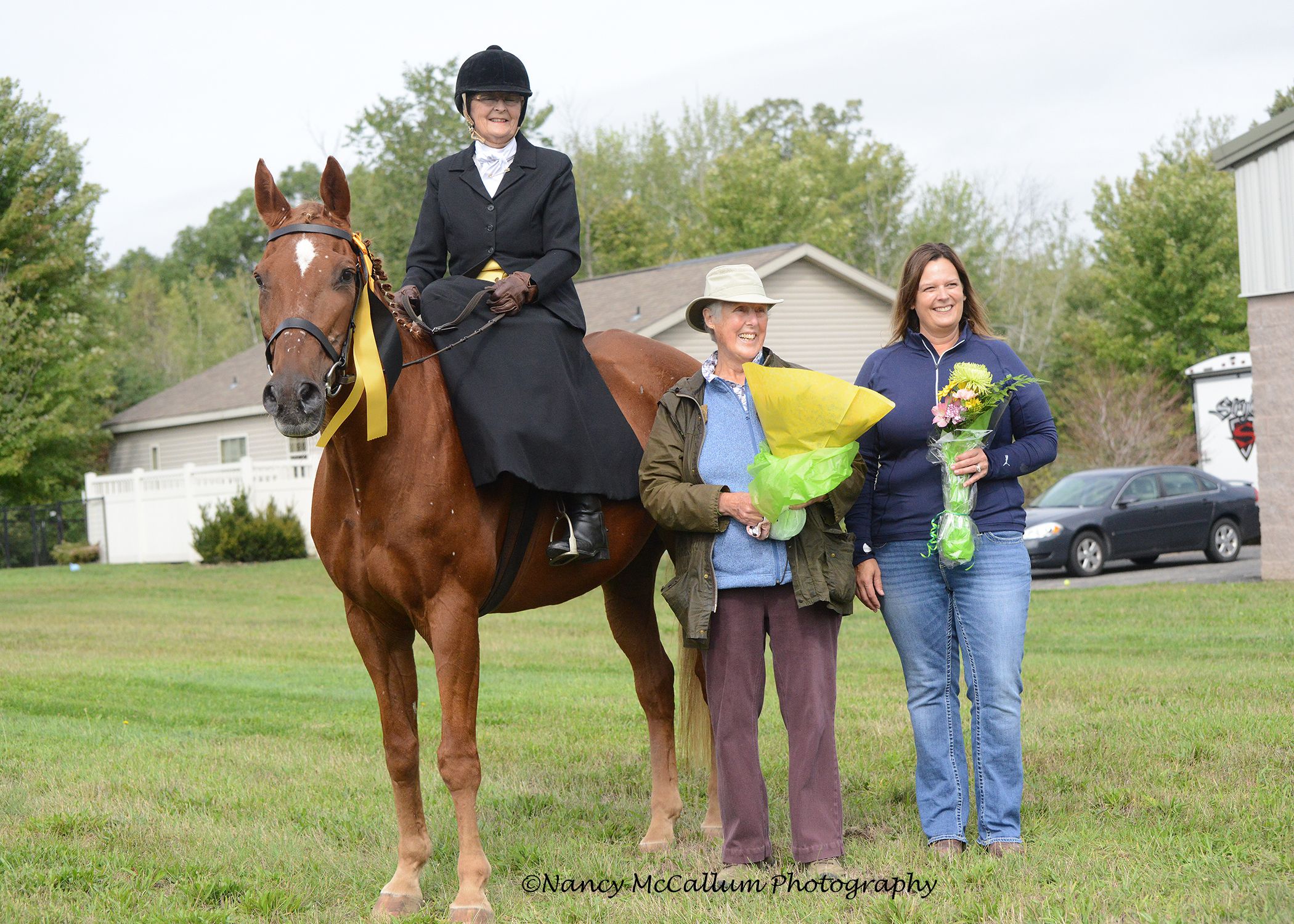 Team # 450 Susan Bellinger and Bona Fide Beau
Ages 71 and 30
Combine age: 101
In all his 30 years, Charlie had accomplished just about everything in his career. It might have something to do with his great bloodlines (Two Eyed Jack). They are known for being tough!! He has performed in Western, Trail, Hunt Seat, Jumping, Dressage, Eventing, Fox Hunting, and Side Saddle. He has been a member of 4-H, Pony Club, and Metamora Hunt Club. Whatever was asked of him, he has given. Such an all-around horse, you could not ask for more. He really doesn't know he is 30 as he is still very active and FIT!!!!!
I am so grateful to The Dressage Foundation for spotlighting older horses and riders.
I had so much help with my test today; you cannot do it alone. I thank Erin, Rick, Rebecca, Greg, Cameo, Tina, Astrid, Nancy, Myra (Myra rode Charlie in 2016 into the Century Club), and Sue Martin who allowed us to ride at her farm.
My Side Saddle Century Club ride was fun. I rode the test in my helmet but wore the Top Hat for some photos!
My history goes back to England.  It is the old story – you muck stalls out as an 11-year-old just to ride horses. No formal lessons.  I didn't own a horse until I came to the United States. Over the years I have been involved with my children and clients in 4-H and later in Pony Club.  I am proud to be a Certified Member of the American Riding Instructor Association.  I give lessons in English and Side Saddle and offer board at my facility. Being a member of the Metamora Hunt Club is great fun. The first time I ever hunted was on Charlie Side Saddle.  I have never been so exhausted in all my life.
I must also give a shout-out to Laura Frizzell, who gave me my first Side Saddle lesson years ago.
There is a resurgence of Side Saddle over the last few years; I love to see that. It is lovely to pass that knowledge on to new riders.  I think that Downton Abbey might have had something to do with the interest!!!
I am so very proud that Charlie can finish his showing career inducted into the Century Club, thanks to The Dressage Foundation.
Susan and Charlie rode Training Level Test 1 to complete their Century Club ride on September 12, 2020.