Team #359: Susan Emmons and Galesburg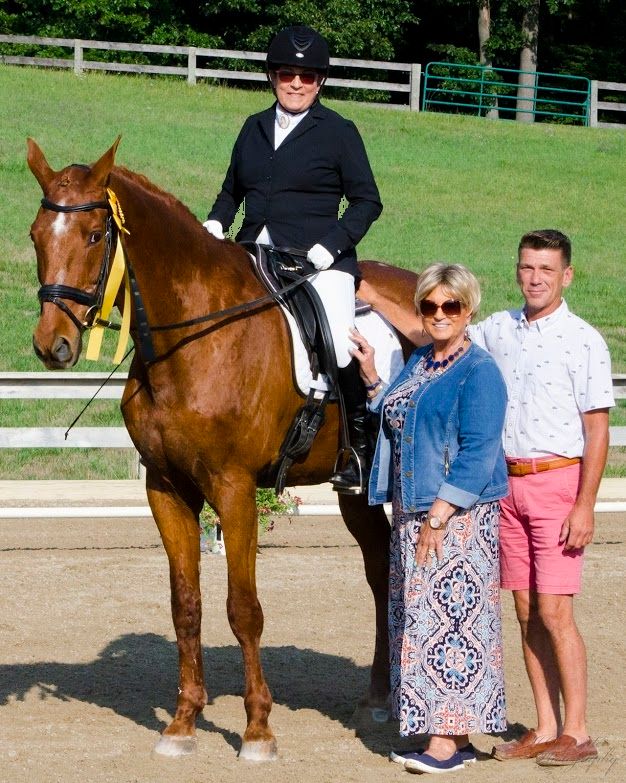 My husband David and I have been blessed to have had this big, beautiful, talented and hilarious horse in our lives for the last 21 years. Galesburg (Bergie) took David through Preliminary and Intermediate levels of eventing. David was not so in love with the dressage aspect, so his dressage scores were not the best, but he could make Bergie jump the moon for him and always ended up in the ribbons. On the other hand, I was usually in first place after dressage, and very often the lowest dressage score in the whole show, but then would blow it somehow in the next two phases of eventing. 
Bergie and I successfully competed through Third Level in the dressage world. One of the things that I enjoyed the most about showing Bergie is that no matter what discipline I was showing, by the time I was done warming up, we had a fan club on the sidelines. This horse has  a canter to die for! In all these years we have owned him, I have never had anyone who rode him (including international riders) get off without saying he had the best canter they had ever sat on. Bergie is not only beautiful, but he has a presence about him that has a habit of capturing people's attention. He still, at 29, decides when he has been in long enough for feeding then shimmies (at 17 hands) under the covered chain on the front of his stall and just walks out to his paddock. Bergie has talent, beauty and personality plus. This all in one horse is everything horse owners dream of, and we are still living it.
Our Century Ride was so special in so many ways. Bergie, who had not worn a dressage saddle in many years, really stepped up to the plate that day. He always knew when he was at a show and needed to show off, and this competition was no different. Our judge had no idea that we were doing our Century Club Ride, or that fact that he was 29 and I was 72, and our score was almost a 67% and we won the class. OMG! Most exciting ride of my life.