Team #375: Susanne Meyer and Omarcus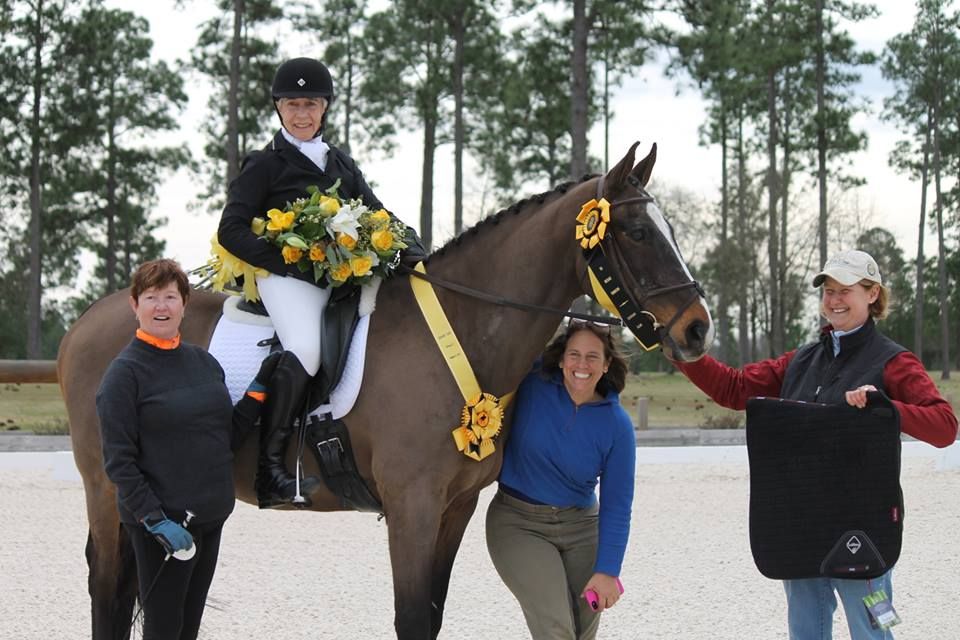 Susanne Meyer of Newburyport, Massachusetts (and winter resident of Aiken, South Carolina), and Omarcus, a 22-year-old Dutch Warmblood gelding owned by Joanne Lawton of Morrisville, Vermont, completed a Century Ride at Stable View Farm in Aiken, just 17 days before Susanne's 80th birthday.

Omarcus was imported from Denmark as a successful Grand Prix jumper.  He fell to his knees when the plane landed and the injury ended his upper-level career.  The scars on his knees were masked with dye and Omarcus was subsequently offered for sale.  He had the good fortune to be noticed by Jeff Halvorsen of Boca Raton, Florida, who immediately recognized the horse's desire to connect and loved his jump and sensitivity.  Within weeks, the dye wore off and within months, Omarcus' lameness became evident.  Jeff spent the next 2 years rehabbing Omarcus and solidifying an incredible bond. 

Forced by life events to part with his horses, Jeff offered to give him to Joanne, who had to take him that day because it was so painful for Jeff to part with this special horse.  Joanne picked Omarcus up sight unseen and has had him for 9 years.  Omarcus is a true gift...every day...to all who know him.  He radiates a calm and regal self-confidence.  He is intelligent and kind, with nothing to prove, often softly breathing in your ear. 

Susanne grew up in Ipswich, Massachusetts.  Her love of horses began at age 3, when her uncle frequently led her around bareback on his plow horses.  At age 7, Susanne attended a riding camp in Maine, and at age 10 began spending summers at Brown Ledge Camp in Burlington, Vermont, where she rode on the Drill Team and competed in shows.  At age 14, Susanne went on her first fox hunt with the Myopia Hunt Club. 

Between ages 15 and 37, Susanne was away from horses.  She graduated from Ipswich High School, UVM, received an MSW from BU School of Social Work, married, had 2 children, worked as a forensic evaluator at Boston Children's Hospital and Massachusetts General Hospital, skied and raced Porsches.

In 1976, Susanne attended a Brown Ledge reunion, which rekindled her love of riding.  She brought a camp horse home for the winter and within 3 months, had purchased a small horse property in North Andover, Massachusetts.  When the camp horse, D'artagnan, returned to camp, she bought her first horse, a Canadian Thoroughbred/Oldenburg mare on whom she had countless adventures. 

Susanne and her husband hunted with Myopia in the late 1980s and early 1990s.  Susanne began eventing at age 50 on Bill Gray, a New Zealand Thoroughbred and former USET horse.  She has owned 5 off-the-track Thoroughbreds.  For the past 25 years she has been an inveterate trail rider, having ridden her current horse, Hitting Hard (aka Dr. Pepper) 1,920 miles since June of 2015.

Susanne thanks: Joanne Lawton for inviting her to ride her beautiful horse; Charlotte Bayley-Schindelholz for her invaluable dressage lessons, her ongoing encouragement and marvelous humor; Lisa Darden for the opportunity to ride in her beautiful arena; and finally, Omarcus, for being such a sweet boy.