Team #403 -- Suzanne Zeitman and Elgassi (MI)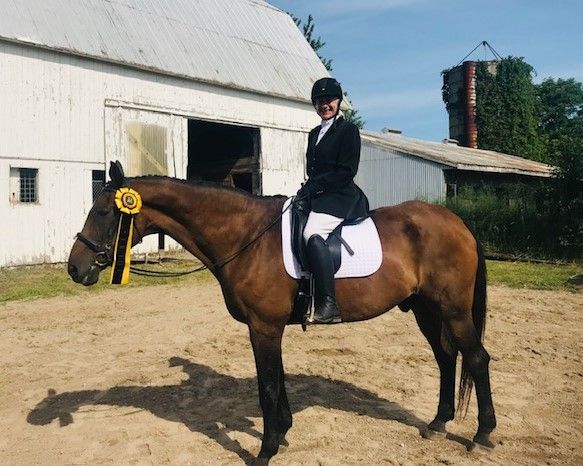 I rode Western when I was young. My horse was sold when I went to college at the University of Michigan. At the time one could take English riding lessons to satisfy the physical education requirement. I did that and then continued lessons elsewhere for a year or so. I did not ride regularly again until after my 6-year-old daughter was killed and I was 40. I wanted to ride again anyway, but now riding was therapeutic because the part of me that loved horses felt like the only part that was unchanged.
Elgassi, whose barn name is Elroy, was imported (as a gelding) from Sweden in 1994 to be a dressage horse. I am not sure when his dressage training stopped, but he was not sold from his first home in the U.S. until he was 14 or 15. Although a sweet and friendly horse, Elgassi has always thought much of himself. He is quite dominant with other horses (even today) and occassionally tries to be a bit pushy with his humans. I can imagine that as a youngster he may not have been that easy to deal with. When I mentioned to his first owner that at nearly 30 he loved flying lead changes and occasionaly did them on his own, she jokingly suggested that he was trying to show me he had been able to do one-tempis.
According to typed comments that accompanied his papers, Elgassi was one of the best jumpers in the Swedish final of the 1993 quality competition test. Jumping was what he did next. I quote his second owner, Elise Iafrate: "Elroy started his jumping and hunter show career with me at age 15. We immediately were successful in the showrider.com medal (the tempi changes always helped us win) that used to be in existence as well as numerous championships in adult eq and hunters!"
I began riding again at a hunter-jumper barn. I half-leased an Arab/Quarter Horse mix who was no longer supposed to jump. After he died, I bought a Thoroughbred mare. I did begin jumping, but only over very low (2 ft.) fences. When my mare was semi-retired for health reasons, I half-leased another Thoroughbred. It was during that time that I met Elgassi. By then he was 19 and had just been acquired by a girl who was soon forced to give him up because of family problems. The decision to buy him was difficult. After years of increasingly difficult walking and riding, I was pretty sure I would be having hip replacements in the not-too-distant future. Elgassi was huge. I had to see whether I could even sit on him in the meantime. On the other hand I felt that he was a great horse and that I could make sure he had a good home no matter what. Obviously, I did buy Elgassi. About two years later I had both hips replaced (in quick succession) while two nice young ladies rode him.
By the time Elgassi was 27 and I was 65, we were no longer jumping and I wanted to learn about dressage. Elgassi was having difficulty eating hay. I began looking for dressage barns where he could have more turnout and individual attention to his feeding. This is how we arrived at our current home. It has been an excellent one for both of us. Now I think I would have been happier doing dressage all along. Better very late than never, I suppose. (I did recently buy a lovely and calm Cheval Canadien.)
I want to thank my trainer, Sue Ashley, for her wonderful instruction and her help in keeping Elgassi healthy and happy. Soon after moving to our new home, Elgassi was diagnosed with Cushings. I think that medication for Cushings has done much to prolong health and comfort in Elgassi's life. I am so grateful for being able to share that life with him.