Team #364: Virginia Smith and Gem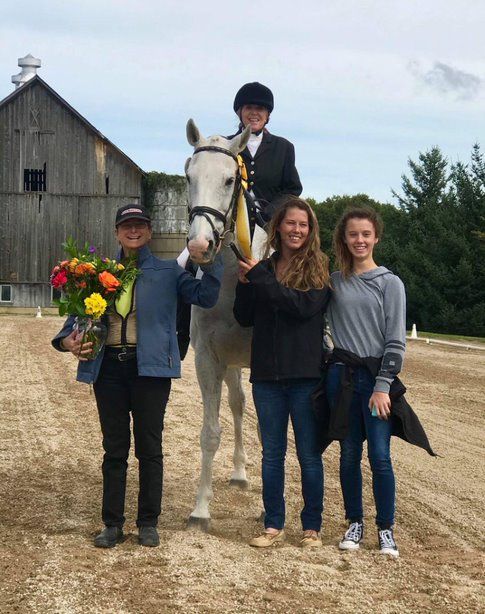 What an awesome experience, to be able to become a member of The Dressage Foundation's Century Club. Like many horse owners, I have loved horses for many years, but I didn't start to ride dressage until I was in my 50s.  I bought a six-year-old Arabian named Bravo, who had never been broken out to ride.  The first person who I hired to become my riding instructor told me to get rid of him because a green horse with a green rider is not a good combination, and I would never be able to ride him.  Well I did find a trainer, Kathy Walters, who was willing to take on the challenge and with quiet handling, lots of ground work and lunging, he became a wonderful horse.   
We rode in many USDF shows and All Dressage Association (ADA) shows.  What a disappointment that because of a serious injury to Bravo, the dream of riding the Century Ride on him was dashed.  Then I began riding different horses and eventually met Gem, who is aptly named.  Gem is an ex-race horse, who Megan (the barn manger where I rode) saved from an untimely demise.  I think horses know when someone loves them enough to make their seniors years meaningful and wonderful.  Megan was kind enough to let me ride and take lessons on Gem with the goal to have him and I become members of the Century Club.   
Gem and I had family members, barn friends, Team Walters and many ADA friends cheer us on as we rode to meet our goal on September 8th.  We were able to have our champagne, flowers and cake to celebrate our achievement.  I also think it was a great way for Gem to end his days of competition, from racing to dressage.  
I am continuing to ride my new horse, Pepper, and we will began competing this coming summer.  Horses and riding have become my therapy for my senior years.

In the photo -- Virginia and Gem with Kathy Walters (trainer) and Megan and Kysia (Gem's owners)