Team #459 Virginia Streamer and Atlantis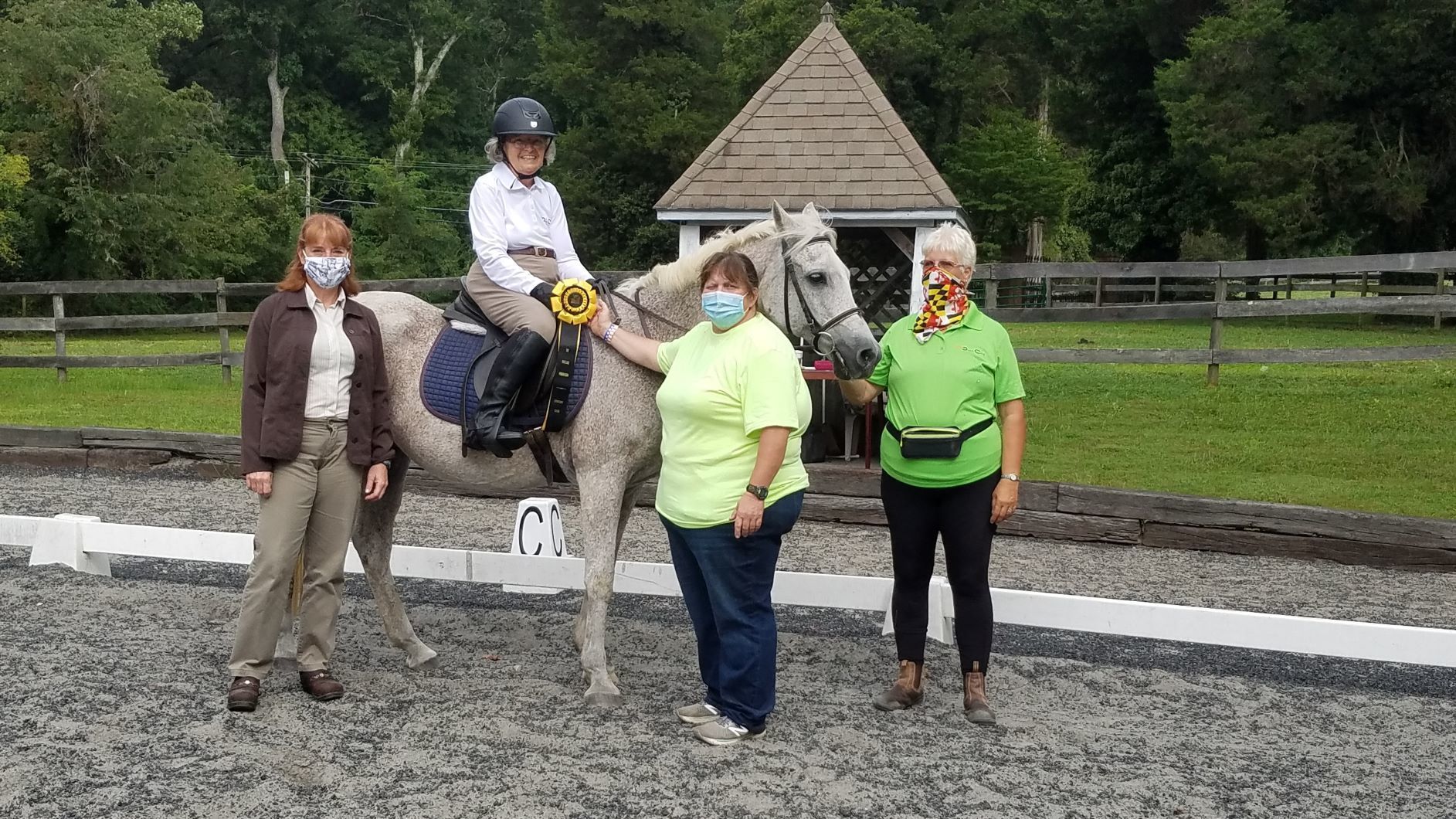 Team # 459- Virginia Streamer and Atlantis 
Ages: 80 & 25
Combined age: 105
This is the story of how a plan to celebrate my 80th birthday with my 11-year-old grandson by riding Icelandic ponies doing a tolt became dressage training for a Century Ride. Learning to ride at the age of eight, while attending an English Boarding school, I mastered the basics of horsemanship.  Returning to America after five years in England, I lived in Minnesota with my father, who bought me a pony. I showed Vicki at county fairs in the English pleasure classes, came out, switched tack, and went back in to show in the Western pleasure class. My older sister and I played with our horses swimming them in Lake Minnetonka, trail riding, having Vicki pull a toboggan but there were no formal lessons. When I moved to Connecticut my horseback riding stopped. I would take a trail ride about once every 5 or more years when the opportunity was available. I have ridden in Florida, Colorado, Montana, California, Ohio, New Jersey, Switzerland.
In 2017, when my eight-year-old grandson came to spend a week with me his one wish was to go riding. I found a summer camp in Monkton, MD—Dream Catch Equine--owned by Kathleen Almony. She welcomed us and was happy to have me do a ride with him at the end of the camp week. At the end of his first day, Jace said, "That wasn't what I expected. We got to feed the horses and give them water. We were in their stalls.  We brushed them and put the saddle on!" This immersion program was not what I expected either.
By the end of the week, Jace knew the names of all the horses, and I got to feed, groom, and with some assistance tack up. I could barely lift the saddle up and could not tighten the girth. For the first time in my life, I had a trainer and did ring work. I hadn't forgotten how to trot rising (post), but I had so much to learn about riding a thoroughbred who had been in 44 races and was a granddaughter of Seattle Slew. My fear was that my knees would hurt. I had given up bicycling where I would bicycle a Century at the end of summer--100 miles in one day. But I had to stop because of stress on my back, neck, and knees. Kathleen made many adjustments until we found the best combination of saddle and stirrups. But I did not have pain or aftereffects when horseback riding. I continued to ride weekly for the next three years. Having a trainer was what made this possible. For the first time, I was taught to see riding as a partnership with a horse. I learned many techniques and skills and did fall off once. At each lesson, I managed to meet three of the five requirements for a senior to thrive: exercise, socialize, challenge your mind (attend to your health/diet and get enough sleep also improved ).
When I heard about the Icelandic ponies and saw the tolt on Youtube, I decided that was the way to celebrate my 80th birthday. Jace, now 11, agreed to join me. He had gone to camp each summer but was not riding regularly. I found Crossfire Farm near where he lives and explained the situation to Lauren Sumner, owner, and trainer at Crossfire Farm.  She was willing to work with him once a week for 10 weeks to get him in shape for Iceland. Her mother suggested that I could earn a Century Award because of my age. In February, our plane tickets were purchased, our rides in Iceland were scheduled, and Jace's lessons were to begin in March. Everything was canceled by the pandemic.
It became apparent that horseback riding was one sport that was possible during a pandemic. My daughter contacted Crossfire stable to see if Jace could have lessons. He began riding in June and is making terrific progress as a rider now participating in show jumping two-foot jumps. In June, Kathleen asked if I was serious about trying for a Century Award. I switched from my causal ring riding to dressage training, upped my mental and physical challenges and learned to ride Atlantis, an Arabian racehorse acquired in 1999 at the age of 5. He had been retrained for show jumping, dressage work, trail riding, and work with learners and campers. He is in love with Emma, has impeccable manners and patience in the barn, and would rather not move from a walk to a trot, but is very willing once he gets underway.  We completed our first walk/trot show together on September 13, 2020. That was how I celebrated my 80th and I'm not about to quit.
Virginia and Atlantis rode Introductory Level Test A to complete their Century Club ride on September 13, 2020.