Team #405 -- Wendy McCord and Festivo (NY)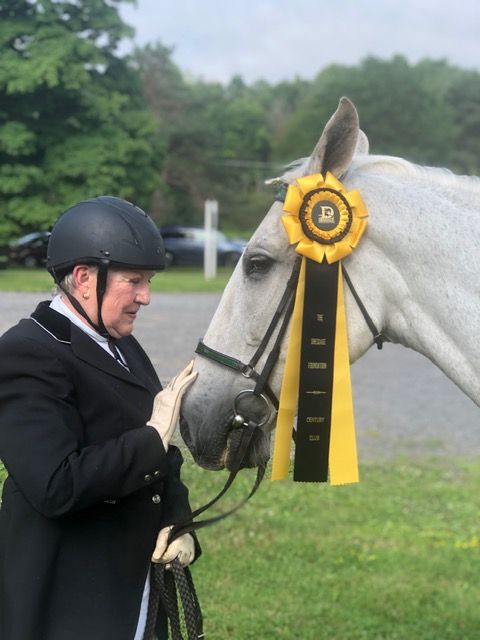 This is a love story. As a little girl I knew I loved horses. I would draw them, cut out pictures, and read every book in my school library. Even then, before I ever owned a horse, I dreamt about a close magical relationship with my future horse. The horse was always white with a green saddle and bridle. I never got a horse as a child but did take riding lessons at the Saddle and Bridle Club in Buffalo, New York. Time went on as I went to college, married, and had children. I move to Los Angeles and became a psychologist, later moving to Phoenix, Arizona.

I finally bought my dream horse, Faceta, in 1995. She was a beautiful Andalusian but she had serious "issues." Not the magical relationship of my childhood dream. So, my husband and I began studying Natural Horsemanship. Faceta had been mistreated and I needed to learn about the horse/human relationship and how to speak to her in her language. I was able to participate in many clinics in the west with Tom Dorrance, Buck Brannaman, Ray Hunt, and Lee Smith. I was learning the language and discipline I had always dreamed was possible. Sadly, Faceta died in 1996.

In 1997 I was in Durango, Colorado, and saw an Andalusian Horse Ranch. They had a 4-year-old for sale. As I was leaving, I looked at his papers and to my shock, Faceta was his grandmother. Then and there Festivo became mine. Armed with all my horsemanship education, we began our journey together. He became my magical horse. We rode English and Western, trailed all over Arizona, and I used him as a therapy horse in my practice. Children and parents loved him. In 2004 we made a video together using horsemanship as a guide for good parenting -- "Between Humans and Horses: Eight Parenting Lessons from the Horse's Mouth."

In 2007 we moved to a ranch in Prescott, Arizona, and Festivo became my ranch horse. After my husband passed, I began thinking of retiring and moving back 'home' to New York State. Our lives changed again in 2018 when we moved to Cazenovia, NY. This is the most wonderful horse town and we got connected to the local dressage chapter. I learned about the Century Club and realized that we qualified with a combined age of 100. We are dusting off our dressage skills. So, there it is, 22 years together and the love and respect for my partner only grows deeper.

Thank you to The Dressage Foundation,for recognizing our long partnership. Our love story continues.