2016 Heldenberg Grant Recipient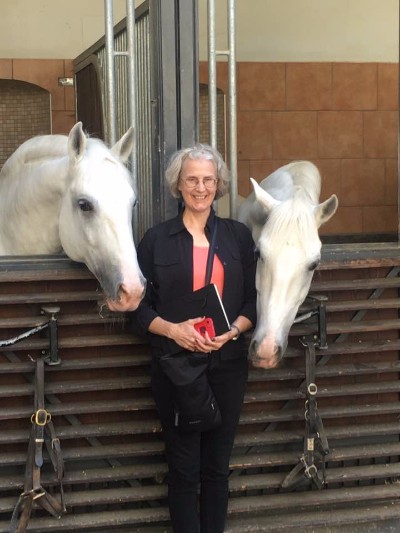 Finding Out I'd Been Chosen
People who know me will tell you I'm not the crying type. So when I teared up over the email telling me I'd received The Dressage Foundation's Heldenberg Fund Grant to study dressage theory at the Spanish Riding School, my husband was quite surprised.
The idea of a deep dive into dressage theory would make a lot of my riding friends cry, but not necessarily tears of joy. I, on the other hand, love studying dressage theory. Really. But when I stopped to think about it, I realized my emotional reaction came from a different place.
The scholarship is a validation that development of my riding matters, even though I'm "just an amateur." As I was sitting in Heldenberg, I quietly celebrated my 50th anniversary of riding. Half a century - that's how long my parents or I have been dispensing checks to various members of the horse industry. Checks to instructors, checks to clinicians. Checks to clubs, breed organizations, show managers, tack shops, boarding barns, trainers, horse chiropractors, saddle adjusters, farriers, and vets, vets, vets.
But this time, this one glorious time, someone wrote out a check to me. Someone supported my riding hopes and dreams in a material way. Someone said my riding development matters, even if I do something else for a living. That was major. Major enough to inspire an emotional reaction.
My expectations for the trip were sky-high. Wonderfully enough, those sky-high expectations weren't just met, they were exceeded.
Vienna
I flew in overnight, then spent the first day in Vienna getting oriented. There is so very much to see, with a new discovery around every corner, that it's a bit overwhelming. I was happy to have a full day to explore and adjust to the time change before the Heldenberg sessions began. I highly recommend arriving a day early.
We Ubered to Heldenberg (see pro tips, below) in plenty of time for the first day's session. We did not want to be late! We had fun meeting the other seminar attendees, meeting "our" Rider, diving into excellent pastries, then getting down to work. The format was like attending a U.S. clinic, but with the clinician in the stands with you, answering your questions. We watched all morning as small groups of horses and riders came and went in the school for their work. While at first it seemed loosely organized, I gradually came to appreciate the format.
They started with horses that had been under saddle for just a couple of months. The method and steps for starting young horses was explained, with three different horses that had different strengths and weaknesses presented for demonstration and discussion. One of the common discussion threads was form to function, matching each horse's conformation to their best opportunities in dressage by paying particular attention to weaknesses that should be supported with balance and strength building. We were also treated to watching a couple lunge lessons for student riders. The exercises took me back to my Pony Club days, although I was never expected to mount without stirrups. The young riders take their sport seriously and are all trim, fit athletes. We also learned about how horses are moved along the development track, from the careful selection of breedings at Piber, through evaluation and sorting of young horses, through starting of young horses, to horses being sorted into the particular parts of the school for which they are best suited.
The Rider who stayed with us all morning and the demonstration riders were all happy to answer questions, show us any exercises we requested, and were uniformly courteous and generous with their time and their expertise. Once we got over our initial shyness, the riders were even happy to answer specific questions and give advice about our own horses.
Highlights from my notes:
Individualize the training for each horse's strengths and weaknesses. Don't just move them up the training scale for showing, but use the progress of training in a planned way to help each horse reach his best potential. The seminar format of starting with green, young horses then showing us horses at various points of the development was very effective pedagogy. It was like watching ten years of training unfold over two days. Dressage made so much more sense to me afterward.
Piaffe is a means to an end (the end being a strong, well-balanced horse in self-carriage) not an end in itself. They start working on piaffe with young horses as a foundational, building exercise. Just that one piece of the puzzle clarified so very much of the training process for me. My notes say I was told to train piaffe for at least a year before adding passage. Got it.
I've known about the training scale for many years. I memorized it in Pony Club quite a long time ago. But, having a succession of horses working at various levels of self-carriage, from green beans to horses being trained in the airs above the ground, demonstrated the process of athletically developing a dressage horse like nothing I've experienced to date.
While the riders had their personal, slight variations, overall the consistency of everything they did and said was amazing. I asked five different riders, from students to the assistant chief rider, the same question about starting my own horse in flying changes. I got the same answer from every single person I asked. If I'd done that in the U.S., I would have had six different answers from five different trainers. Impressive.
Another theme that hit home for me was the attitude of having time. There is time for the horse to learn. There is time for the horse to develop strength and balance. There is always time. I often heard someone say, "This horse has been working on ________ for only two years. It will come." I tried and simply could not imagine an American trainer saying that about a horse learning flying changes or passage. Later that same day, a restaurant waiter, noting how badly I was hiding my impatience (a sit down restaurant is a major time commitment in Vienna and it took me a few days to adjust to that) told me, "In Wien, there is time." Ok, I get it. I've made that into a little sign for the inside of my tack trunk so I don't forget.
The most thrilling part for me was watching horses being schooled in the airs. It wasn't just the glamour of the big jumps and impressive displays of power and athleticism. Watching a horse being schooled in the airs brought home the whole point of each horse's careful, calculated, personalized progression in developing strength and balance to achieve the ultimate in self-carriage. I've known the theory for decades. Watching it happen in front of me, in living muscle and bone, was humbling as well as educational. I now have a more in-depth understanding of the why as well as the what of developing self-carriage.
As much detail goes into the care and feeding of the horses as into their training. We were treated to behind the scenes tours in the barn in Heldenberg and the barn in Vienna. What a thrill that was.
A final highlight I have to mention is the way everyone at the SRS was gracious and generous with their time and expertise. The riders were happy to answer questions and talk about dressage and the School's history and traditions. It was a unique experience for me to be in a place where people didn't roll their eyes and avoid discussing dressage theory. They were actually informed and engaged in the art and the sport. It was like spending a few days in heaven for me.
Pro-Tips for Future Trip Takers
Heldenberg is a tiny, sleepy country hamlet. You won't want to stay there unless you have a really good novel you absolutely must finish. While Vienna is a fun and fascinating place to stay, getting from Vienna to Heldenberg and back is a pain. It was the only part of the trip that caused me any anxiety. While my first inclination is to use public transit, the train to Heldenberg runs either too late or too early. A taxi will get you there, but it's not cheap. Getting a taxi to run back out and pick you up is an exercise in the persuasive power of money. Renting a car is one alternative, but parking in Vienna is both difficult to find and expensive. My hotel concierge almost had a heart attack when I innocently asked where I might be able to park a rental car for a couple of days. It's that bad. So, we opted for Uber the first day. That worked quite well and was cheaper and easier than a taxi or rental car. The second day we connected with yet another American on the trip. She had already rented a car so we bummed rides from her. If we hadn't, we would have kept using Uber. It takes some planning to have someone haul 45 minutes out into the country to pick you up, but that can be easily scheduled with the app.
 Don't expect the SRS folks to hold your hand on travel details. We stopped into the offices the first day in Vienna to introduce ourselves to the program contact there. She was pleasant, but seemed bewildered that we would bother to check in. It was just assumed we'd be adults and get ourselves to Heldenberg, making our way where we needed to be when we needed to be there. There was no emailing of agendas and maps, no contact list, no van arranged for transporting everyone, nobody greeting you, no name badges, etc., that you'd get in a similar program in the U.S. On the one hand, it was refreshing to be treated as an adult. On the other hand, it was a bit unnerving since my German is quite basic.
Don't worry if your German is quite basic. Almost everyone you'll have contact with is fluent in English. Public transit announcements and signs are multi-lingual. People in public contact positions are friendly and helpful. Vienna is used to, and welcoming to tourists.
Take along a stiff notebook and pens. I took pages and pages of notes for future reference.
Order your SRS performance tickets as soon as you know your seminar dates. The tickets are not part of the seminar package and performances sell out fast. Spend the extra for the pricey tickets. It's totally worth it. I bought mine through the Vienna Classics website. Their service was excellent.
At the end of the sessions, they gave us a coupon for 20% off from the gift shop. This was after I'd bought about one of everything at the SRS gift shop in Vienna. Hold off on the SRS souvenir shopping spree until the end of the workshop.
Take some small gifts for the Riders who spend time with the class. Being from NY, I'm used to tipping everyone for everything, but that's not culturally appropriate there. You show your appreciation with a small but thoughtful gift.
Don't worry! Even if you're inexperienced at international travel, like me, Vienna is easy to get around in, people are very friendly, and you will have an amazing trip.
You will have time for tourist sightseeing. Plan ahead so you can make the best use of that time.
Eat the apful strudel. You can lose the weight you'll gain when you get home.
Paying It Back and Paying It Forward
Lastly, and most importantly, I want to thank Ralph and Freddie Dreitzler and family for funding this scholarship. The learning experience for this dressage rider was amazing. But, the fact that this scholarship is earmarked specifically for adult amateur riders makes it even more special. I'll be doing a winter series presentation on my trip to my local GMO. As part of that presentation I'm going to encourage everyone to choose a TDF grant to apply for. Also, I've made a pledge to myself to pay back the scholarship amount to The Dressage Foundation. It may take while, but I'll return the contributions to help others. In particular, I'm looking forward to participating in a Two-Tempi Challenge. My horse isn't quite ready to start his single changes yet, but we'll get those two-tempis one day. I know it will come, because, in Wien, there is time.