"Exceptional Things Come From The Heart," by Jennifer Shepherd
Heldenberg Training Center Fund Grant In Memory Of E.L. Dreitzler
---
Sunday, September 14, 2014
Waiting patiently at the gate for my first flight segment to board, I turn on my cell phone for a final check of messages. I am conscientiously conserving battery power because it will be 13 hours before both of my feet land squarely on the ground in Vienna, Austria. Most importantly, I have no clue where the taxi driver, graciously arranged by the hotel in advance, would wait for me upon arrival at Vienna International Airport. I am convinced this elusive detail is simply a test of my resourcefulness with less than 3 hours of sleep. I glance down at my phone and notice a message from Jenny Johnson, & Jane Fucinaro who are elated with the success of the 'The Hills Are Alive' fundraiser benefitting The Dressage Foundation (TDF). The funds raised will enable another adult amateur applicant to have this same life changing experience. Cue uncontrollable tears rolling down my cheeks accompanied by the biggest smile you've ever seen. I try to hold it all together, at least for the sake of the other passengers on the flight; however, living a dream and then knowing it will come true again for someone else comes with an overwhelming feeling of gratitude. Thank you from the heart to all of you who have donated towards TDF in any capacity and recognize the incredible importance of continuing dressage education.
Monday, September 15, 2014
I clear customs and locate the taxi driver at baggage claim holding up a rather prominent 'Pension Shermin' sign. On the way to the hotel, the taxi driver points out historical landmarks including a harness racing track built in 1878 (Trabrennbahn Krieau), famed baroque public parks and gardens which are seemingly on every street corner, and explains the city's district system while 80's rock music plays in the background on the radio. Arriving at the hotel, I pay my fare and include a generous tip because I am just so happy to be here. Now what district am I in again?
Hotel Shermin is a hidden gem, family owned and operated, it feels more like home than a hotel. Countless hours of research went in to finding this hotel on Trip Advisor, but it was well worth the effort. Every morning their staff prepares a delightful breakfast spread of Viennese favorites and will even cook an egg to order—over smoked fish, if preferred. A scrumptious Mormargugelhupf (marble bundt cake) is strategically placed on the buffet and available for guests to slice. I associated so much joy with this morning treasure that my Austrian friends back home kindly provided me with a tutorial on how to properly bake this treat for future occasions.
Billa (supermarket) is one of the best things ever and conveniently located right across the street from the hotel. This matters most when it's getting close to dark-o'clock and what's for dinner is still a lingering question. Billa has everything an incredibly hungry yet thrifty traveler could ever want and then some including Semmels (rolls), Almdudler (ginger soda), Erdnub Locken (peanut puffs) and Kakao Milch (chocolate milk). I load up both of my arms until there is no more room under my chin only to have realized that I should have picked up a basket. Did I see a basket? I must have passed as a local because the cashier asked for my savings card at check out. I would have carried out a conversation, but it's a bag your own groceries race before the next customer's purchases join too.
Before the day is over, I contact Andreas Hausberger, Chief Rider at the Spanish Riding School (SRS) & Director of the Heldenberg Training Center (HTC), to let him know I've arrived safely and will be spending my first day touring the Winter Riding School at Hofburg. Andreas invites me to be a special guest at the morning exercise session. Of course, I am absolutely thrilled and honored to accept this invitation.
Tuesday, September 16, 2014
As soon the SRS doors open, I step inside and head towards the reception area. I introduce myself and explain that I am a guest of Andreas Hausberger. The SRS attendant escorts me to the ground floor box section reserved especially for family and friends. Amazing!  *Fainting*
I feel like I've been waiting in the wings all of my life for this opportunity. The morning exercise session has already begun. I take my seat quickly and quietly to avoid disrupting the work. Natural light streams through open windows illuminating the arena while soft classical music billows in the space not taken up by the majestic Lipizzaner stallions and their riders. My attention is momentarily drawn to a clear plastic grocery type bag tied to the railing facing me. It's filled to capacity with meticulously sliced red apples. Sitting beside me is a lovely lady who speaks mostly German. She notices my quizzical look. For the horses, I ask? She confirms with a nod and identifies her son as one of the riders. Beaming with pride, she shares with me that she knows both the parents and grandparents of her son's horse. His horse is her favorite at the school. Upon conclusion of the morning exercises, her son, still dressed in his performance attire, greets and takes her by hand to the stabling area. It's difficult to describe my love for this place. This is a place where an unmistakable peacefulness soothes the mind, the purity of the stallions' spirit is felt internally, and the depth of 450 years of history and tradition can be seen. The audience departs and I pause in my seat because the solitude is fulfilling.
I felt safe in Vienna; however, I felt more comfortable giving the appearance of student rather than tourist while exploring the city alone. On multiple occasions, friendly students at a nearby University would stop me in my tracks and start a conversation in German. A water bottle and backpack with SRS emblem were two essential items I always carried. The backpack provided handy storage for my essentials - wallet, cell phone, map, tickets, notebooks, pens and ample chocolate bars of the Milka variety. My water bottle was easily refilled at conveniently placed kiosks. Drinking water here is sourced directly from the Alps and supplied to the city via two large aqueducts, built in the late 19th and early 20th centuries. The water here is pristine and does not require any treatment. Needless to say, I drank a lot of water. No one goes thirsty here!
St. Stephen's Cathedral (Stephansdom) is impossible to miss. At street level, the Gothic inspired architecture with its distinctive multi-colored patterned roof tiles is captivating even from a distance. The impressive north tower beckons my curiosity; however, a dreaded elevator ride separates me from enjoying sweeping rooftop views. Flanked on either side by the cathedral's giant medieval doors, I venture inside and immediately let out a small gasp. I am surrounded by such beautiful preservation and recognize those important historical events such as Mozart's wedding in 1782 and his funeral in December 1791 happened right here where I am standing. I release all preconceived notions of elevator rides, although this one does come with its own attendant who sings songs I don't recognize. Did I mention the elevator is filled to capacity, there are no windows, the leathered doors are manually operated, and all of this is happening in a space no greater than 3 feet in diameter? The attendant finally opens the doors and I am standing on top of a metal grate. Super! Just don't look down! I start questioning my sanity, but feel compelled to be here. I stretch out my arm with the camera as far as it will reach to snap a few photos while bracing the rest of my body against the building. I stop taking photos because it's really what I don't see that I find so intriguing. Realizing that in this great universe we are merely a speck of dust, but have a soul that is limitless in comparison is both humbling and inspiring. 
Wednesday, September 17, 2014
With eyes wide open, I am walking towards the first of three U-Bahn (subway) transfer stations by 6:00 AM.  A few months prior to the course, Andreas introduced me via Facebook to a fellow participant from Norway, who generously offered to share a ride in her rental car to the HTC. I am convinced that all of life's exceptional things come from the heart. My friend made it possible for me to attend both training days in lower Austria, which is accessible only by car and not by train (my original plan), especially with a morning course start time. My friend requested that we meet at the station closest to her hotel by 7:30 AM and helped me determine the preferred route. Knowing what train lines, direction of travel and platforms to wait on is key to success. Knowing what side of the station my friend, who I have not yet met in person, will be waiting for me with the rental car is also remarkably significant.
Tucked inside the densely forested lower Austria, the HTC is a modern all-inclusive resort for the SRS performance stallions, youngsters in training and a few retired stallions. The facility provides opportunity for the stallions to enjoy a well-deserved countryside vacation during the hot summer months of July and August. Additionally, 3-4 SRS riders on a rotation schedule will join their performance stallions for 2-3 months to give them an even longer break. Course participants for The Training of the Horse from Training Level to Grand Prix assemble in front of the main entrance of the HTC. Andreas welcomes the group consisting of professionals, breeders, amateur riders and horse enthusiasts representing USA, Norway, Slovenia, and England. Andreas looks in my direction and asks if I am nervous. My reply is a resounding, yes! I am surrounded by some of the most brilliant minds, both human and horse.
Curious stallions peer over their stall doors offering us a warm greeting as we walk through the barn corridors leading towards the designated classroom. Were they expecting us? Andreas stops to introduce his stallions including the King himself, Conversano Dagmar, who is aptly gifted for the long rein. 
Volumes of information were absorbed in the two short days spent at the HTC and I now define this place as the cornucopia for learning the art of classical dressage. I want to share some of what I learned, including notes and thoughts as captured in my own notebook. If I could draw, I would offer that too. I hope these details are encouraging and provide inspiration. Please note that the SRS prohibits all photography/videotaping whilst the riders work their stallions. I completely respect and understand their wishes. I can also tell you that 'just by watching', I retained a lot more—thank you Rider Helmut Oberhauser for these words of wisdom. More than I may realize today or even tomorrow; however, I will be forever enlightened. Our time was equally split between interactive demonstrations by the SRS riders on their stallions and theory.  Andreas gave a comprehensive slide presentation that tied in very nicely with the demonstrations. 
Jen's Notebook from Andreas's Presentation (Day 1/2):
Part I: The Training Of A Young Horse
Only Lipizzaner stallions are trained at the SRS because they are best suited for high school work
Based on the teachings of François Robichon de La Guérinière (1688–1751), which can still be seen today in its basic features
Want stallions in good health for as long as possible – 21, 22, 25+ years
Some stallions are very talented, but keep the training slow
There are 3 schools of training:

Remontenschule – forward riding, 6 days per week for approximately 1 year

Starts at the age of 4
60/40 weight distribution of forehand to hind end
Stallions are running loose in group to get used to the environment
Separated then slowly introduced to the saddle (for hanging stirrups) and bridle (snaffle bit only, traditionally Fulmer), can use a cavesson (2 handlers), side reins (provide direction and develop back muscle, not short or low) & bandages
Stallions are longed & ridden by Eleves, Assistant Riders or young Riders under Chief Rider supervision
Do not longe young horses at the canter on a circle that's too small
Purity of gaits is most crucial, forward working tempo in longer frame with even and light contact, any disobedience handled quickly with forward movement
Stirrups should be 2 holes shorter for riding

Champagneschule – takes 2/3rd of a horse's training

Training of the horse for Calvary
Provides base for daily work
"Take time, but don't waste time" – Andreas Hausberger
Stallions are now allocated to experienced Riders & Chief Riders who determine talent for further training
Eleves are assigned less talented horses to prove their skills
Now it's time for collection, self carriage, suppleness, hind end (shifting weight from forehand to haunches)
No leg yield at the SRS, start with shoulder-in
No turn on the forehand
Work in hand is introduced, do not use the double bridle
Up to two-tempis, one-tempis was not originally classical

High School – to cultivate movements

Highest level of difficulty
40/60 weight distribution of forehand to hind-end
Distortion of natural movements is 'bad circus'
School on the ground & above ground
Jumps (airs) – Levade, Capriole, Courbette

100% hind end with 45 degree angle or lower
Levade & Courbette invented by the SRS end of 19th century/early 20th century
---
Upon conclusion of the slide presentation, we transitioned to the HTC indoor arena and spectator platform. We are delighted to have the rare opportunity to observe Rider Florian E. Zimmermann, Assistant Rider Hannah Zeitlhofer, Assistant Rider Christopher Egger and Eleve Georg Sattler school the entire repertoire of the 3 schools of training using stallions of various ages. Andreas provided a running commentary on all of the steps and movements, actions of the riders and desired outcomes. We were encouraged to ask questions so we could better understand and appreciate areas identified for improvement and the talents of each pair. Andreas emphasized that classical horsemanship has more to do with the interior than the exterior of the horse and riders must constantly work on improving themselves. Amazingly, humbleness is a trait that all of these riders shared and one I will remember most profoundly.
 
At the HTC, the SRS riders do not wear their traditional performance attire for training sessions, so for me it was easier to relate and focus. Red SRS polo shirts are neatly tucked into full seat breeches of a neutral color. I also noticed Andreas wearing my favorite Roeckl gloves. Andreas recommends using Dobert whips made in Germany because they are light and easily balanced in the hand. Riders use the whip as an extension of their arm. The riders are seen gently caressing the tops of both ears, over the eye, along the neck of their stallion while speaking soft words. Touching creates confidence.
 
It's a pleasure seeing young horses enjoy their environment as if they had just returned from a playful run in the open fields of nearby Piber. We must remember that the goals under saddle are to preserve these innate characteristics of the stallion, to make him even more beautiful with training, and to keep him healthy for as long as possible. The rider must also be supple with a swinging back and think "wiping out the saddle" according to Andreas Hausberger. The rider adjusts to the horse, giving of the hands, moving forward with hands and avoids disrupting the horse. A rider who is not still with their hands and legs will only multiply spooks. Prompt praise is very important. Some stallions prefer a nice rub along their neck while others prefer a more materialistic reward of sugar cubes. I spotted several boxes of these decorating the ledge of the arena.
Under saddle each horse is typically ridden for 30 minutes or less including the warm-up. Most of the warm-up is incorporated into the movements and not independent. When warming-up in the double bridle, the curb rein is looped. The horse will tell you when it is time to use the curb. The SRS traditionally uses the S-kurb bit. If the horse sucks back, there is too much curb involved. It's easier for the horse to use 2 bits when the snaffle is paramount. The SRS rider traditionally carries both curb reins in the left hand.
Jen's Notebook from the Demonstration:
Ride forward and straight with as many transitions as possible.

Multiple transitions are especially ideal for the 'croup high' horse or the horse that has a tendency to 'dive down' if overdriven.

Obedient square halts are enforced.
 Forward and extended walk are on the buckle, collected walk only with contact. Start with rising trot, a nice sitting trot then shoulder-in (4 track).
The rider's shoulders should follow the horse's shoulders and the rider's hips should follow the horse's hips.
The half pass is developed from a slight shoulder fore.
Don't renew aids in the half pass.
 The rider should sit still after preparations.
Canter in shoulder fore and bring the shoulders to the inside.  
The horse needs to be flexed to the inside rein (same with counter canter), but do not over bend.
All of this work should improve the horse's response to the rider's seat, hands and legs.
Allow the horse to chew out reins, but don't lose engagement of the haunches or light seat to relax the back.
---
Smiles abound from the group as we questioned Hannah, who knows perfect English, how she asks for the transition from passage to piaffe. Hannah explained when she thinks about the transition:  she sits up a little taller in the saddle, tightens her core muscles and gives a little squeeze with both legs into her half halt. It's that easy! 
Departing the HTC a little later than expected, my friend inquires whether I have time to accompany her to Arthur Kottas-Heldenberg's barn to watch a lesson on her young horse. I nearly choke on the remaining bits of chocolate bar I am devouring. She further explains that the barn is closer than the hotel drop off and she is running late. Of course I have time, lots of time. Goodness, I can't believe my fortunate luck!
Thursday, September 18, 2014
Coffee is a rare commodity near the HTC.
As our need for a cup of coffee increased, my friend and I decided to follow a random road sign up a long stretch of driveway towards what we had mistakenly translated as a Bed & Breakfast. When we reached the farmhouse, I hopped out of the car and approached a lady hanging up her freshly laundered clothes. Do you serve coffee? With a puzzled look across her face she leaves to locate her son who speaks English. Her son appears and quickly realizes that we aren't from the area and recommends the one and only bakery that opens before 11 AM. I actually enjoyed this small detour despite the fact that we were short on time because I got to experience Austria and its people outside of tourism. We manage to locate the bakery and ironically discover the rest of our group.
Jen's Notebook from Andreas's Presentation (Day 2/2):
Part II: Work In Hand (WIH)
Not part of the daily work any more
Should be done with 2 handlers and preferably under experienced supervision
Possibility to communicate without the rider's weight
No immediate success, takes years of patient work
Nearly every horse is capable of piaffe
Not easy!
History of work in hand:

Xenophon, Eumenes from Cardia
Antoine de Pluvinel
François Robichon de La Guérinière developed the seat

Premises:

Training level of the horse, starts about age of 4

Fitness
Ability to read the horse's body language
Self confident body language of the rider
Empathy
Hand-eye coordination
Don't use the horse to show off
Arena – straight walls
Ability to use the equipment
Always in the snaffle bit
Saddle or Surcingle
Cavesson – tailor made for each stallion, double broken with a solid piece in the center  (unfortunately, not available for purchase, I asked)
Solid leather side reins are used
Short hand rein or back longe (3-4m)
WIH whips:

Piaffe whip - don't use a regular dressage whip
Passage whip –bamboo cane

Bandages in front
Tail knot
Sugar bag-multiply & amplify positive reinforcement
Corrections should be made with 4 seconds of disobedience
Safety:

Whip 175cm
Short rein 130cm
Correct outfit, boots without spurs
Gloves
---
Andreas invites the group to the barn to experience a young stallion being properly fitted in his cavesson and side reins for WIH. I may have sneaked a rub or two along his neck as I reviewed the side rein adjustments. The SRS prefers side reins made entirely of leather without the popular rubber donut. The side reins can be adjusted in a high or low position depending on the training level and needs of the horse. The padded noseband is not tight and I could easily slide a finger underneath it. The mouth of the horse is sacred and the reins are not touched for grooming, leading or WIH. A cavesson is slipped over the bridle and the short rein attached to the center ring serves the purpose.
Back in the arena, Andreas explains in greater detail the characteristics of the piaffe whip. The whip with a tassel quickens piaffe; therefore, a nervous horse would need a stiff whip with no tassel. Andreas promptly asks for a volunteer to demonstrate how to handle the whip sans horse, of course. Before I can even think about ducking behind the group, he hands me a whip. I earn an A+ for enthusiasm. It's really not as easy as it looks. I play the cello and find the requirements of a flexible yet supple wrist with relaxed arm is similar to drawing a bow back and forth across strings. It's interesting to note the correlation between these arts.
Jen's Notebook from the Demonstration:
WIH is done for 10 minutes and 2 long sides.
When entering the arena, the handler should announce WIH.
WIH has the right of way and needs adequate space (a safe distance from others).
Take care of the young/green horses.
The initial sequence is halt-walk-halt-square.
Never pull the horse in to collection, drive to the half halt.
Rein back is used for obedience only.
Do not overdo piaffe, a few steps is sufficient, done then praise.
WIH from easier to more difficult, don't take shortcuts.
I was fortunate to observe a breath-taking levade being schooled very close to where I was sitting. The power and strength of the stallion's hind legs is incredible and I will never forget the stallion's incredibly proud posture. The movement requires utmost focus and is a testament to the level of trust between horse and rider. On a much smaller scale, it reminds me of the squats or planks I do at the gym.
Upon conclusion of our last day at the HTC, Andreas suggests that we take a group photo with the stallions. At one point, I was standing right next to Rider Florian E. Zimmermann's stallion. His stallion nuzzled the back of my neck and placed his nose under my chin. What a lovely unexpected hug! Florian quietly reached for a sugar cube from his pocket and placed it in my hand. The stallion carefully picked up the sugar cube with his lips. I overcame the urge to never wash my hand again! 
Friday, September 19, 2014
Our morning session was held at the SRS. Andreas made arrangements for the group to follow in the footsteps of Rider Helmut Oberhauser as he prepared for the evening's performance, A Tribute To Vienna, with special guest appearance by the Vienna Boys' Choir.
Helmut gathers our group in the royal box of the Winter Riding School to observe the morning exercises.  Helmut describes in detail the breeding and characteristic traits of each stallion. My personal favorites being from the Favory or Conversano lines; however, as Andreas alluded to during the course, a good horse is a good horse regardless of its breeding or sex. Helmut also shared with us the importance of having interests outside of riding and personally enjoys fishing trips. It's a great way to relax and refresh the mind.
It's wonderful to hear Helmut's impressions as we watch the riders school their horses.
The rider's aids are nearly invisible and body tone alone is used to transition from trot to passage. Half halts are used to engage the hind legs and the rider should feel the horse's haunches in his/her fists. There is no pulling. If necessary, the horse can be quickened once with both calves. I notice the impeccable seat and very refined aids of First Chief Rider Wolfgang Eder and the ambitious yet focused approach by Assistant Rider Hannah Zeitlhofer.
The SRS receives over 100 applicants for the Eleve (student) position and approximately 85% of the selected Eleves will leave on their own or will be asked to leave due to the intensity and rigorous demands. The Eleves spend 2-4 years on the longe line 6x per week under the guidance of an experienced Rider. Longe lessons are conducted without stirrups or reins. Focus is on the looseness of body and independent seat. After 4-6 years, an Eleve may be promoted to the position of an Assistant Rider. The Assistant Rider is then required to train a young stallion to High School and approximately 80% of Assistant Riders will be promoted to Rider. The number of years varies (an additional 4 to 6 years) and is determined by how long it takes to train the stallion. The horse determines the speed. Chief Riders will typically select the most talented young stallions for themselves and assign the more difficult stallion to the Assistant Rider.
Following the morning exercise session, we are treated to an exclusive tour of the SRS. I could have passed my entire day here if someone was willing to forget about me. Alas, that was not to be, however, I did spend considerable time in the impressive tack rooms examining all of the details and brought home my very own SRS dressage pad purchased from the gift store. Unfortunately, a Lipizzaner did not fit well in my luggage.
Helmut introduced us to one of his stallions basking under the warmth of the solarium and relaxing his muscles before the evening's performance.
Here are a few additional photos that I took during the tour: (Click for descriptions!)
The night was capped by the Vienna Boys' Choir performance of A Tribute To Vienna. I indulged in front row tickets months in advance and it was worth every penny. I can still visualize this moving performance. It was that good. The photo below captures the Vienna Boys' Choir in a huddle just before they went on stage.
Saturday, September 20, 2014
I spend my final day relaxing in Vienna and regretfully decline a 3-hour journey one way to the stud in Piber because I have a 4:00 AM cab ride to the airport the next morning. I also pre-purchased tickets for the morning performance at the SRS. I do hope to return one day as Piber is at the top of my list.  And also, I left my beloved Lipizzaners!
Before my trip, I had noted several lunch spots that I wanted to visit including Trzesniewski, as an ode to my Danish grandmother who taught me to appreciate fine open-faced sandwiches. There are no English subtitles, so I had to guess based on what looked good. I had egg-on-egg and shaved carrots over cream cheese. I wasn't brave enough to try anything pickled or fishy. Everything was absolutely delicious and economical at only 1.20 EUR per slice. I didn't realize it at the time, but theses sandwiches are growing in popularity here at home.
Finally, I'd like to offer an enormous Thank You to The Dressage Foundation—especially to Jenny, Jane and Ralph who were instrumental in making this exceptional thing from the heart a reality—and to Andreas and his fabulous crew at the SRS and HTC who tirelessly promote the art of classical dressage. I made lasting friendships with the course participants. This life-changing experience will extend well beyond any photo collage or certificate of attendance decorating the walls of my home. It's a part of who I am. For now, I am deeply submerged in Alois Podhajsky's The Complete Training of Horse and Rider and eagerly await Andreas's clinic this summer in the US. This is not a farewell, as the journey must continue. Until I see you again, Vienna, Austria.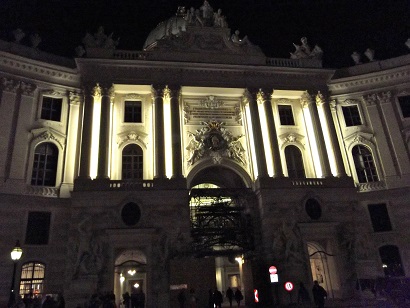 Postscript:
"I wanted to ride and develop the horse's movements into dance and music . . . to ride and feel and learn from the smallest signs of the mute creature how to communicate with him, how to understand him and to create a language between horse and rider which would always remain simple, distinct, and constant. This attitude means thinking from the point of view of the horse, knowing what the horse feels, what he likes, what difficulties he has to overcome, and how he, too, is influenced by moods or the surrounding atmosphere.
It is the long way of learning, and looking back, I understand now that the process never really comes to an end."
-Colonel Alois Podhajsky; Director of the Spanish Riding School (1939-1965); My Horses, My Teachers
The Heldenberg Training Center Fund was established by Ralph and Freddie Dreitzler and their family, with personal donations from friends, family, and colleagues, in memory of E.L. Dreitzler. The family worked with Andreas Hausberger, Chief Rider at the Spanish Riding School and Director of the Training Center in Heldenberg to establish this opportunity for North American, non-professional riders to participate in educational sessions at the Heldenberg Center. For more information, visit our Heldenberg Training Fund page.