2022 Jane Savoie Adult Amateur Fund Grant Recipient: Denise Jostes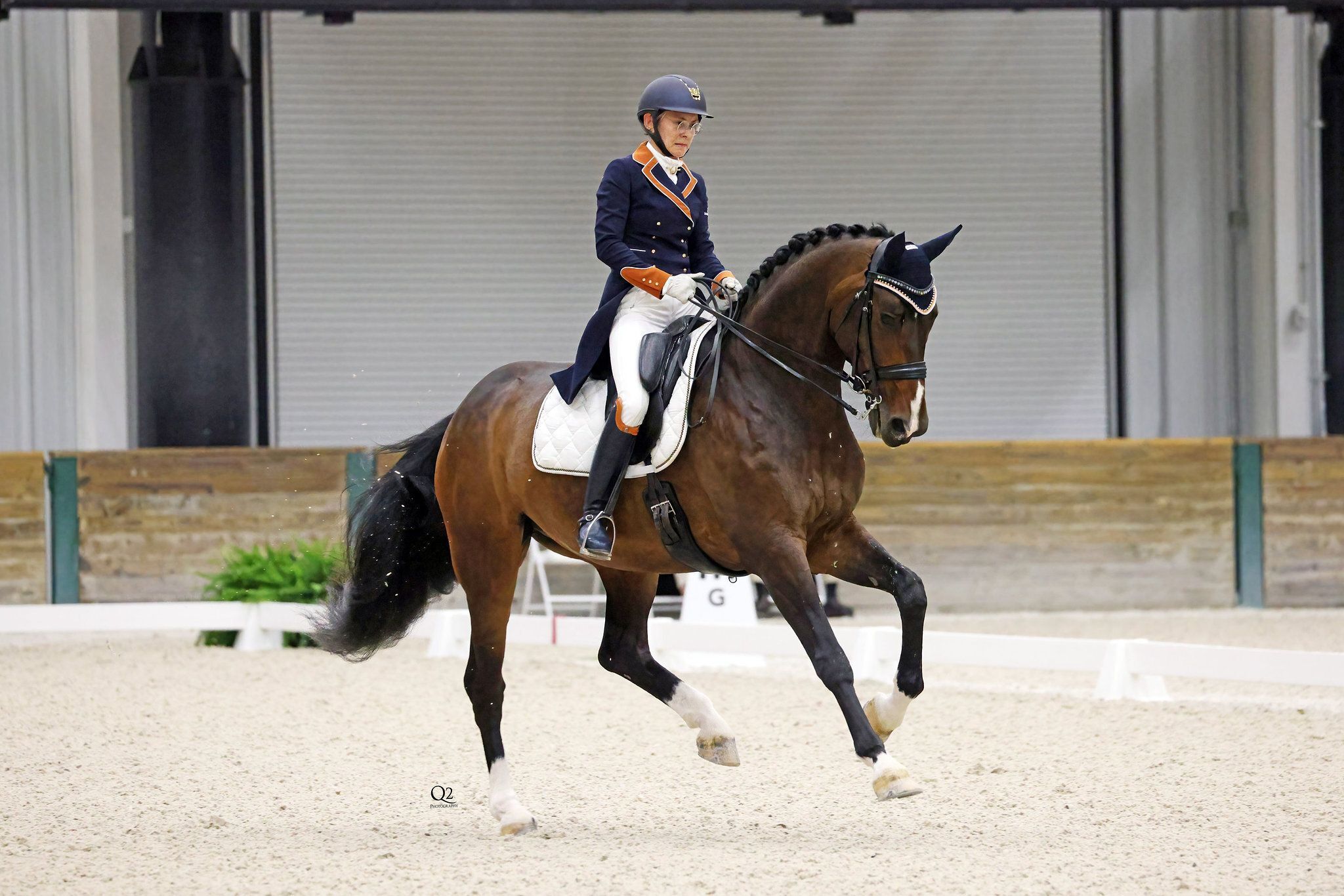 I'll admit it, I am just an amateur. I have an education as a computer scientist, I worked as a database marketing specialist, and I have three kids and a husband. Yes, I am all of these things, but that is not how I choose to define myself. I am a dressage rider. Like most other amateurs, I struggle to find a balance in my life: financially, emotionally, timewise, and with building the right support team. With this article, I want to encourage others to find their own personal balance. I know there is no right or wrong way to achieve this, but perhaps this can inspire a bit.

Financial:
My horse journey started in a kindergarten classroom. We were all asked what we wanted to be when we grew up, then were prompted to write it on a piece of paper and place it in a big jar. The teacher selected one paper from the jar, read it aloud, and asked the class who they thought wrote down that career. Our teacher picked one and read: RIDER! You can guess who that was…

I wasn't allowed to ride for another couple of years as it is an expensive sport and it was most common for children to play with their buddies in the neighborhood after school. But, at the age of 12, I had my first lesson, and I haven't left the barn since. My parents would have never allowed me to become a professional and frankly, I was not good enough either. This didn't stop me from taking every job I could find to finance more lessons. During college, I turned every penny twice and was able to put $2,500 aside. After finishing my degree, I bought my OWN horse, a two-year-old. I know that typically you are supposed to learn on a schoolmaster, but I never had that opportunity. To this day, I still don't have the finances to buy a trained horse. I don't want to encourage anyone to be as foolish as I was to mount such a green horse, but it is a reality that a lot of amateurs struggle with this simple fact.

Emotional:
The first show with that young horse went as you might suspect. I entered a Materiale class for young horses and at the end of the event, the judge asked me if I was showing my own horse. I was very proud to answer this question with a yes. The judge then told me that he understood that I probably loved this gelding a lot, but that he just wasn't good enough to be a dressage horse. Instead, he suggested that I should just trail-ride him. I wanted to cry right there on the spot. It was around that time that I stumbled over a book that changed my view of horses and dressage riding: Jane Savoie's "That Winning Feeling."

In this book, Jane not only encourages you to believe in yourself and your dreams, but she also gives you techniques and tools to reach your goals. Some of the tools I applied were positive thinking, controlling your nerves through mental training techniques, envisioning your rides, perseverance, and how to overcome setbacks. I learned that if you only ride one or two horses a day, you can take all the time in the world to think about every aspect of your last ride. I think about my previous days' problems while I sip my coffee in the morning, while I brush my teeth, and during the time at night before falling asleep. In this aspect, it is an advantage to be an amateur because you can fully focus on the mental preparation for your next ride.

Time Management:
Juggling a job, a family, and this sport is a real challenge. I am lucky enough to have a husband who understands the importance of my escapes to the barn. I think that every person needs their own little happy place to recharge their batteries. My happy place is next to my big gelding Foundex. I was once told that as soon as I see my horse, I am a different person. I completely focus on the now, push all worries aside, and become far more productive afterward. Some people take a nap, others watch a TV show - I groom my horse. It is extremely hard, especially as a mom of three kids, to get away for even a short period of time, but everybody around me profits from me putting my foot down and leaving for a little while. My husband travels a lot, so he wasn't around much to watch the kids, but other moms have the same challenge and might be happy to take your kids for a while if they can take a break afterward when you return the favor. Finding a way to balance your work and family with this sport may be difficult, but my kids have seen me fighting to become the best rider I can be for their whole life and have adopted that attitude. They are the toughest and hardest working students I know, envisioning their goals and never giving up.

Support Team:
Let's face it, the U.S. is a big country, and most parts of this big country are not exactly world-renowned for their dressage knowledge. I live in Minnesota. In 2022, Minnesota only had 4 USDF Certified Instructors and 10 recognized shows, compared to Florida, which had 34 certified instructors and 94 recognized shows. Building a team around you that includes a barn, a trainer, a vet, a farrier, and a saddle fitter is a huge challenge! Moving may be a solution for some riders, but with a family grounded in a community, this is not plausible for most of us. My husband has his career at a company in Minnesota. Together, we have a figure skater and a speed skater – our kids are in typical Minnesota sports. Knowing how important my sport is to me, I would never force my kids to give up on what they love. What helped me was trying to think more broader. I picked Bill Solyntjes as my local trainer because he has been an "S" judge for decades and I found his comments on my scoresheets extremely helpful. This meant driving 50 minutes in each direction every day – however, my figure skater got on the ice at 6:00 a.m., so starting the day this early let me avoid the rush hour and gave me the extra time I needed. Bill helped me to find my whole Minnesota team and introduced me to the trainer I am working with in Florida right now.

This leads us to a common question: Is this sport really worth it all?
For me, the answer is a clear yes. I have owned quite a few horses by now, purchasing them between the ages of two and four. With some, I moved fairly quickly through the levels. With others, it was more challenging.

Let's just take a look at my current partner, Foundex. A friend of mine, a Hanoverian breeder in Germany, found him at the age of four. Alone, I never would have dared to take on the challenge that I knew he was, but at that moment in time, I thought I would have somebody by my side helping me train him every step of the way. Unfortunately, that partnership abruptly ended due to unexpected obstacles and I was faced with the reality of having to ride another young horse all on my own. Despite this, my new partnership with Bill Solyntjes provided me with very well-trained eyes on the ground, and at the age of five, Foundex was Region 4 Adult Amateur Training Level champion. Training Level might sound boring to a lot of riders - no flying changes, no pirouettes - but for me, this level has always been very exciting. You have this young inexperienced horse, and it is your job to evoke trust in your partner, but also show everybody else how beautiful the natural gaits of these animals can be.  

COVID hit next. Our barn was closed for several weeks, and when I was able to return, Foundex behaved like a fire-breathing dragon. To make a long story short, he bucked me off, trampled over me, and I ended up in the ER. I was fortunate enough to avoid emergency hip surgery, but I had two broken ribs and was bruised from head to toe. Needless to say, I was really afraid of him after that incident. When I started riding again, FEI trainer Brian Hafner came to Minnesota for a clinic. I can't even imagine what he must have thought of us, a great horse with a ridiculously frightened chicken on top. Fortunately, Brian is not only a great rider and a knowledgeable trainer, but he is also a very supportive person. He helped me overcome my mental challenges, and after the COVID show break, at the age of seven, Foundex placed third at the Region 4 Adult Amateur Third Level championships. Nothing can describe how I felt after our test - Foundex and I overcame a huge hurdle, and getting to this point together was incredibly rewarding.

I couldn't stop there. This success made me keenly aware that I wanted more. Many people dream of spending the winter training in Florida, myself included. So, together with my husband, I started to crunch the numbers. Fortunately for me, Brian works in Ocala, not Wellington, which made it more affordable. Additionally, it did not matter to me where I lived, as long as my horse could stay at Brian's barn. We came to the conclusion that I could spend ONE winter with Brian, as long as I lived in an old RV with a leaking roof under a tin lean-to in somebody's backyard. Now, that's not exactly how it was advertised, and my husband would have panicked if he knew that was what it really was, but it didn't matter! Brian started to work with us on Fourth Level movements and our progress was faster than I could have imagined. That was around the time when a dear friend of mine told me about the Jane Savoie Grant for Adult Amateurs. 

I was very hesitant because I didn't believe Foundex and I had any chance of being good enough. There are plenty of great horses around, trained to perfection by amazing professionals with riders who learn on these wonderful schoolmasters. And then there is me, trying to do it all on my own. I felt like Pigpen from Peanuts trying to compete against Wonder Woman. But if you don't even try, then you have set yourself up to lose. To my utter surprise, The Dressage Foundation found me worthy to be the inaugural recipient of Jane's grant, which meant another six weeks of training with Brian in Florida this winter. These weeks just passed and Foundex and I had our Prix St. Georges debut at the World Equestrian Center in Ocala. We had a very solid test and the judge's comment was "the training is nicely coming along."

I will continue to develop and show horses across the levels. I have found my personal satisfaction in this process but having that Adult Amateur sitting behind your name makes many people think that you haven't put in the work.

Between 2003 and 2021, the USDF's membership decreased by 21%. The number of shows has been steadily declining during this period, too. Our sport is losing its members and I think there is something wrong with our thought process here. The average amateur is the base upon which this sport is built. Even if we ride Training Level, we have the potential to deliver impressive work. Every single level has its own challenges, and it can be extremely satisfying to fight for a high score in each and every one. So why is it that we are frowned upon? Why is it so hard to be taken seriously? Or find resources and help? Perhaps it is time to recognize individual paths, be interested in the personal challenges of the rider next to us, and reward those who ride horses through the levels.

I am sitting here now, looking back at the past five years with Foundex and my lifelong dressage journey. I can't say it was all smooth riding - I hit many bumps on the way - but my rocky road makes me extremely proud. I am an amateur, and Foundex, Lausanne, Leonardo, and Thales were and are all amateur-trained horses.