Karen Norton, 2016 Gifted Recipient, Region 8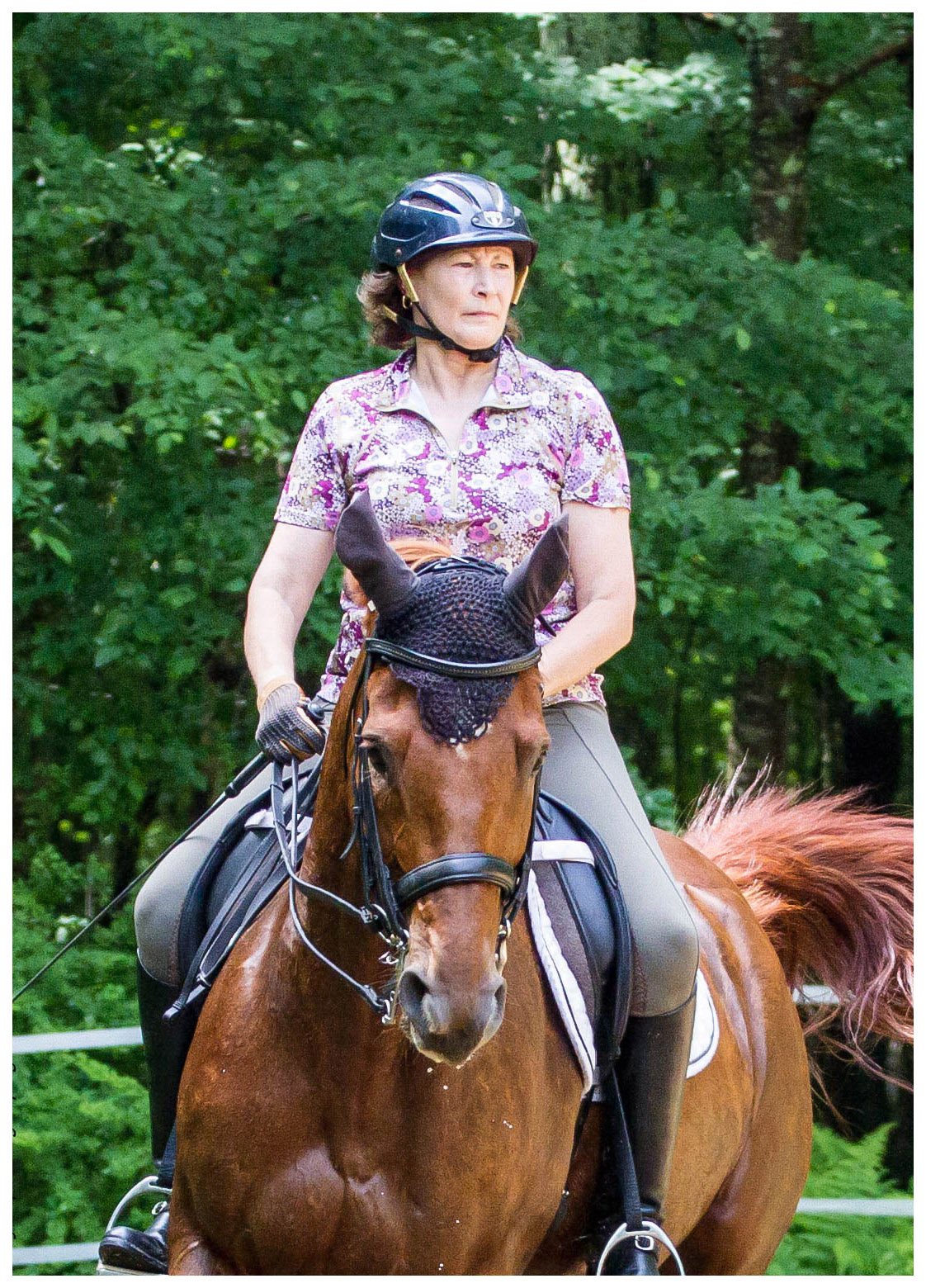 Summary of Activities
A year ago, I stumbled upon a posting from the Connecticut Dressage and Combined Training Association (CDCTA) that explained The Dressage Foundation's Carol Lavell Gifted Memorial Fund Scholarships for Adult Amateurs. I read and reread that post and decided to apply for the scholarship. I was very pleasantly surprised to be chosen as one of two riders from Region 8 for the scholarship. The other rider from Region 8 was Linda Lambert, a long-time friend and competitor. Linda and I first met some 35 years ago competing in hunt seat and jumping classes at the local Tri-State Gymkhana Association. We were very excited to be the only area with two recipients, from the same GMO Affiliate, CDCTA.
As explained online for the Carol Lavell Gifted Memorial Fund Scholarship, "The objective of the Gifted Fund is to enable adult amateur riders and their horses to set aside time to work with a trainer for an extended period, away from the pressures of job and family." With the TDF's objective in mind, I approached Renee Suprenant who has been my trainer on Red Baron, my 16-year-old home-grown Oldenburg, for nearly four years. Renee generously opened up her home and barn at Millstream Farm in Ashford, CT. We decided on seven days from 5/1/17 through 5/7/17. In retrospect, it might have been better waiting until June because Baron was off the entire winter in New England.  In my experience, after I get him back in competition shape, he is fresher and very ready to work hard! I am currently having some of the best rides I have ever had on Baron! While I could write many pages on this report, I will try to control my urges to report every minute of the extended training at Renee's.
The highlights of my week at Millsteam Farm follows:
I had a lesson every day at 9am. Most were about an hour, but if things were going particularly well we would stop and cool out. On the other hand, if we were having problems, we would work through the problem to a good point and stop for the day. If the task was difficult and Baron was stressed, often we went to trot work to create a good stopping place, both mentally and physically!
Renee faithfully rides her two horses every day. It was invaluable watching her ride her Fourth Level Morgan mare, Touch of Rum (Prin). She is working on the same skills that Baron and I are learning and refining. I never get to watch other riders because I ride at home. I was also delighted to watch Renee ride Cooper, her young Hanoverian gelding. Additionally, we had some fun working on the ground with Sunshine, her 3-year-old large Hanoverian. I use Straightness Training on my young horses, so was happy to share some ideas for Renee to use with Sunshine.
I was very happy to have extra time to be with my horse. Baron got cleaned up with a bath and clipping long winter hair off his legs and fetlocks. I was able to shed out some of his long winter hair, too. Baron usually looks like a woolly mammoth until the end of May. I was able to get a leg-up on his spring grooming. Renee and I decided to wait until recently to get some photos done of Baron when I having a lesson with Renee.  Linda Morton, ljm photography, was very kind to take some lovely photos that I will share throughout this report.
This extended training scholarship has pretty much been my "vacation." I do not see any vacations in my future. When my husband died suddenly in 2009, life changed dramatically. I would not change my life at Chestnut Ridge Farm for anything, but it does tie me down physically and financially. At Renee's, I was able to enjoy Renee's family during the week, primarily at meal time. However, Renee's grandson was often a barn rat during the week so I had a lot of fun socializing with him. Being a dog lover, I loved playing with Renee's pugs, and they seemed to enjoy me too! I enjoyed giving a helping hand doing barn chores because Renee, like me, does her own barn chores. Laugh if you will, but barn chores are relaxing! I get a free iBook from Amazon Prime each month, so I brought my iPad along and managed to get a fair amount of reading done. I used to be an avid reader before my husband died, but now reading has taken a back seat to just about everything else. Renee and I have been talking about doing yoga forever, so I brought over two yoga mats and we played around with that. I have discovered that yoga is extremely beneficial to my body, especially my right shoulder that was damaged while jumping on the trampoline many years ago in high school. I try to do at least one yoga class each week. It is amazing to me that I actually feel a better improvement in my shoulder with yoga than I did during physical therapy with a certified PT! My week away provided me with the best sleeping I have had in a very long time! I was refreshed and renewed by the week's end!
Setting Goals
After my first lesson on Red Baron, Renee and I sat down and discussed what goals we would work on for the week of extended training. We agreed that Baron and I needed to focus on the following skills:
Half-pass in trot needed more crossing of the legs and sideways movement. Renee suggested I needed to engage the haunches more.
Shoulder-in during trot was good when done on the center line, but needed to have more angle and forwardness when done on the long side of the arena.
Medium trot was good at practice, but too conservative during competitions.
Walk pirouettes needed to have more active, collected movement. I needed to be more aware of what the hind legs are doing without stalling or stepping out.
Canter lengthenings were good. Baron and I were doing a better job of collecting at the end. 
Canter pirouettes needed some work, especially to the right where they are too large.
Canter half-pass needed to be improved with more crossing of the legs and more bend.
Flying changes needed work. Baron gets so excited that he will not wait for me to ask for the change, and sometimes takes off! The good news is that he has demonstrated he is very capable of doing clean changes.
Counter canter needed to be more consistent. Often times, Baron will change on his own when it is not appropriate and/or have unclean changes.
I needed to use my seat and leg aids better to get the desired results. I need to use my hands less and release the death grip. I have had numerous injuries from riding Red Baron, including two hospitalizations, and a few broken bones thrown in! I have often joked that I could make "big bucks" selling Baron for a bucking bronco in the rodeo!  Red Baron is definitely the most challenging (but talented) horse I have ever ridden. 
Training Techniques Developed with Renee Suprenant
Each day I was able to have my lesson at 9:00 am which was the perfect time. Renee helped me discover some great ways to improve my riding and teamwork with Red Baron and to work around his "excitable" tendencies. We worked very hard to keep Baron focused and calm. Two months later I am using many of the techniques we incorporated during my scholarship week of extensive training:
Straightening before trot half-pass and making sure to concentrate on the haunches moving sideways helped to produce the desired result for a correct half-pass.  Additionally, half-pass was improved when incorporating more forwardness and bend.  Also helpful was the use of leg-yield to improve trot half-pass by doing leg-yield, half-pass, leg-yield, half-pass, etc.
The use of trot lengthening to improve shoulder-in was incorporated. Going to the right, I needed to straighten Baron's neck and shoulders because he was over-bent.
We practiced the trot sequences used in Fourth Level Test Two and Prix St. Georges:  Trot lengthening to shoulder-in, 10 meter circle or 8 meter volte, half-pass.
We incorporated the use of beginnings of piaffe and passage to improve trot.  Quite by accident we discovered that when Baron would get excited, he could be refocused by incorporating our training piaffe and training passage.
Walk pirouettes were improved by concentrating on haunches-in, concentrating on rhythm of hind legs, and adjusting the shape of the pirouette.
To improve canter pirouettes, we began on a 20 meter circle doing forward and back. We also worked on training pirouettes on each corner of a square. We practiced training pirouettes while approaching X like in Fourth Level Test Two. We added the half pirouettes at X like in Prix St. Georges and especially concentrated on me looking at Baron's tail to begin the movement.
Renee suggested using simple changes to improve counter canter around the ends of the arena. Anytime Baron would get in overdrive, she suggested I stop him and do a simple change.
Canter half-pass was greatly improved by doing the same exercise we did at trot: Leg-yield, half-pass, leg-yield, half-pass, etc.
Flying changes were greatly improved by doing them on a circle. Usually on the diagonal or quarter line, Baron would take off. On the circle, Baron stayed very calm.  We worked on changing every fourth stride going left, and worked on changing every third stride going right which corresponds with the direction of the changes in Prix St. Georges. If Baron remained calm, we progressed to doing changes on the diagonal. If Baron was excited we refocused him to other things.
"Letting go" of the reins is one my biggest challenges. To practice letting go, we worked on a circle where Renee would ask me to "let go" for a stride or two then pick Baron back up. After the circle we worked on other figures where I would "let go" for quick bursts of time while I collected Baron with my seat, back, and legs. I am happy to say that there was some success, and I am hopeful we can continue to increase the amount of time I can let go while using more effective seat, back, and leg aids resulting in much better movements and skills.
I will continue my lessons with Renee until it is impossible to ride outside this winter on frozen ground. Renee and I often enter the same shows and it is invaluable to have her riding Prin while I am warming up Baron. Renee is very generous to give me little prompts when needed to improve our skills at the show. We cheer each other on during the shows and have a great time!
Report to GMO Affiliate, CDCTA
I have already committed to a presentation for the CDCTA Year End Award Banquet in January 2018 to present my experiences during the week of extensive training with Renee Suprenant funded through my Carol Lavell Gifted Memorial Fund Scholarship for Adult Amateurs. This was a fabulous opportunity for me, and I will be forever grateful to The Dressage Foundation.