Beth Baryon: 2018 Region 2 Gifted Grant Recipient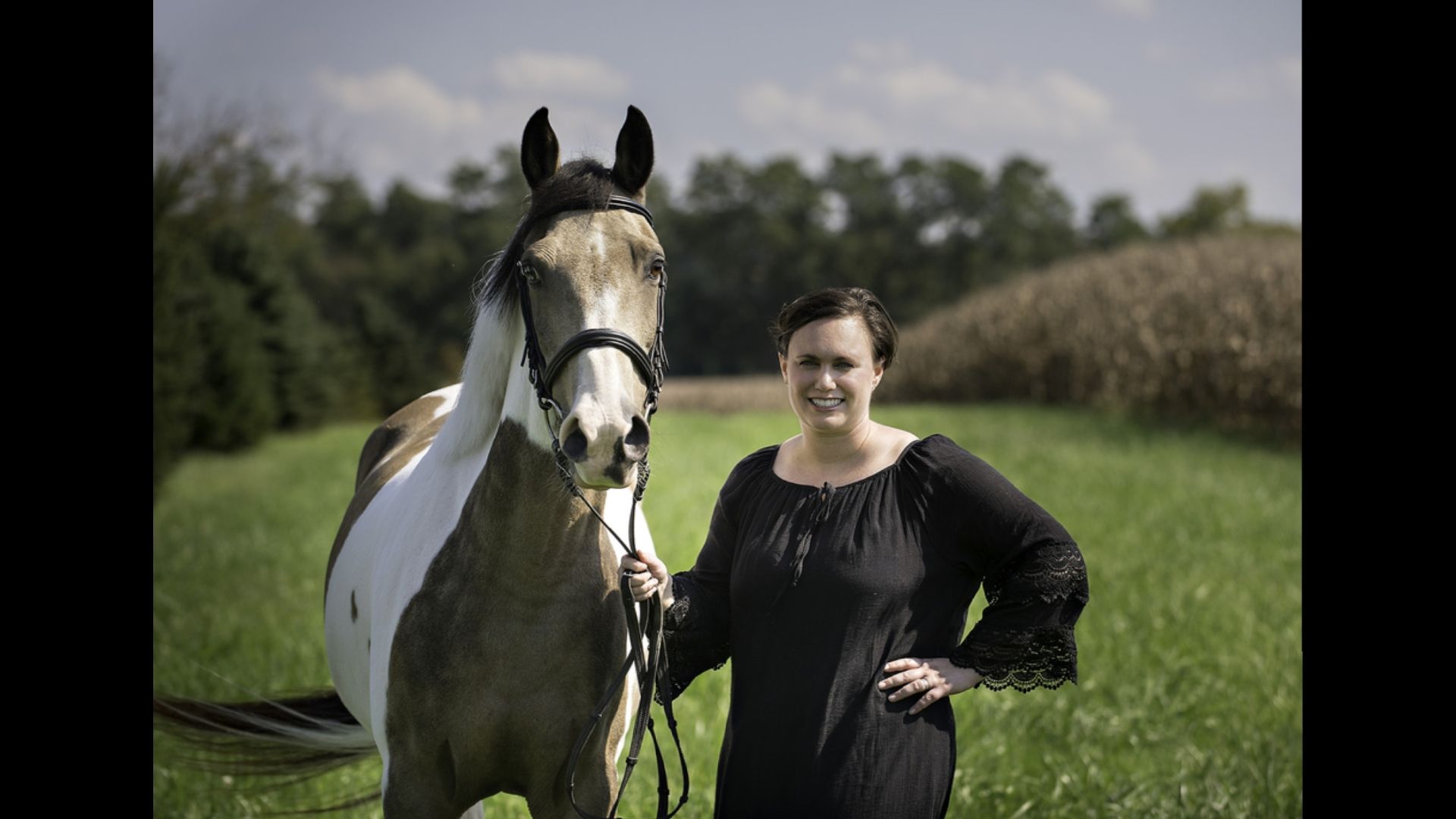 In an ideal situation, a rider getting started in dressage would have the opportunity to school on a horse who is a schoolmaster that could show them what it's about. It's an understatement to say that Pippin and I got started in dressage totally opposite from that ideal situation. Is there worse than the opposite? We were that. When we first got a taste for dressage, it was because the dressage trainer at our barn was the only one willing to work with us. We didn't even pick dressage. Luckily we were chosen, and that has made all the difference.

The first time I had ever worked with a dressage trainer, my horse was still very green. I'd spent the previous year and a half physically rehabbing him and slowly getting him used to everything needed to get him working under saddle--leading, grooming, saddling, lunging, mounting. Over that year and a half, I hadn't been able to ride regularly, so I was out of practice. I had acquired him as an 8-year-old who was auctioned off about a year and a half previously. I was led to believe that Pippin wasn't chosen by the gentleman purchasing for the meat companies because he was small. There were also indications that he had been through a case of strangles between the auction and when I met him.

By the time I was looking for a trainer, we'd already come so far. Our start with a western professional had been rocky. Pippin was wary, sensitive, and nervous. I wanted to make him into something so he would never end up in that auction again. I was willing to try anything, so when friends at the barn said they had spoken to a dressage trainer for me and that she was willing to meet with me and my horse, I scheduled the lesson. Fast-forward four years. We stuck with it! We had dressage tack and went to schooling shows! We'd gotten to participate in some dressage clinics and had both really taken to the sport.

Admittedly, progress has been rocky and slow. I've repeatedly been told it's tough to teach a horse something when you've never done the thing yourself, so progressing with a lesson or less a week over the last four years meant slow progress. As we develop and progress together, I always want to figure out how I can do better as a rider to bring my horse along. Last summer, I asked my trainer, Julie Kotlarz-Franzen of JKF Dressage, if it were possible for me to take a lesson on a different horse for a change of pace. She agreed and I traveled to her training barn, instead of taking a lesson at the private property where Pippin lives. In just that one lesson, I came to some realizations and stopped wearing spurs when I rode my horse after that. I better understood my leg aids, and Pippin was thrilled. Clearly, we needed more.

When I discovered The Dressage Foundation's Gifted Grant for Adult Amateurs, I knew exactly what I wanted it for. I asked Julie if she would be willing to work with me on a one-week program in which I would take twice daily lessons on both my horse and another horse of her choosing in her program. The goal was to help me better understand some of the things I was struggling to feel and teach my horse. She agreed that it was a good direction to take to help bump us up from Training Level to First Level. As a public school teacher, I knew when I was scheduled to be off work so I suggested that we do this over my spring break so that I wouldn't have to juggle my work responsibilities and could completely focus on the extra training. We also decided that it would be best to take my horse to the barn she works out of instead of driving back and forth between where he stays and where many of her program horses are. This is what we proposed, and we were approved!

Day 1: When I was riding Pippin, we worked on correcting my position from being tipped forward. We also worked on straightening my upper body, which I was twisting when traveling to the left. I was amazed at how his trot improved drastically as I adjusted my position. (And thus, our focus for the week was illuminated). I was also introduced to Zion on the first day. He is Julie's 18hh FEI horse. I was amazed at how the difference in his larger stride made it easier for me to correct my position at the canter--I felt like I had more time! I also got to try some passage work on Zion, which I had never done before.

Day 2: On this day, I took my first lunge line lesson (yes, ever). We used Pippin and worked on my position including a relaxed thigh, tight core, and flat back. We also started working on an independent hand and seat. We worked on proper hip movement in the sitting trot--swinging not bouncing. We were all exhausted, so we agreed to meet earlier for three lessons on day three.

Day 3: I started the day on a different horse. Dino is a 16hh Hanoverian, who had showed Second Level with Julie last year. I got to try trot extensions on him (another first for me). We also worked on leg yields, which I have always struggled with. My next ride was back on my horse, Pippin, and I felt like my position and cues must have been getting better because his response to me was already different. We had some really nice canter work and the leg yields were so much better due to my more correct position and better control of posting speed. We finished the day with a lunge lesson on Zion. This allowed me to work on sitting trot and twisting to the inside and outside of the circle to continue developing an independent seat. We also did a little collected canter, which was very neat to feel (another first)!

Day 4: I rode Pippin first. We worked on quick trot and canter transitions to try to get Pippin not to brace his neck during the transitions. We also worked on getting Pippin to stretch down and out in the trot, where I had a lot of success by imagining kicking a ball from my inside leg to my outside rein. We also discussed the importance of maintaining consistent contact when picking up the reins from the stretchy trot and worked on how to do that better. We continued to get success with leg yield work and finished with some trot pole work at the end. Next, I took a lunge line lesson on Dino. We continued to work on my position especially the swinging motion of the hips in the sitting trot with a flat back and tucked butt. Julie told me to imagine a string pulling my belly button up, which was a helpful image for me. We also worked on holding my arms out like I was carrying a tray of drinks to work on lateral hip motion instead of bouncing vertically in the saddle.

Day 5: We continued to test how the improvement in my position made things easier for Pippin. Both leg yields and transitions had improved throughout the course of the week! We finished the week with a lunge lesson on Zion. Our primary focus was moving my thigh back further on the saddle and rolling my thigh in. As these things were adjusted, we also practiced moving my legs independently.

My biggest takeaway from the week was a drastically improved position in the saddle. Although I was often coached to correct my position over the years of dressage training I had received, it has been hard to change my muscle memory. By concentrating so much training in a short period of time, it was possible to take apart and then reconstruct my position. We were able to reset my muscle memory quickly enough for me to feel the changes in the way my horse responded to my aids and seat and make that position my new normal. Also, in having the opportunity to ride dressage horses with more training and experience than my horse, I have developed a much greater appreciation for the sport. Trying some of those more complicated movements was inspiring! This experience grew in me a passion to learn how to do these things myself on my own horse someday.

This experience would not have been a consideration for me without the Gifted Fund Grant from The Dressage Foundation. After this, I feel like I need to find a way to make this possible every year to set Pippin and I up for regular breakthroughs in our training. The experience has given me the confidence to sign us up for NODA's Dressage & More Camp for Adult Amateurs and our first ever USDF/USEF recognized show. I cannot express enough gratitude to Carol Lavell, The Dressage Foundation's Gifted Grant Committee, and the many donors who provided this opportunity and make this grant possible to inspire Adult Amateurs like me.