Carol Morris -- Recipient of a Gifted Fund Grant for Adult Amateurs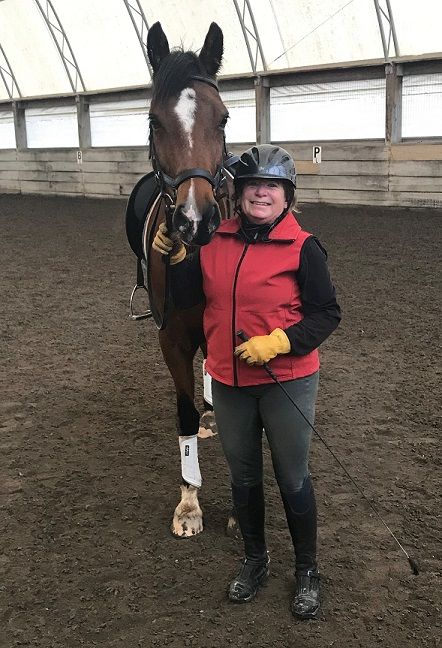 With many thanks to The Dressage Foundation for my Carol Lavell/Gifted Grant, I was able to spend 5 days training with Dave Thind of Aspire Farm in Walpole, MA. Dave holds a 'Trainer A' license from the German Equestrian Federation, has extensive experience as a competitive rider, and is also authorized to teach Feldenkrais Awareness through Movement (ATM), while working toward becoming a certified Practitioner. Feldenkrais is a system of bodywork that uses gentle movements to "achieve powerful affects in terms of strength, flexibility, and holistic integration of body and mind." (From www.feldenkrais.com) Dave has integrated these approaches into the Dave Thind Method (Trademarked) which is available online.

I was especially interested in this approach as my new horse Nitrox, aka Nitro, is very sensitive, and I have been having trouble getting him to go consistently into the bridle and stay round and soft. Nitro is a 12-year-old Welsh Cob/Thoroughbred cross, previously owned and ridden by a teenager who evented him and showed him in dressage, including at Regionals in Kentucky where they did very well. However, he is easily distracted, which makes me tense, and that turns on his "pony brain."  Although Nitro has scores at Second Level and can easily do most of the movements required for Third Level, I have not been able to produce the consistent relaxation that I feel is necessary. Additionally, I have had few opportunities to take him away from home, so this posed an additional challenge. I am a Triple A rider: Aged Adult Amateur, so my self-preservation instincts tend to rule my world.

We arrived at Dave's after a 6.45-hour drive. Nitro came off the trailer very happily, and I hand-walked him for a while to get the kinks out. I was happy that he seemed calm and willing in his new surroundings. We had our first lesson the next day, Tuesday. Although I have worked with Dave with several horses, he has never seen Nitro. This horse has a large toolbox of evasions, one of which is running through the aids, so our first session focused on a quiet walk, moving between collection and extended walk. We then moved on to the same exercise in trot and canter – moving forward and coming back. Although there was construction noise next door, I was pleased with how calm and focused the work made Nitro.  I also had an ATM session with Dave, looking at the alignment – or lack thereof – in my body.

Wednesday's focus was on getting me to use my body and seat more effectively. I have a tendency to tilt my pelvis forward. Dave had me think of my pelvis as a soup bowl. While I tend to let the soup spill out in front of me, I need to think about keeping the soup in the bowl. This allows me to tuck my tailbone and use my seat more effectively. I also worked through two video ATM sessions, which I was able to apply to today's lesson.

I was very excited to play with a few new things, such as counter-canter depart from a walk, leading to half-pass.  Nitro's half-pass in trot is very good, but I have only tried it a bit in canter. I was thrilled to be able to do this exercise in both directions. I never thought I could get him to do this, but he did it perfectly on the first attempt! Lesson learned: I need to be more optimistic about our abilities!

On Thursday Nitro decided he had had enough. He decided that he simply could not work and had to be with the other horse in the arena. His pony-brain, or ADD, was in full on mode. In this mode he will rubberneck, refuse to go forward, and offer to rear. After a time, Dave decided that lunging would be a better option. Using side reins with gentle but consistent pressure, he gradually became round and through, and he was a pleasure to ride after the lunging session.

On Friday our focus was "less is more."  As Nitro is so tense and sensitive, we worked on allowing him to move into the bridle without any pressure from my legs. The imagery that Dave teaches during ATM and in mounted lessons helped me to adjust my seat so it could become more effective. As I became softer and more confident that I didn't need to grip, but only sit, my horse became softer, rounder, happier, and more willing.

By Saturday I had come down with a cold, which was really affecting me, and as I was planning to drive home, Dave suggested that his wife Camilla do the warm-up for me. Camilla is also an accomplished rider and has a lot of experience with Feldenkrais. She focused on the same lessons as the previous day, and again I had a soft, forward and responsive horse.

What are my main take-aways from my time with Dave? My fears/tensions are an underlying reason for my horse's reactions. I need to allow him to move, rather than try to force him. After so many years of lessons and clinics, reading so many books and watching so many videos, I need to let go a bit. My new mantra: "less is more." My horse gets claustrophobic if I surround him too strongly with my aids, and I must learn to allow him to do the work he is capable of.  On the other hand, I cannot give in to his little fits, and I need to sternly correct him, and then calmly move on with the lesson. He is very capable of upper-level movements. If we can get rid of the tensions in both of our bodies, he will be happy in his work and we should be able to make good progress.

I am so appreciative of all the time that Dave gave me. Not only did he work with me during our lesson times, he also gave Nitro two bodywork sessions, and arranged for my saddle to be re-flocked. We had several Feldenkrais ATM sessions so he could address the asymmetries and tensions in my body – as I am 68 years old, there are several! Additionally, he videotaped most of our lessons, so that I could see the progress we made. Dave and his family are always warm and welcoming, which makes it even more of a pleasure to train with him. I only wish that he lived closer to me!

Again, many thanks to The Dressage Foundation, the Carol Lavell Gifted Fund, and everyone at Aspire Farm for this wonderful opportunity. Also thanks to The Equestrian Journal for giving each Gifted Fund recipient a free copy of their very helpful journal. I always have good intentions of writing things down from my lessons, and now I have the perfect way to do that.