Kristen Young -- Recipient of a Gifted Fund Grant for Adult Amateurs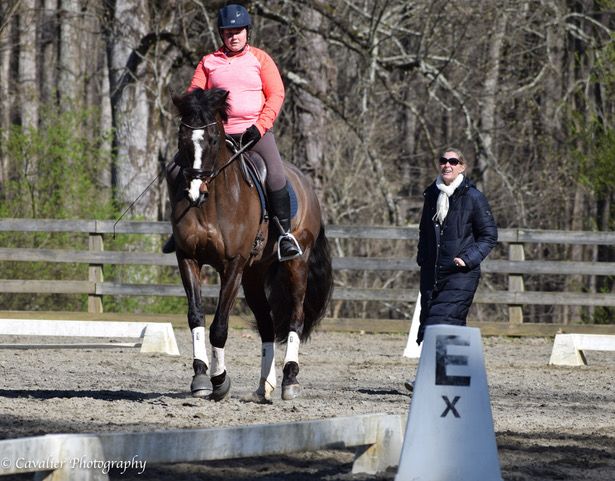 Experience of a lifetime. . .

I had the most amazing week of my life down in Georgia, training with Kim Schisler Sosebee!  It wasn't just the warm, sunny weather that I had been missing all winter in Kentucky, but the entire experience as a whole.  Spending quality time with my 12 y/o homebred Connemara/TB gelding, Elsbeth's Shiloh (aka Shiloh) always puts a smile on my face, but it was the many, small details that came together to create an unforgettable experience of a lifetime.  First off, let's start with having 9 days off work in row! Most importantly, though, the focused training and the ability to concentrate solely on our relationship without outside factors (work, etc) really took our training to an entirely different level.  While I was there, I was able to absorb even more knowledge by watching other lessons and watching Kim ride and train multiple horses. Last, but certainly not least, there was the camaraderie of new dressage friends.

Going into this incredible week, my main goals were to focus on the correct basics, improve overall quality, increase responsiveness to my aids, and engage his hind end through a supple back to a true, through connection, thus creating impulsion, straightness, and collection.  We were fortunate enough to start the year with a clinic with Kim in Kentucky the week before heading down to Georgia.  In that clinic, Kim was able to assess where Shiloh and I were and where we needed to go.  Shiloh tends to want to fake it. He would much rather set his head and fling his fancy toes, rather than truly step under and come through.  We also discussed the importance of mentally training Shiloh, in addition to the physical aspect.  At the clinic, we were able to set our goals for the intense week of training.

After a long 8.5-hour trailer ride, we started our week of training with a nice stretchy, forward, yet truly connected lesson.  Focusing on the mental training aspect of Shiloh, we know that he is an "internalizer" and tends to get tense, tightening his neck and back.  In keeping with the Dressage Pyramid of Training, we knew we needed relaxation first.  If we could start him in a relaxed, forward rhythm, it would give us the proper foundation for a great rest of the week. One of the things I love about Kim is that she pays attention to each horse's needs, both physically and mentally.  A key point we discussed was what I'm calling "The 80 / 20 Rule."  This means 80% of the time, the horse should be worked in a relaxed, stretching (not to be confused with long on forehand), supple frame.  This helps keep them mentally and physically sound.  The other 20% of the time consists of the hard, collected work and tough exercises. Shiloh definitely approved!  We continued to focus on connection, responsiveness to aids and truly engaging the hind end in this 80% portion.  Of course, since we were there for intense training, we certainly worked more than the usual 20%, but mixed in periods of stretching. 

As the week progressed, we continued to work on straightness and collection while keeping the throughness into a steady connection.  We spent time working on half passes, changes, transitions within the gaits, very collected /pirouette canter, and walk pirouettes.  Since we started the week off with the basics, when we added the movements, they seemed to occur with ease.  Shiloh and I both share the issue of overthinking.  I overthink and overcomplicate the movements.  Then Shiloh feeds off my tension and overthinks as well.  Kim had us focus on "hot body, slow mind," which means keeping his hind end engaged and reactive, while getting his mind to slow and relax, thus keeping the relaxation in his body. This helped me feel not so rushed to get tempis or even a half pass to a certain letter.  It enabled me to get out of my head and just ride. I know it seems shocking, but when I was better, Shiloh was better. Everything came together seamlessly.  I have never felt him carry me and float like that.  We continued to "get greedy" and ask for more.  More collection, more throughness, more engagement….  always asking for more.  By the end of the week, 4th Level felt easy. It was amazing.  Everything was there.  Everything was solid.  I was happy.  Shiloh was happy. We were both happy together. (I think Kim was happy, too.)

To supplement my training rides on Shiloh, I was able to watch Kim teach lessons of various levels and experiences. I learned something valuable in each and every lesson.  Kim's clients welcomed us with open arms.  We felt truly part of the Still Waters Dressage Team. It is so nice to be able to travel to another state and immediately have dressage friends with similar goals and aspirations.  It is truly a unique community we have in the dressage world.   One afternoon, I even got to hop on a retired PSG horse and take him on a gorgeous trail ride throughout the Georgia countryside.

Fortunately, I was also able to watch Kim work her stunning Grand Prix horse, Halston.  It was fun to watch our future goals manifested in front of my eyes and it was educational to see aspects of Shiloh in Halston and watch how Kim trained him.  It helped create an image in my head of how I wanted to ride Shiloh. 

This week really confirmed where we were, stepped us forward into the future, and showed me what we can accomplish, and how we can accomplish new goals. I cannot thank The Dressage Foundation and Kim Schisler Sosebee enough for, truly, the best week of my life with my best boy, Shiloh.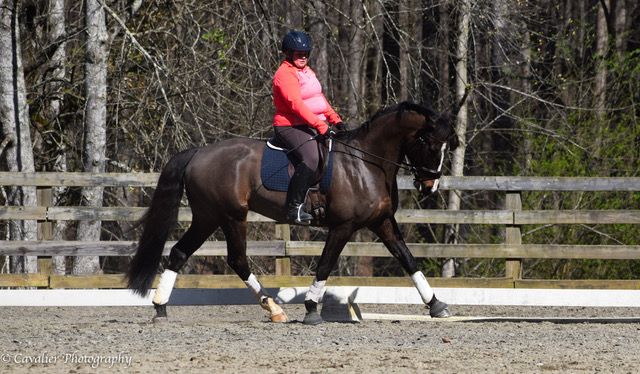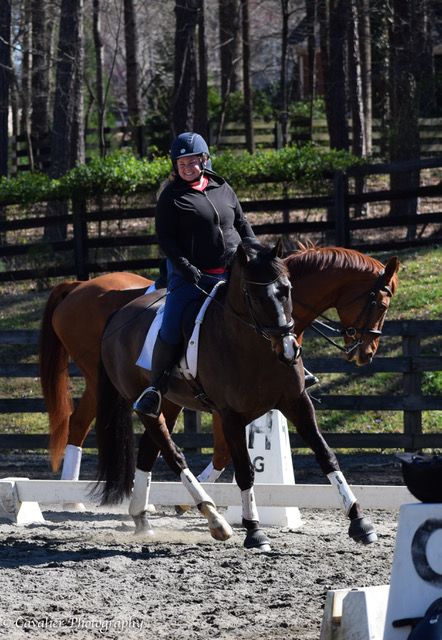 Photos by Cavalier Photography