Carol Lavell Gifted Fund Grant Recipient: Anna Cluxton (OH)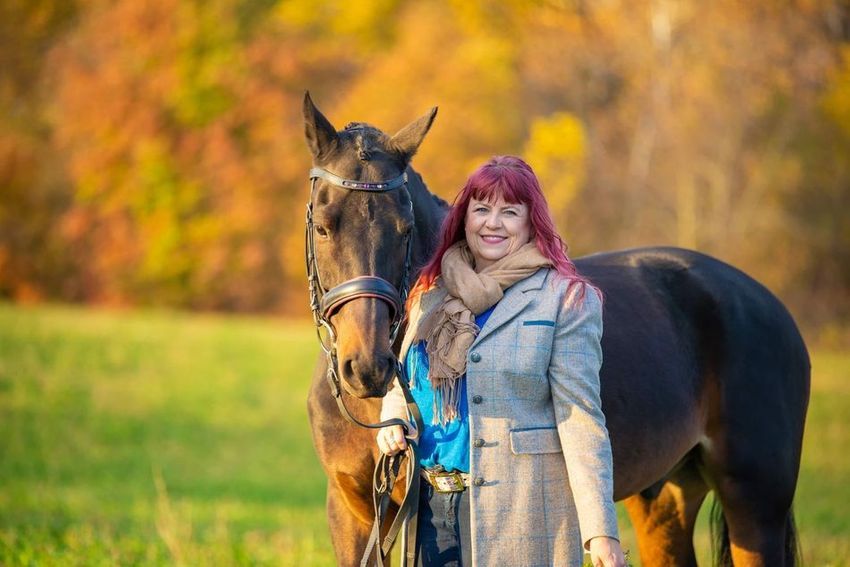 When I first applied for this grant, I had some specific very goals in mind: I wanted to return to riding after being out on my medical leave for two months; I wanted to reconnect with my horse after not seeing him for two months; and I wanted to hopefully catapult our riding into Second Level. My horse, Sheradins Timeless (Danny) is a 15.2 Morgan gelding, a breed not really "known" for dressage. We need all the help we can get. I was so grateful to receive a grant to work towards these goals. Little did I know that a global pandemic would add another layer of gratitude for receiving this.
On February 4th, 2020, I underwent a preventative mastectomy with reconstruction. I knew in advance that it would require at least eight weeks of not being able to ride, and I figured February would be a good time to do this. I spent the first week hospitalized as the reconstruction surgery was very complicated. The next four weeks I was not allowed to leave the house, let alone even visit the barn out of concerns for infection. 
As we rolled into March, I was able to start making barn visits and even attended the Mid-Ohio Dressage Association (MODA) Board meeting for which I volunteer as Secretary. At the same time, the Coronavirus was starting to dominate news. On March 23rd, Ohio was issued a "stay at home" order. My barn visits dwindled to once every few days, scheduled with staff and my trainer. But I also started to walk outside more and more to increase my strength. And on April 4th, as planned, I was given clearance to return to horseback riding. However, that week I also had a low-grade fever and headache that lasted two weeks. I tested negative for Covid19, as well as numerous other flus and viruses. But also felt a tremendous backslide in my recovery.
I was given clearance to return to my work as an equine and human massage therapist, however Ohio had closed massage services back on March 19th. So, while I certainly now had a lot of free time to be able to ride, I had little to no income to help cover expenses. I was cleared to do equine massage, however most of my clients were hesitant to schedule due to financial concerns, or their barns remaining closed to visitors. Fortunately, my husband was willing to cover the cost of a few lessons and I started to slowly build back my strength and balance in the saddle with my trainer's help.
In May, after several months of paying rent on my office space without being able to open, I decided to close my business. Even after Ohio lifted the order on massage offices, I decided that due to my patient population of older and immunocompromised, plus my own health concerns, it would just be best to shift focus to equine massage only. Without the freedom to use the grant money to help cover other expenses, I'm quite sure I would not have been able to do my week intensive at all.  Just paying for the lessons alone would have been well outside any budget. 
I scheduled my weeklong intensive with my trainer, Amy Rothe-Hietter, for June 10th through June 17th, with a slight extension to the 20th for a lesson with Sue Kolstad.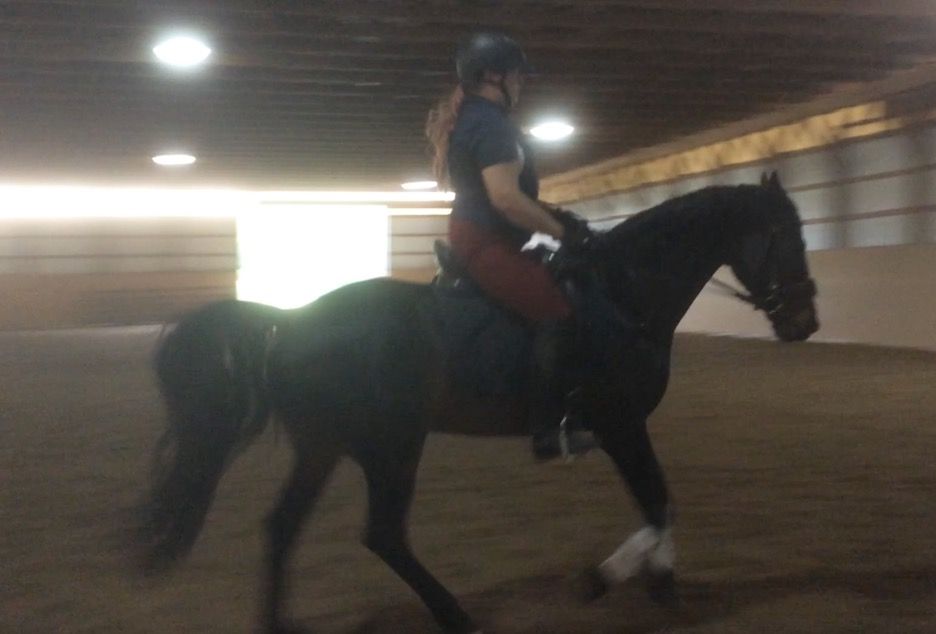 Day One, Wednesday June 10th
The plan was for two lessons: first one on my horse, Sheradins Timeless (Danny), followed by one on Amy's FEI horse Donnie. During my first lesson we worked on moving from a "warm up" leg yield and shoulder in to a "competition" leg yield and shoulder in, focused on making the aids lighter but getting a quicker response. We finished with a little bit of trot-canter-trot work to home in on transitions and weight distribution in and out of them. We noticed that I tend to scrunch up on my right side when leg yielding to the left. I need to focus on lengthening through the right side and keeping my right leg comfortably against him and opening up with the left. In a nutshell, it was a typical lesson for us, as far as riding went, though the canter trot transitions felt new because I had not done them in a long time.
My second lesson began with a little orientation to a double bridle. I rode with one as a teenager in saddle seat, but dressage is so much different in how the bridle can be built and used. We spent a good amount of time on tacking up and fitting a double bridle. Unfortunately, when we went to lunge Donnie, he was exhibiting some right front lameness at the trot. I did some palpating of his right shoulder (because that is where I was seeing a tension during trot), and his tricep was quite tense compared to the left. We chose to cancel the rest of the lesson and let Donnie have a couple days stall rest.
Day Two, Thursday June 11th
To make up for the time lost the previous day, we set up a 90-minute lesson on Danny.
We started off continuing to work on fine-tuning my aids for leg yields and shoulder-in. I was struggling still with my right side, using my right leg too much but managing somehow to leave the hind end trailing.  My right hand tends to pull him to the right instead of staying centered and quiet. It would go better when I remembered to do that, but it was a struggle. So, Amy hopped on and rode Danny for about 20 minutes to give me a better visual of what my body should be doing, as opposed to what it actually does! I was able to see how Danny does respond to aids when they are given correctly. Amy also did a bit of canter work to gauge the right lead canter issue I have been noticing of him bracing in the neck.
Then I hopped back on, and we worked on "walk canter collected canter trot/walk canter collected canter trot/walk" exercise focused on improving transitions. This helps with working towards being able to come smoothly out of the canter into a walk. I learned that it helps me learn how it feels to come into a walk, so I don't "drop" Danny into an unbalanced splat style walk.
Day Three, Friday June 12th
Still working with Danny, we worked on the shoulder-in to haunches-in with the 10 M half circles from Second Level Test 2. I need to remember to focus on my geometry for the half circles, and to straighten down center line for just a touch in between them. I also need to remember what I learned from when we first started doing shoulder-in: if I get myself and Danny into shoulder-in BEFORE we make the turn onto each long side, it sets both of us up better. We then worked on the two turns on the haunches, which were not awful! I need to remember to shift my weight just slightly onto the side I am turning towards. It was interesting to learn that I do not end up back on the same line and to just accept that. Lastly, we played with medium trot on the diagonal, transitioning into collected trot. We discovered if I really sit up and sit back, he collects up lovely!
Day Four, Saturday June 13th
No riding on this day. But I spent some time watching videos such as the Second Level tests on "On the Levels" and Dressage Today On-demand.
Day Five, Sunday June 14th
As part of my warm-up for a lesson on Danny, I walked the shoulder-in with 10 M half circle turns onto center line many times until I nailed that center line. This was most troublesome going from shoulder-in left to left half circle onto center line. We decided that it is probably because of my right leg being too strong on the outside, as well as me stepping into the left stirrup too soon. I need to wait a beat longer, lift my right leg away from his rib cage, and watch my right hand to make sure it is engaging to the outside. We then moved into trot work doing serpentines using correct and counter bend in both directions. We did this to not only help supple him, but also help both of us in working towards canter serpentine with counter canter. I really enjoyed this, and it built my confidence on serpentines in general. We then shifted into canter work focusing on collecting and medium. I did 10 M circles at major letters (A, E, C, B) focusing on really collecting. Finally, we ran through Second Level Test 1, knowing full well it would be awful. And it was.
We discussed the upcoming schooling show on June 28th and determined that I would ride First 3 and Second 1. Danny and I also hacked outside about 10 minutes post lesson. Each time we walk outside he gets more chill. I need to do it every time!! Amy videotaped my "dirty" test run through, and I watched it later at home. I can most definitely see glaring errors, and inconsistent submission and suppleness. But I can also see some flashes of brilliance, and how much stronger and uphill he is going.
Day Six, Monday June 15th
No riding on this day. Took a physical and mental break but did update my journaling from the week.
Day Seven, Tuesday June 16th
For my lesson, I rode Amy's FEI horse Donnie. We started off lunging as he needs a warmup without a rider. Then I hopped on and immediately trotted. His trot is obviously much bigger and bouncier than Danny. It gives me a good feeling of the range of motion that my hips can do at a posting trot. But, more importantly, how much core is needed with a bigger horse and bigger rhythm and gaits. From there we went into canter work. Donnie is super sensitive to flying changes. It was good work for me to practice holding him together until asking for a change. Again, lots of core. But again, helps me to feel the balance that I need in spades for holding a counter canter on a less balanced horse!
Day Eight, Wednesday June 17th (last day!)
Two lessons to end my week of training!
First on Danny, we decided to try canter to warm up and it really does suit him. Nevertheless, I ended up with a trot that still was tense, so we did some figure 8 stretching circles with lots of changes. We shifted into shoulder-in practice. We discovered if I stop focusing on my right leg and instead focus on opening my left and guiding his shoulders with the left leg, my right relaxed. During canter work we focused on collection and medium. Afterwards I hacked out again for a nice cool down.
And then I realized my breeches had fallen apart. LOL. I decided to still try and ride my second lesson on Donnie. I was clearly so physically tired that my body would not listen to me. But it was still fun.
The following Saturday, June 20th, I rode in a lesson with Sue Kolstad (my trainer's trainer, whom I also ride with when she is in town). She helped me refine some things we had been working on, but overall she was happy to see the improvements we made in such a short time since I got back into riding.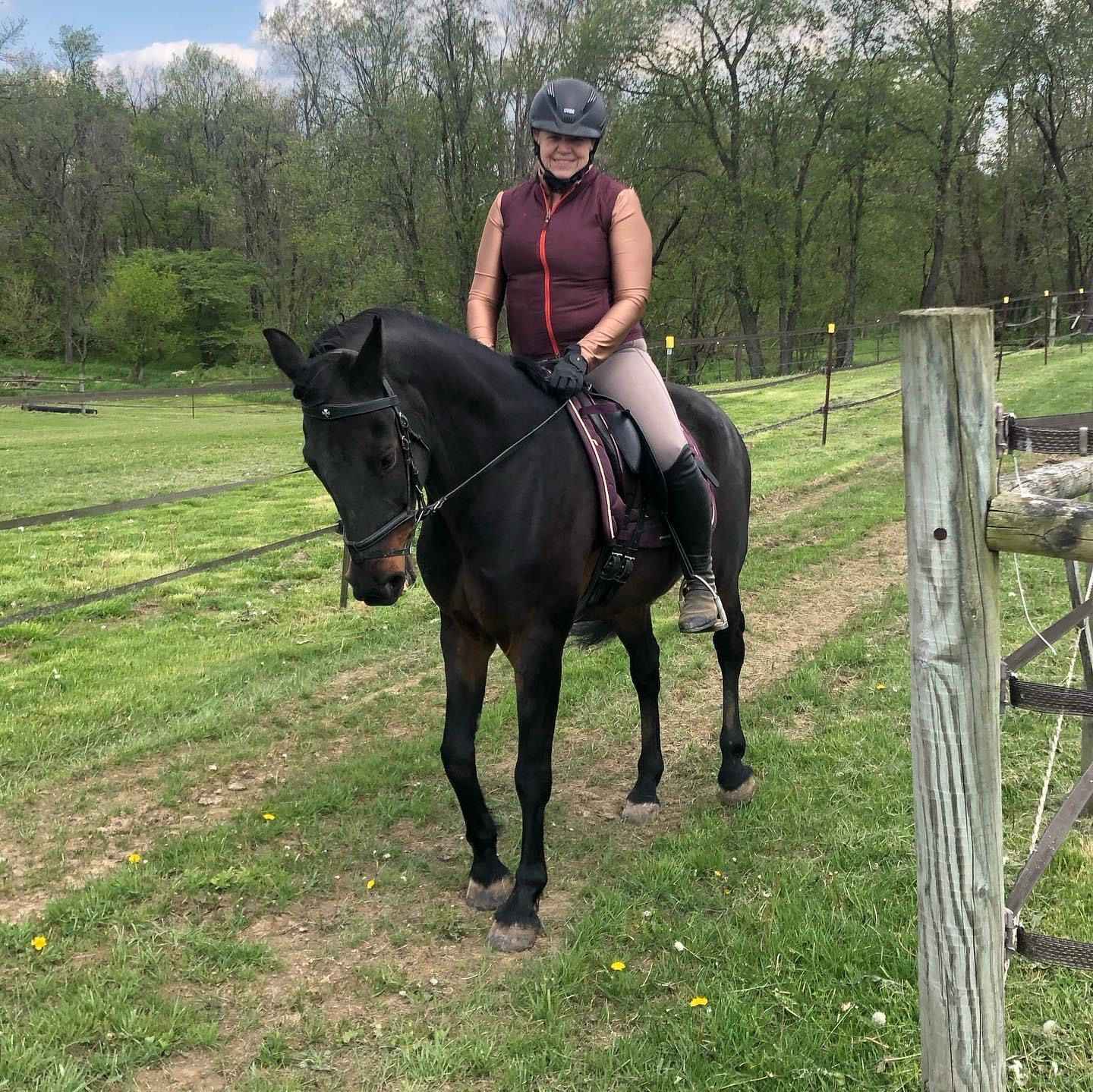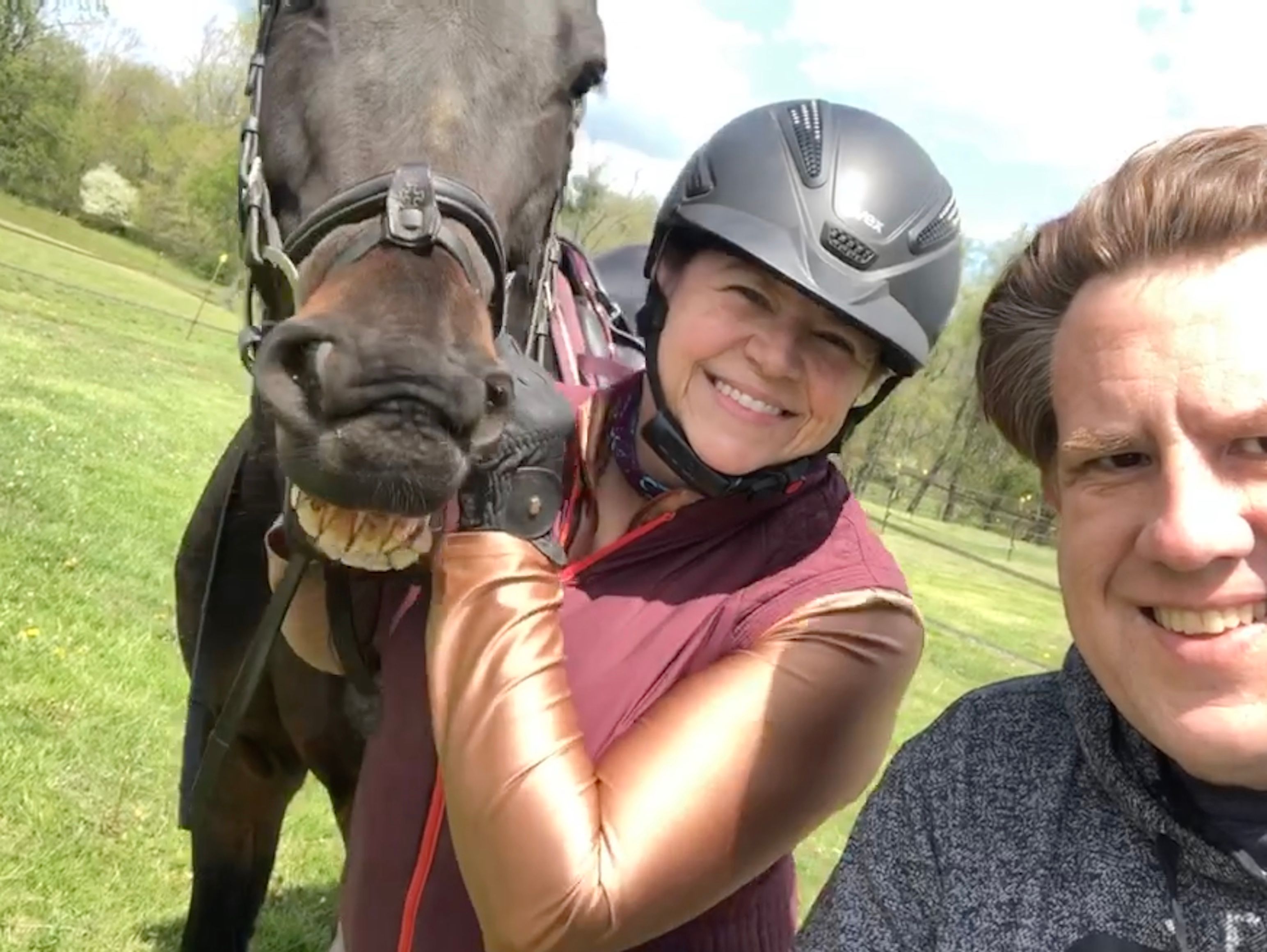 On Sunday June 28th I rode in our schooling show and scored a 61% in my first attempt at Second Level Test 1! I was super happy with this, even though I know we have a LONG way to go towards being consistent at Second Level work. As the summer has progressed, I actually had a second surgery in mid-July, requiring another 6 weeks off. However, I have continued to ride when I can, take lessons, watch videos, and stay healthy and active. This has allowed me and Danny to continue to progress to a point where I feel that next summer, we will be firmly consistent at Second Level work at shows, and training Third at home.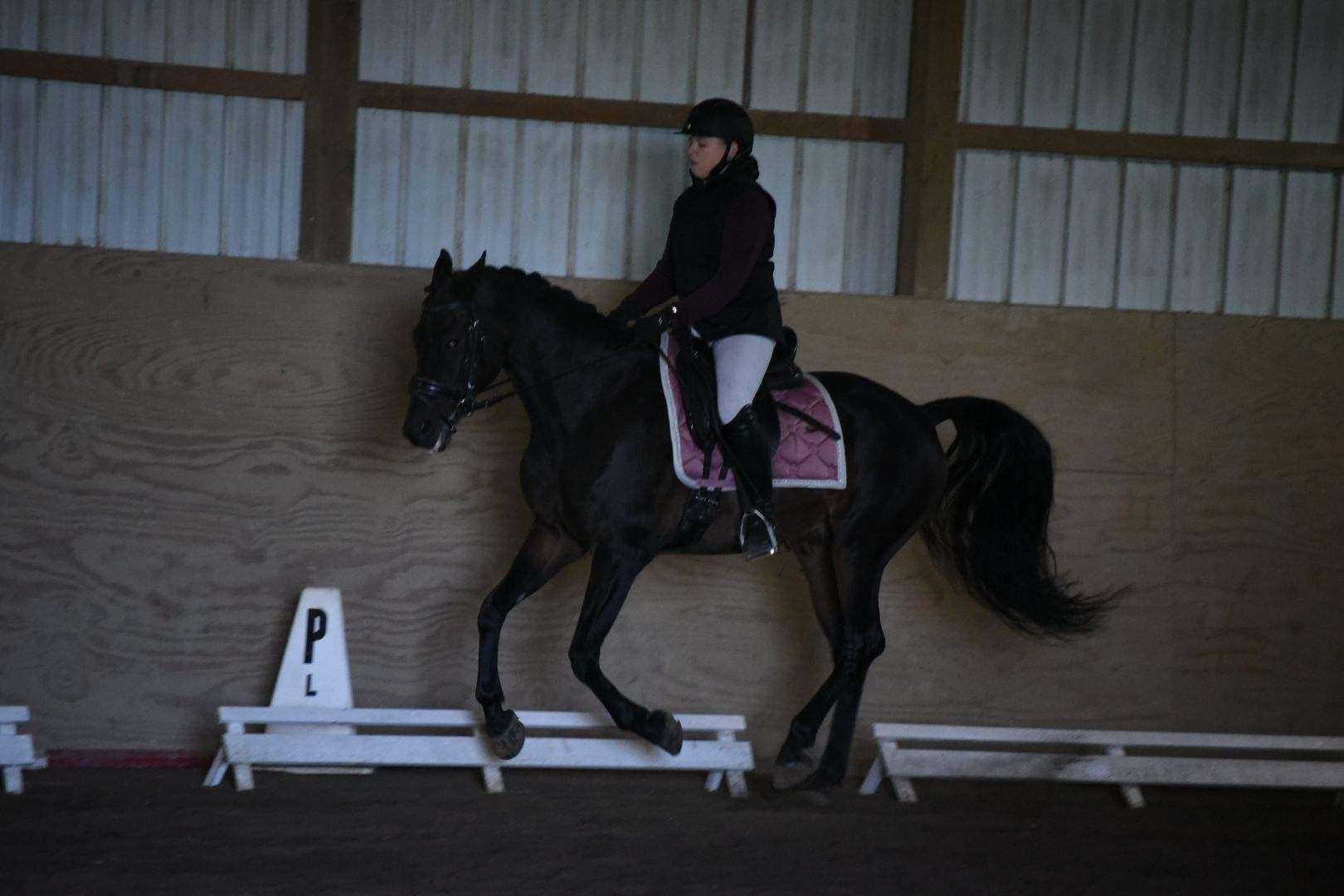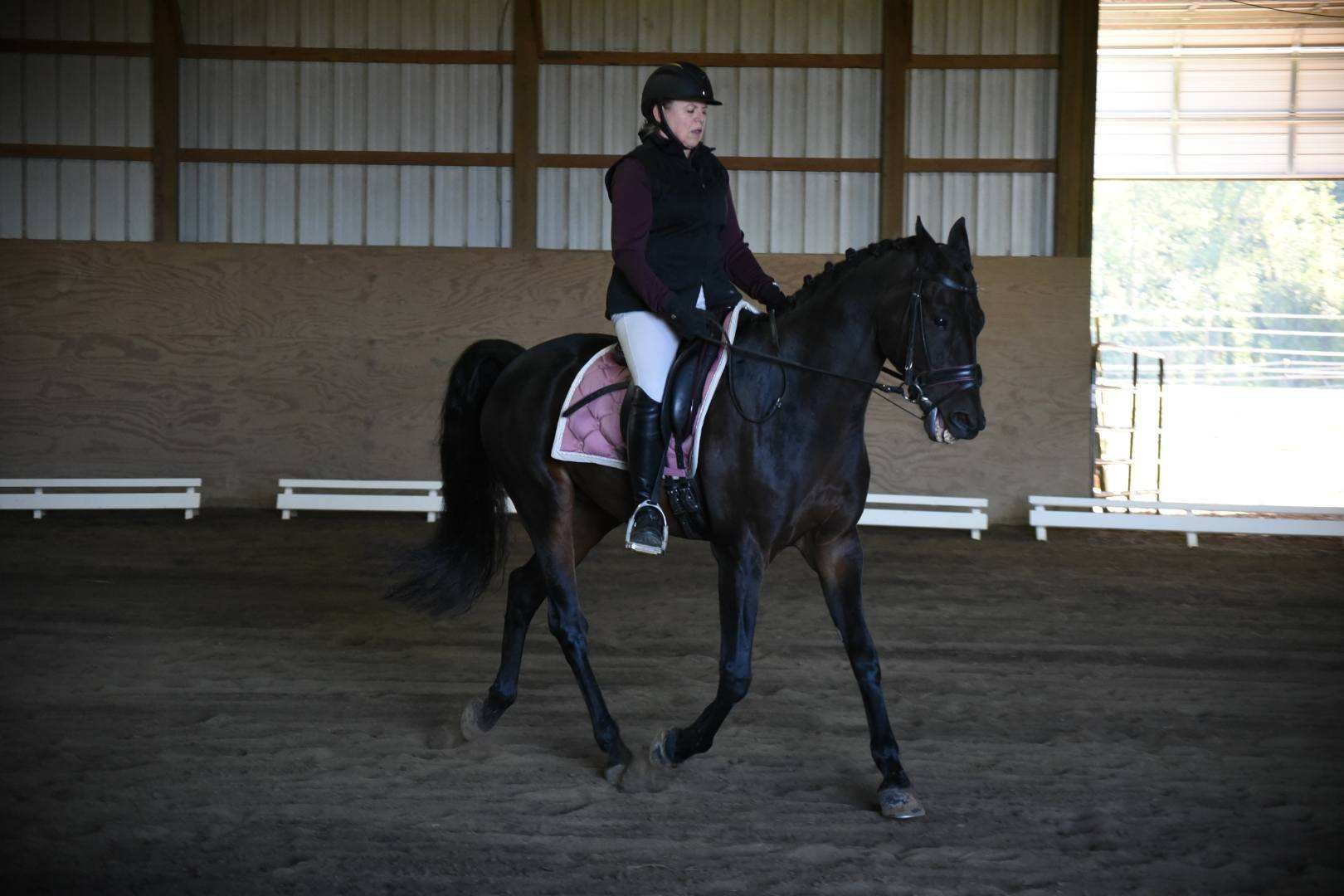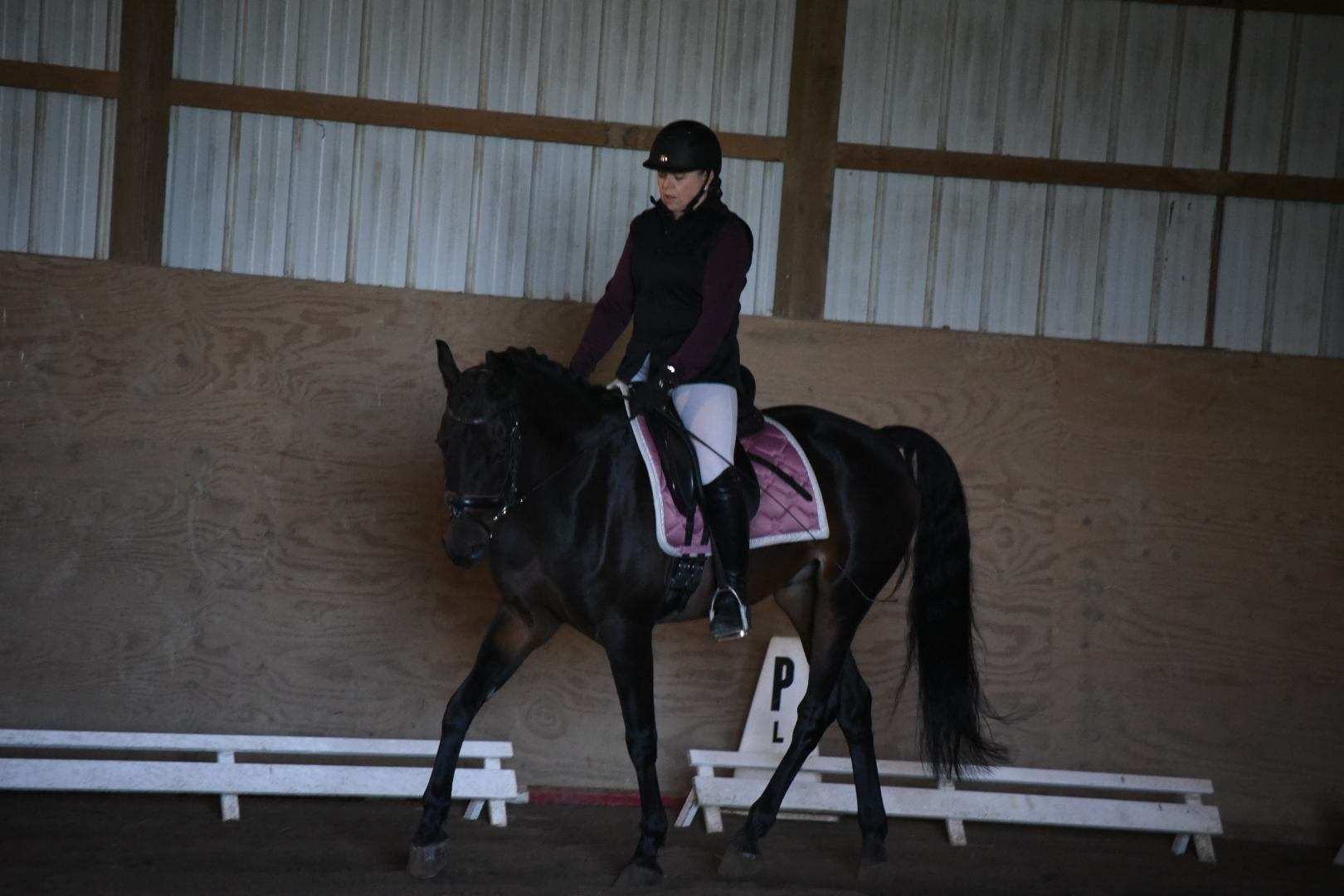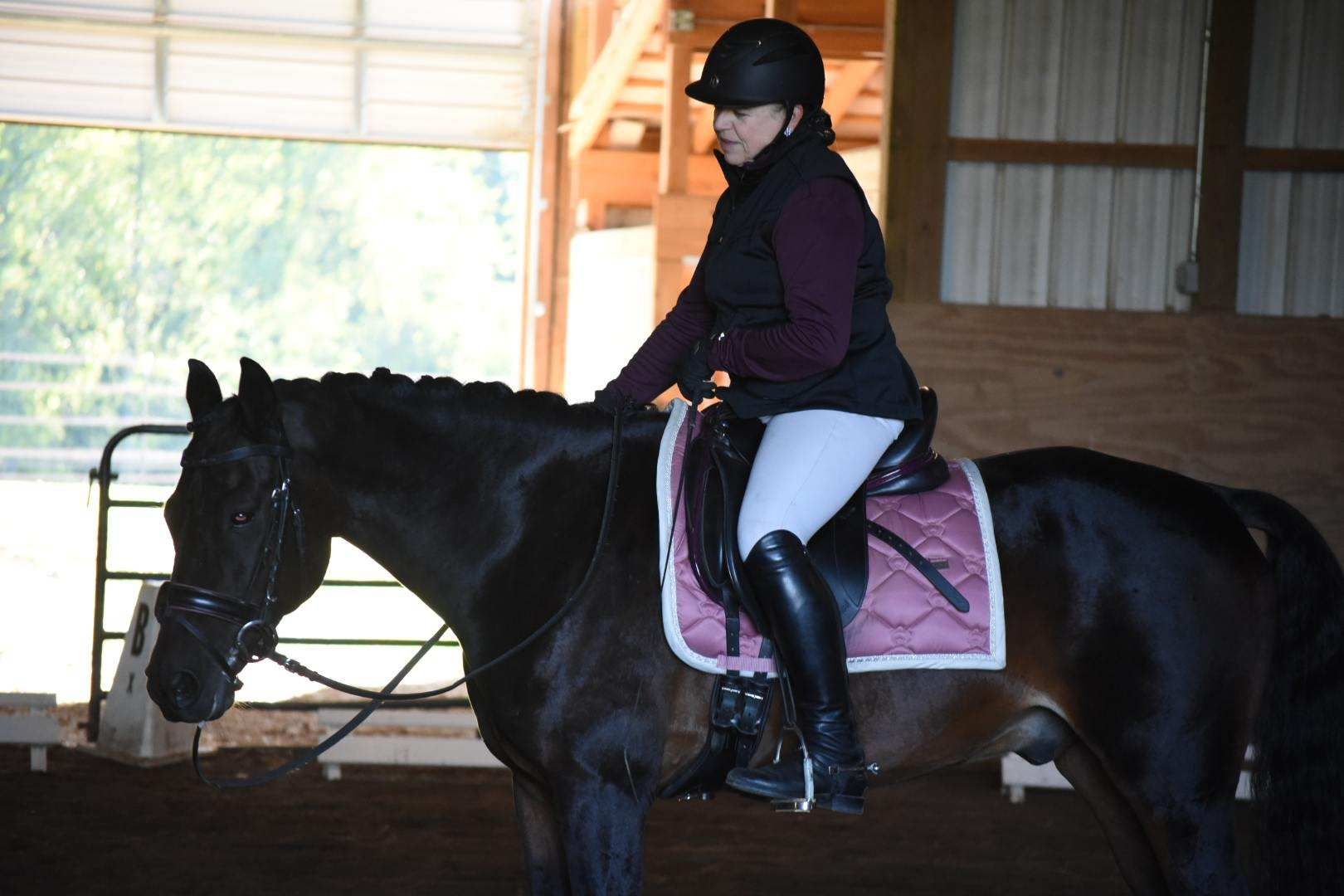 In normal times, I would have struggled to have been able to take a week off of my business to focus on my riding. But with budget and planning I probably would have been okay. However, not having been able to return to my business after my surgery was a huge hurdle. There is no way I would have been able to do this weeklong intensive without the support of this grant. It was truly a "Gift" and I will be forever grateful to Carol Lavell, The Dressage Foundation, and my trainer for helping this strange and frustrating year evolve into something wonderful for me and my horse.