Carol Lavell Gifted Recipient: Carolyn Belcher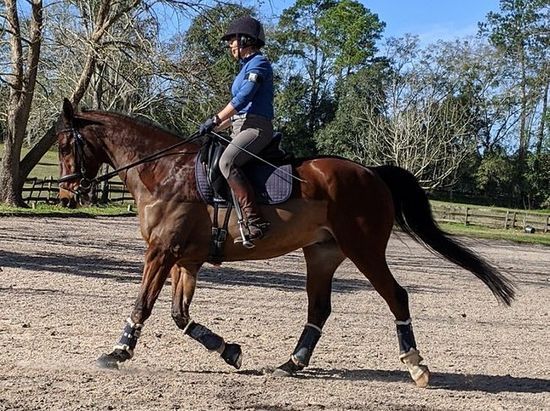 I am Carolyn Belcher, an adult amateur dressage rider in Region 3.  My horse, Greyson, is a 13-year-old Hanoverian/Thoroughbred.  I originally purchased him for lower level eventing, but work and life changes made it difficult to keep him in an appropriate schedule that included cross country schooling and conditioning.  The availability of schooling dressage shows in my area provided many opportunities to continuing showing.
I spent much of my time between 2013 and 2017 showing at Training Level. I was unsure as to how to set progression goals for my horse and myself. One of our local GMOs hosted schooling shows that offered a ride-a-test format where you not only received feedback from the judge, but the judge was also able to instruct you for 20 minutes.  I met my current trainer, Brian MacMahon, during one of these sessions in 2017. Brian is 2.5 hours away from me, but I have been able to schedule quarterly training weekends with him over the last three years. He has helped me achieve scores in the upper 60s at both Training and First Levels during that time.
I have worked to set some long-term and short-term goals for myself and Greyson with Brian's guidance and input. Given our success at First Level at our local schooling shows, I am planning to show recognized shows this year with the goal of qualifying at First Level for 2020 Regionals. We are also beginning to school Second Level movements and I am hopeful we will be able to attempt a Second Level ride at the end of the show year. My long-term goal is to earn our Bronze Medal. 
Our original training plan for the week with Brian indicated that we were going to be ambitious and attempt 2 lesson per day with Greyson. Brian and I have done two lessons per day before, and Greyson's fitness speaks for itself.  Once I arrived and we had the first couple of lessons, Brian felt we should hold to one lesson a day to avoid any muscle soreness that could impact our progress.  We also discussed where our focus would fall which resulted in two primary goals: (1) focusing on Greyson's longitudinal suppleness and throughness; (2) being able to school a correct shoulder in. 
All of our lessons focused on getting Greyson consistently through before we worked on lateral or more advanced movements. During the majority of my lessons, this was achieved within the first 15 minutes. I found that when it took longer I was being too cerebral, meaning I was trying to dictate the mechanics of the movement rather than focusing on feeling and timing. I am an analytical person by nature and education, so turning my brain off can be difficult. The week helped me identify some critical points of understanding and also helped address some gaps in our training. I have a much better appreciation for and a better understanding of the Training Pyramid.
It's about feel, rhythm and timing - To have an effective half-halt and be able to influence your horse's activity you have to understand the rhythm of gait and timing your aid when it can get a response. You have to be in the moment and think about the feel of every stride (no auto-pilot). 
Whatever my first instinct - add leg! - If my horse drops behind the contact -- push him forward with both legs towards the contact.  My habit: pulling back. If my horse pops his outside shoulder -- check his alignment and use outside leg, half halt and use the inside leg to stand him up. My habit: direct rein (aka pulling towards the direction of travel). When preparing and riding a proper shoulder-in -- establish the correct bend, half-halt, keep the outside alignment of the body and neck with half-halts, outside leg and use your inside leg to push the horse down the long side. My habit: yup! You guessed it, use my hands to create a neck in. Needless to say, I now do a quick assessment if I feel the need to use my hands and add leg!
Ride for withers up and poll down – If my horse is truly straight, he can bring his back up and engage his thoracic muscles correctly. This helps with his ability to be truly through.   True straightness requires maintaining the equal balance and feel between your reins and legs.
Outside Alignment – The line of travel is defined by the outside rein and leg.  The inside leg is used to form the bend. This is another area where I must fight my ingrained habit of being dependent on my inside rein. Brian had me ride 18-meter circles to lessen our dependency on the wall for directing our line of travel.  It became clear early on my outside aids were as not as effective as they should be for defining our circle. Back to my earlier note on adding leg.
You need to continually check in with yourself and your horse – Did I already mention, you can't ride on autopilot?  Balance and positioning of both you and your horse is a continual practice during a ride.  Riding dressage is very much akin to yoga practice, you must be in the moment to reaps the benefits. 
Not every ride will be perfect – Over the course of the first five days, each lesson seemed to be an improvement over the previous. Shoulder-ins, counter canter serpentines, walk-canter, canter-walk transitions were introduced to our repertoire. We were even able to work on the beginnings of canter half pass and some canter leg yields. On the sixth day I was determined to "get" shoulder-in, however, our warm up to develop his throughness took much longer than previous days.  I became hyper-focused which led to trying to make things happen which led to tension in Greyson.  I was frustrated with myself and disappointed that it felt like we had just had a setback. Brian continued to focus on our throughness and once we are able maintain it for a short period, we ended the lesson. Brian could tell I was disappointed but reminded me it was only one ride. My final ride of the week was my second-best ride of the week. What was different? I rode in the moment.
When we ended our last lesson, Brian said Greyson looked very proud and happy with his final work.  I was extremely pleased with our overall progress during the week and I am looking forward to our future lessons. I left with exercises to practice at home and plans for our upcoming training and competition schedules. I am encouraged with our future goals and now feel comfortable enough to say my goals are not unrealistic, just unrealized! I am greatly appreciative of the opportunity The Dressage Foundation provides to adult amateurs with financial assistance from the Carol Lavell Gifted Memorial Fund grant. I am looking forward to seeing where 2020 takes us!