Carol Lavell Gifted Recipient: Karen Allred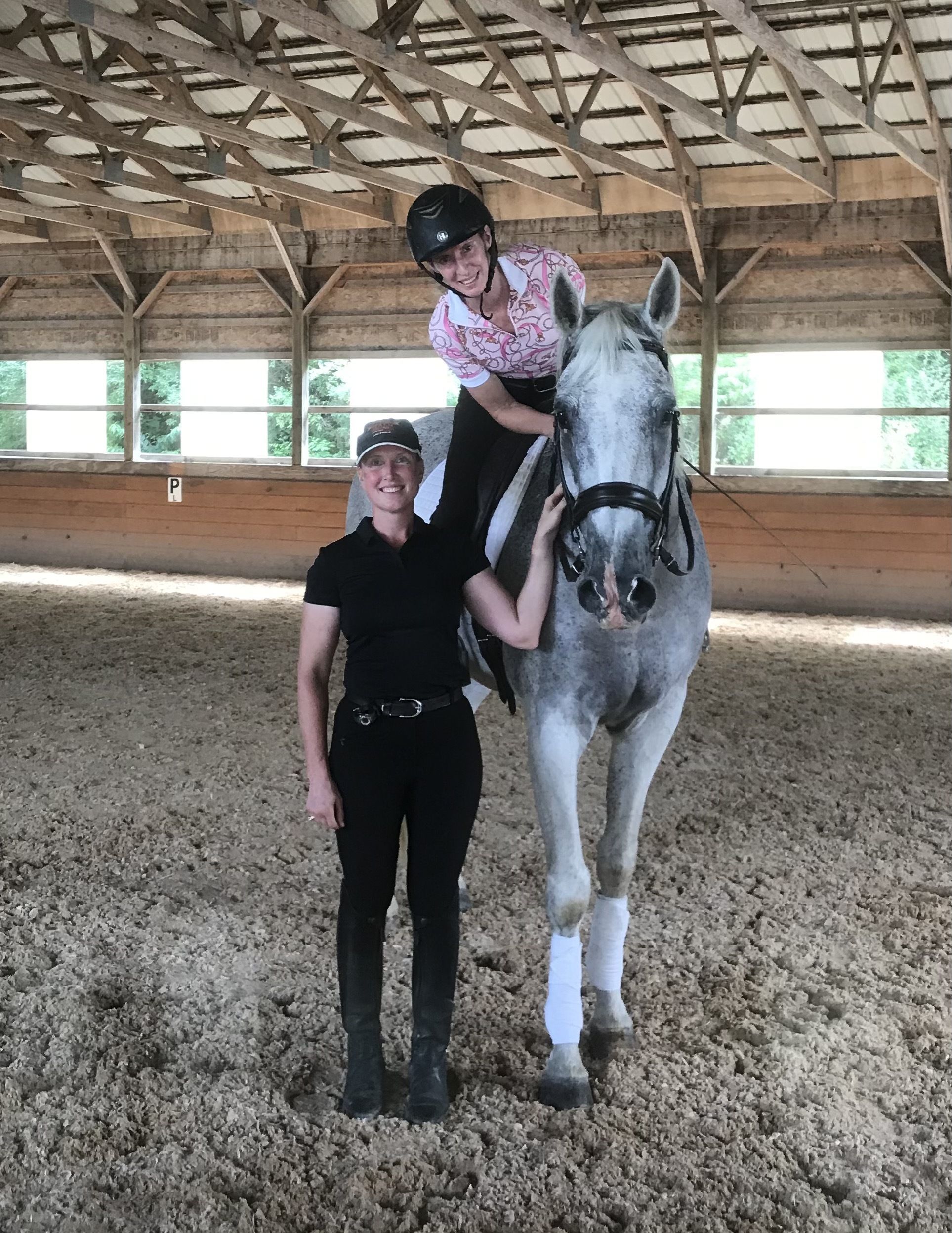 Karen Allred's training week with Andrea Velas at Echodale Farm in Spring Grove, PA, June 8-14, 2020
With all the regrouping and rescheduling required and complying with lockdowns due to COVID-19 and snowy weather, I was finally able to get from my home in Chapel Hill, NC, to Andrea Velas' barn in PA June 8-14, 2020. The first scheduled week of training was supposed to have been Feb. 21-28, but it snowed in NC. We set it for March 23, but the pandemic shut us down. Finally, I was able to make it happen from June 8-14, and it worked out perfectly, because right after that, I had a wonderful opportunity to work in the movie industry and everything happened very quickly afterward with that hectic schedule.
The training goals I outlined for the training period were met. They included taking my horse Norte from Third Level to Fourth Level, and to start schooling the Prix St-Georges movements. I wanted to improve my organization of the flying changes at every fourth stride and every third stride. We've accomplished this. Norte is 12 years old and is a 17.2 hh Andalusian/Hanoverian. It helps that he loves to do changes, but now he's waiting for me to ask him, and I can also use a much more subtle aid to get the changes, which is lots of fun for both of us. In turn, because he is waiting for me now, we can manage the counter-canter much better, as he waits for me to ask for the change after that.
The other training goal I listed was to get the canter more collected and begin work on the half-pirouettes. We are well to the way in this goal as well because he and I are able to do the working pirouettes. The result of working on his collected canter and on the working pirouettes is that focusing on those two training goals has helped both of those movements, which in turn overlaps with all the other collected work, such as the collected canter entrance down the center line to the halt/salute. Everything is linked together, as we all know. As he gets stronger and more balanced, the goal is to ride PSG in the spring/summer.
Strategies for the week included getting him up in the shoulders, getting his hind legs more under and carrying, establishing all lateral work, working on pirouettes, long-lining/double-lungeing for self-carriage, and getting his ears and shoulders up, especially in the canter. Some specific training that we did with Andrea included:
1.  Double-lungeing/long-lining: lungeing with side reins isn't helping my slightly downhill, 17.2 hh horse get up off his shoulders. The double-lungeing worked perfectly because of the dynamic contact and more control. My horse also liked it very much. It particularly helped him get up off his shoulders and improved his canter.
2.   All lateral work at the trot: keep steady in the frame (no diving down, no slowing down), get him to step under and be pre-emptive by alternating with powering it up then half-halt, etc., to help with his self-carriage particularly in the half-pass, where he tends to lose power. We also focused on his bringing his haunches along in half-pass, which improved throughout the week.
3.   To help him get his shoulders up, we worked on the shorter trot steps to get him quicker behind. He showed us by the end of the week some beautiful shorter, balanced trot steps in self-carriage.
4.   As he improved with getting his shoulders up, his trot lengthening improved dramatically, as I set him up through the corner, then let him lengthen. He has a LOT of power without rushing!  What a feeling!
5.   Some exercises and movements we did included canter half pirouettes to counter-canter, flying change; walk to canter and trot to canter on a circle; medium canter to shortened canter back to medium canter; in the trot, on the diagonal, alternate with haunches in to straight; half passes in both trot and canter.
Where do we go from here? It is quite exciting to anticipate attending some horse shows in January, February, and March, for our debut at Fourth level. The pandemic prevented many of us from showing in 2020, and I personally have stayed home and focused on my riding and my goals of Fourth Level and Prix St-Georges. I am really looking forward to enjoying going to horse shows again, and I have the first shows of the season for 2021 already penciled in starting in January 2021!
I hope everyone will be able to keep looking toward their dreams with their horses, and that everyone will be able to move forward. The Dressage Foundation has helped me keep my eye on my dream, because of the training I was able to do with their support. They helped to keep these dreams alive and turn them into realities. Thank you again to TDF for helping me and my horse accomplish the next steps toward Fourth Level, and particularly I want to thank Carol Lavell and her generosity through the Carol Lavell Gifted Memorial Fund.