Carol Lavell Gifted Memorial Fund Recipient: Sharon Sexton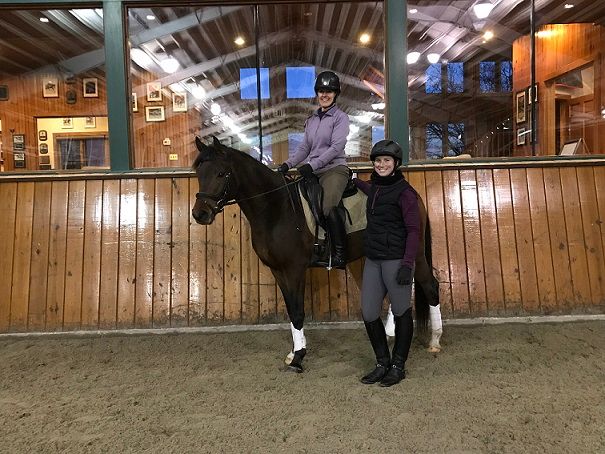 I was very excited to be a 2019 Region 1 recipient of the Carol Lavell Gifted Memorial Fund grant from The Dressage Foundation.  My week with Jessica Fay at Hilltop Farm was everything I hoped it would be and more.
I am Sharon Sexton and my wonderful dressage partner is Furstafire, "Jake," a 7-year-old Half Arabian / Hanoverian.   I purchased Jake when he was 14 months old.  We showed in sport horse in-hand and in-hand trail classes at the Arabian shows until he was old enough to ride.  I was able to start Jake myself and showed successful at Training and First Level dressage with the help of Kris Poole.  When we started schooling Second Level it became apparent there were some holes in our training, stemming mostly from the fact that Jake wasn't going forward.  I started taking lessons with Jessica Fay in January 2019, and the first item she addressed was that Jake must go forward without me begging.  Well, all I can say is Jessica was right and we had an amazing year showing First and Second Level.  So of course, I couldn't wait for my week at Hilltop Farm, where my goal was to teach Jake the flying changes required for Third Level.  We started preparing Jake for the changes in November, however, the training was progressing quite slowly with only one lesson a week. 
Jake and I arrived at Hilltop Farm bright and early Monday morning ready to learn.  The first thing I learned is how hard Jessica works – she was at the gym at 4:30am and was already hand walking her second horse at the farm when I arrived.  Note to self: I need to work on my fitness!  As I watched Jessica ride horses ranging from just starting under saddle to showing FEI, she explained her training methods and I realized the same basics I need to work on are the same for every horse.  (Good to know it isn't just me and Jake.)  Then it was our turn to ride and I had a new mind set – I will ride with clearer aids and Jake will react to my aids.  (It works, it really works.)  The lesson started with a review of our previous lessons, preparing for lead changes by working on canter-walk-canter transitions, and requiring Jake to move quickly off my leg.  Well, I thought we were doing great until it was Jessica's turn.  She showed me how much quicker Jake needs to respond to a lighter leg aid for the changes and that I was still allowing him to lay on the reins.  Jake did a few green changes for Jessica. 
I went home Monday night and reviewed my notes and I really thought about how clear Jessica is with her horses.  They know what is expected and they love to please.  Tuesday, I watched Jessica ride her training horses and asked a million questions.  Then it was my turn to ride and I tacked Jake up with determination (actually I bribed him with sugar and headed to the mounting block).   Our warm up started with the walk being more active.  Jessica had me tap with the whip in the rhythm of the walk and Jake's stride became longer and he was lighter in the reins.  Jessica explained that if Jake's hindlegs aren't pushing under and are out behind, he is leaning on the forehand, thus leaning on the reins. I thought, "Wow, this is really cool!"  Then we moved to the trot and canter and guess what, it works there too.  We again worked on canter-walk-canter transitions and they were easier, without trot steps!
On Wednesday after our warmup, it was time to test the waters.  We were working on a bow tie exercise with canter-walk-canter and Jessica said to push Jake off my left leg and ask for the lead change.  Nothing happened and Jake continued to counter canter.  Oops, something is missing.  This showed another hole in my riding – the outside rein.  The rest of the lesson we talked about the aids for the flying change and I was confused again.  Wednesday, I watched Jessica teach another student who was riding a PSG horse.  She again explained the aids for the lead change as the student rode the change, and watching the aid happen with the explanation made it look doable. 
Thursday as I watched Jessica ride, I was thinking – outside rein, outside leg, push over to the inside rein, half halt, and change to the counter canter.  Ok I think I have it.  Now it is my turn to ride.  After a wonderful warmup, we worked on the bow tie canter-walk-canter. I was so busy thinking about outside rein, outside leg, and when to ask, I couldn't even remember what lead we were changing.  We stopped, discussed the aids for the changes again, and returned to the simple change exercise. I finished up working on some shoulder-in in the trot. Jessica then got on and schooled the changes and Jake did two beautiful changes each way. GOOD BOY!
Friday and Saturday, we worked on the quality of the gaits and the balance in the frame.  What a wonderful week. On  the following Monday, we went back for a follow-up lesson and guess what? Jake and I did 4 lead changes!  They are still very green but we are well on our way to Third Level.  My goals for the week were achieved!