Gifted Memorial Fund for Adult Amateurs Recipient: Lily Baker-Lubin (Region 7)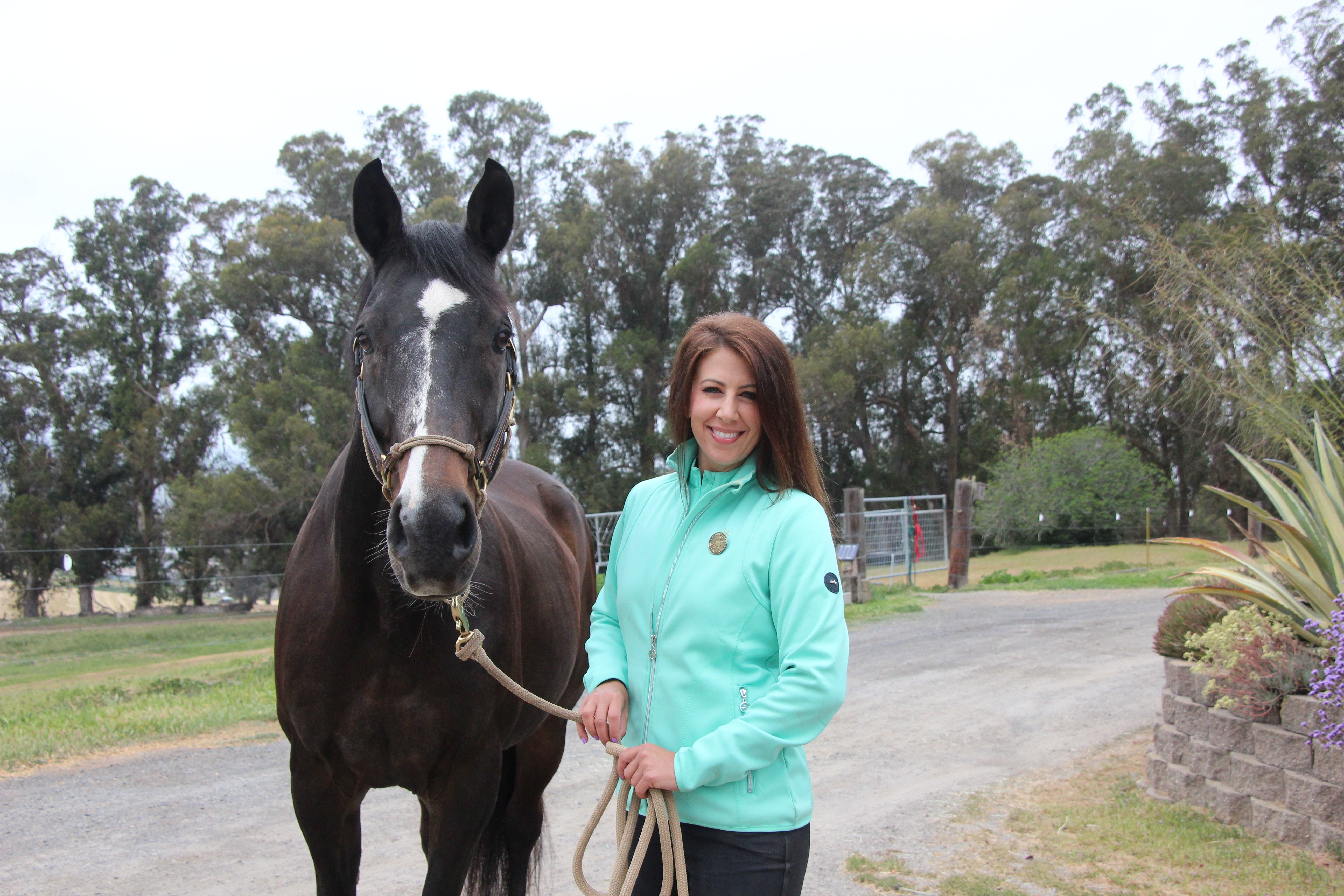 Making Lemonade and Deeper Bonds
This wasn't the report I day-dreamed of writing upon hearing the news of being selected for The Dressage Foundation and Carol Lavell's Gifted Memorial Fund for Adult Amateurs. At the time of selection, I was thoroughly in love riding Sandy Kriegsman's gentle Oldenburg gelding Lancelot. We had forged a bond that allowed us to compete successfully at Third Level, attain my bronze medal and we were gearing up for Prix St. Georges. While I love competing and have lofty aspirations, training with my coach, Riana Porter at Sandy's serene Sanbar Dressage, is one of my favorite things to do at one of my favorite places. I was so eager for the chance to dive in and truly dedicate myself to this special time of training.
One week in and we welcomed the first rains of the season and Lancelot was diagnosed with laminitis. We came to a screeching halt and not the kind of immobility riders appreciate. So, this wasn't the report I had anticipated sharing with you all. But that's horses, right? The stuff that makes our hearts swell can also make them hurt. And so, I share this report baring more texture, more vulnerability, and more of what perhaps is a realistic view into our sport and what one does when things don't go to plan.
To achieve our goals and dreams it takes a herd that is willing to adapt and adjust and lift you up when obstacles arise, and I am so grateful for mine. Without the support of The Dressage Foundation, Sandy Kriegsman, and Riana Porter, none of this would have been possible. As the tide turned and my relationship with Lancelot pivoted into caretaking and rehabbing, the entire Sanbar collective emerged and I cannot thank my barn-mates and their trusty steeds enough. Each entrusted me with continuing to learn with their help and for that and for so much more, I am eternally grateful. Riana coached me on different horses almost every lesson. She crafted a game plan that nourished growth and in the last few months, I have become a better rider and horsewoman. I am writing this report with larger dreams than I had when I was awarded the grant - proof of how powerful support can be. The following is my account of what the herd can teach- a training experience unlike any other I have had to date.
The collective- the gift of catch-riding
Yes, it is an incredible experience to forge a bond with a horse and build that relationship from the ground up. You get to know one another inside and out and science now has proven what so many strong partnerships exhibits - we can co-regulate. Meaning our autonomic nervous systems can influence and help to balance one another's- horse and human. It is why we feel "more grounded" when we are around our horses and why so often horses will take a deep breath after we do or visa-versa. That type of intimacy makes this sport so special. And yet, what, and how do we proceed when we don't have the luxury of riding the same horse every day and knowing its ins and outs and it knowing ours?  I discovered it is a different luxury- no less beneficial- in fact, the chance to catch-ride helped to inform me of how I could better support my one and only partner when I was back able to engage that way. I feel this opportunity helped me to become more efficient in my "get to know you" phase and in this "let's work together phase." I have come to undoubtedly realize a certain versatility in my horsemanship and riding. One of the benefits of getting to interact with different horses in a condensed period has allowed me to feel that I can have varied conversations with a diverse set of horses on different days. And yet at the same time, it allowed me to reflect with Lancelot and organize my lessons to a reference point. Each day when I iced Lancelot, I would sit and think about all that he had taught me up until that point and was continuing to teach me from the ground. As I continued to learn from different horses, I realized how much Lance had influenced who I was as a horsewoman and who I wanted to continue to become.
Bella- finding and relaxing into the rhythm
Bella has the best eyelashes. You look into her eyes and her sweetness is obvious. Bella's owner, Tammy, was kind enough to allow me to ride her while she was traveling. Riana helped me to understand and re-visit the primary and profound importance of rhythm. Riding Bella was a wonderful exercise in helping set and maintain the rhythm. Her relaxation came from that consistency and with her relaxation came a certain energy efficiency and flow of movement that otherwise would not have been possible. One of the lessons I gained while riding Bella was the nuanced ways in which rhythm helps us to organize and move together- reaffirming its importance as the foundation of our training pyramid.
Eli- With suppleness comes freedom
One of Eli's superpowers is his sensitivity. His owner, Stefanie honors this in him deeply and so this sweet gelding offered a lesson in the appreciation of "butterfly-like" aids. We all know that a horse can sense a fly landing on them, or even approaching (as Lance can) and hold that as a reminder for how we can "whisper" with our aids and have a conversation through body language that is subtle and yet significant.  With Eli, his need for certain aiding was a helpful reminder that I had felt in Lance in the FEI movements- rarely is it about "more," but rather about the precise preparation and application of our aids.
Dominus (AKA the sports car)- it is not about controlling the horse- but controlling the power
When my coach offered her two competition horses as options for us to continue working towards our goals together, not only was I grateful to both her and Kathy VanCamp, their owner, but I was- to be honest- an equal amount of excited and intimidated. Riana Porter is not only my coach, but she is also someone I deeply admire. She becomes one with each horse in a way that is so rare that if you are ringside or in the vicinity, you have no other option but to stop, watch and learn. During my training time afforded with this grant, I spent many days watching Riana coach others as well as train her competition horses. I gained so much by osmosis and when Riana allowed me on Dominus, watching her ride him and then getting a chance to take a lesson on him was an incredible combo.  Dominus is a powerhouse. He is made for this sport. Compact, athletic, and with a competitor's work ethic, he is truly the black Ferrari. I drive a Toyota 4-Runner. I love it. It has enough space for my dog and horse gear, can handle off terrain, and works well for me. So, the idea of driving a Ferrari was exhilarating and kind of like getting used to a whole new level of horsepower. Riana so astutely described the difference between trying to control the horse versus control and mold horsepower. That stuck with me as I got to feel a whole new level of power and learn about the many many many gears available. It was and has been a game-changer. And while Riana has always helped me to hold high standards for myself and my equine partners, this experience with Dominus helped me to absorb and integrate that concept to new heights.  
Dax- how dynamic balance is truly dynamic
Dax is Dominus' full brother and while they are both amazing geldings, they are different in their own athleticism and personalities. Dax and Riana have been together since the get-go and that is apparent in their partnership. When I climbed aboard, I was reminded quite quickly about dynamic balance. I find a dynamic balance to be the equal and shared magnitude of mobility and stability. One who is hypermobile will lack the stability and organization required in her body. One who is immobile will appear too rigid or tight and inadvertently restrict motion. If our goal is to become one, a balance of stability and mobility is required to achieve this dynamic balance with our horses. Dax is a large mover. I was immediately aware that my stability needed to increase and improve and in such a way that did not impede his amazing movement. Riana helped to coach me into specific cues as to how to gain feedback on the status of my dynamic balance. While we amateurs are all fearful of balancing on the reins and try to refrain from such compensation, Riana helped me to detect a slight upward and downward motion in my upper body that was occurring during the rising trot. Once detected, it was obvious that this was an indicator of lack of stability. My lats, triceps, and upper core were quite sore following my rides on Dax. And it also stoked the fire of my desire to improve my fitness and dynamic balance to ride the larger moving horses…. because holy smokes that is fun!
Milo- Feeling the top of the pyramid…
Milo is Marian's distinguished gentleman of the barn. He is proper, he is kind, and he is very very very trained. He is indeed a schoolmaster- the kind you dream of. Milo, Marian, and Riana gave me the gift of feeling what true collection feels like. I have dreamt and fantasized about what passage and piaffe feel like (who hasn't). But the actual kinesthetic sensations of a forehand that is lifting and lightening, a hind-end that is lowering and engaging, and the slightest of aids in the seat and leg well, I think I let out a squeak of sorts. Those were feelings that have been logged into my brain and body and I gladly will replay them over and over in my mind. Like each equine teacher on this list, I got off with dirt in my teeth from smiling so much.
Zamaire- where new beginnings offer a chance to thread it all together
I am happy to report that Lancelot has made a solid recovery and is enjoying retired life in the pasture at Sanbar. We still connect and cuddle and he is always reminding me of how strong bonds can be and how much each horse helps to inform us with the next one to follow. Thanks to Riana Porter and The Owyeung family, a sweet Dutch warmblood mare needed a person. Maybe someone like me- someone who is eager to continue to learn and grow and has high hopes for her riding career but also knows the non-linear path we walk to get there. Someone who was lucky enough to have a barnful of support and The Dressage Foundation's belief that I could create some traction, given some assistance. So, as I type this final report, I am sitting next to this lovely mare who is leaving hay in my hair. She has some rehab to do but she sure loves to move and play. Lance is relaxing in the pasture across the way and the barnful of horses whom I was fortunate enough to learn on are all munching on lunch. It is that quiet time in the barn- when all you hear are the soft blows and the sounds of good forage being consumed and total satisfaction. My coach is on her way back from earning her gold medal on Dominus and preparing a barn-mate for the upcoming RAAC. Sandy has just checked in with me regarding the next steps and planning and has reminded me how rare it is to have a barn-owner who not only displays supreme management for the herd but looks out for each rider and her success.
This grant came at an incredibly special time in my life. These last seven months have marked the countdown for me until I begin graduate school- an endeavor that I am pursuing not just out of a passion for my forthcoming medical career but out of my deep commitment to being able to dedicate more to this passion and my riding career post-graduation. The Dressage Foundation has made the ability to enhance my equine edification possible. And with the help of Riana Porter Dressage, Sandy Kriegsman, and the incredible herd of powerful women and horses at Sanbar Dressage, I am entering this next chapter with dreams that have grown in magnitude and depth. Thank you all for your support. I hope this reaches someone who might be in that same spot I was a few months ago, wondering "what now?" when unexpected news comes…. the "what now?" can be a far richer version than what you initially envisioned, and those bumps might be leading you in that very direction…I hope they do.