Carol Lavell Gifted Recipient: Raena Schraer (Region 6)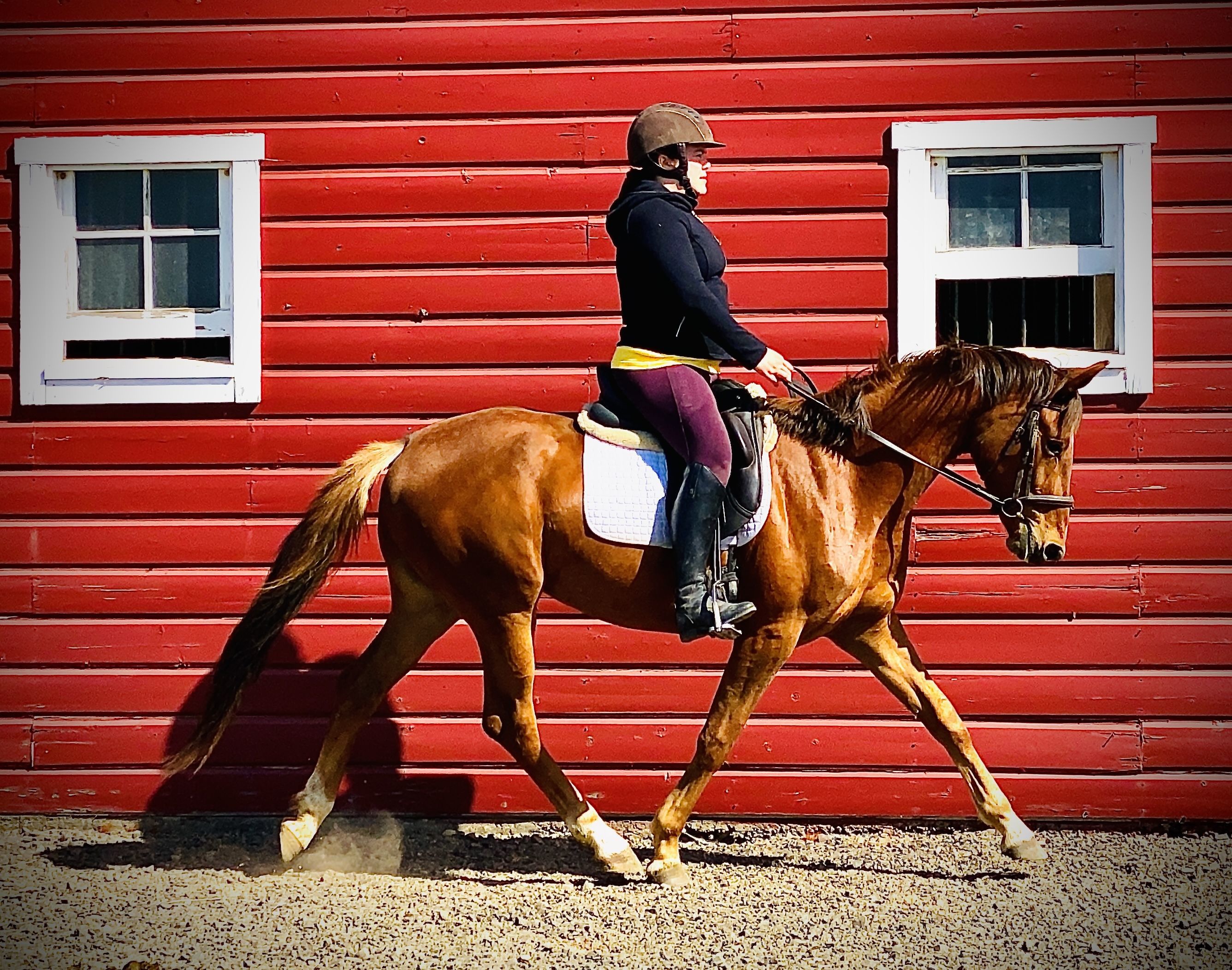 I set off on this week of dressage training with a particular goal in mind: to feel comfortable and confident that I could handle and ride my three-year-old up-and-coming dressage horse well enough to take her home to Alaska. She is barely under saddle, and I will have to continue her training where my resources are limited.
I purchased Salsa as a weanling, and she has been growing up in Oregon while I live in Alaska. I purchased Lola, my other horse, as a three-year-old and brought to Alaska as a four-year-old. So far, I have successfully trained her to Fourth Level, so I know I can do it. The idea of having a new young horse here in Alaska presents many challenges, not to be taken lightly, and I'm 10 years older than I was last time I had a three-year-old horse!
Salsa has recently been started under saddle by my friend and professional dressage trainer Jessica Wisdom (Equilibrium Equestrian) and her business partner Kent Wright (Kenton Wright Equestrian) in Oregon. With funding from the Gifted Fund, I traveled to Oregon to work with Jessica and Kent for a week.
To say I was pleased with the fact that I was able to get on and walk trot and canter around easily would be an understatement. I was thrilled to be able to simply get on and ride. Salsa did just great, and we accomplished all the goals I had in mind, most importantly I was able to feel confident that I can get on and ride, both indoors and out, and approach whatever obstacles to training will present themselves with confidence and calm, on my own.
While working with Jessica and Kent, we worked on some exercises like this (keeping in mind that my horse only has about 20-30 days under saddle):
1) Young horses are just learning to balance in walk trot and canter with a rider on top of them so they need help from us (the riders) to be able to organize their gaits. I think many people struggle with the transition from trot to canter on both young horses and trained horses. One simple exercise that helps organize the horse and assist in this transition is doing a shallow, simple, baby-sized, leg-yield from the quarter line to the wall, and upon reaching the wall just use your posting and outside leg aid to roll the horse right up into canter. It's a simple and very effective way to help the horse do that transition struggle-free and get the correct lead!
2) Ask yourself before any trot-to-canter transition (on any horse young, old, trained, or untrained) if you can feel the canter in the trot you have. If the answer is no, then adjust your trot energy, quality, and balance until you can feel the canter is right there. Then you can just hop up into that canter easily!
Kent and Jessica did a great job starting Salsa and making it possible for me to come down and hop on, cruise right around, trot poles, ride indoors and out, and simply being there to cheer me on. It was a great opportunity for me to get to know this young horse and her mannerisms under the watchful eye of thorough professionals.
This trip was also a good opportunity for me to observe Kent and Jessica working with numerous other horses from starting to Grand Prix. I watched and assisted with them getting on horses for the first time, approaching a wash rack for the first time, trailer loading for the first time, bridling for the first time, and all the other things young horses will have to learn as they prepare to become riding horses.
I spent five very full (and long!) days at their facility riding, observing Kent and Jessica working with training horses and teaching lessons and doing all the other things they do all day every day in the course of being horse trainers. It really was an invaluable and immersive experience for me, and I highly encourage any other amateurs (or even professionals) to pursue such opportunities as they present themselves. Thank you very much to The Dressage Foundation for making this experience possible for me!